Global Finance presents this year's best sustainable finance global winners.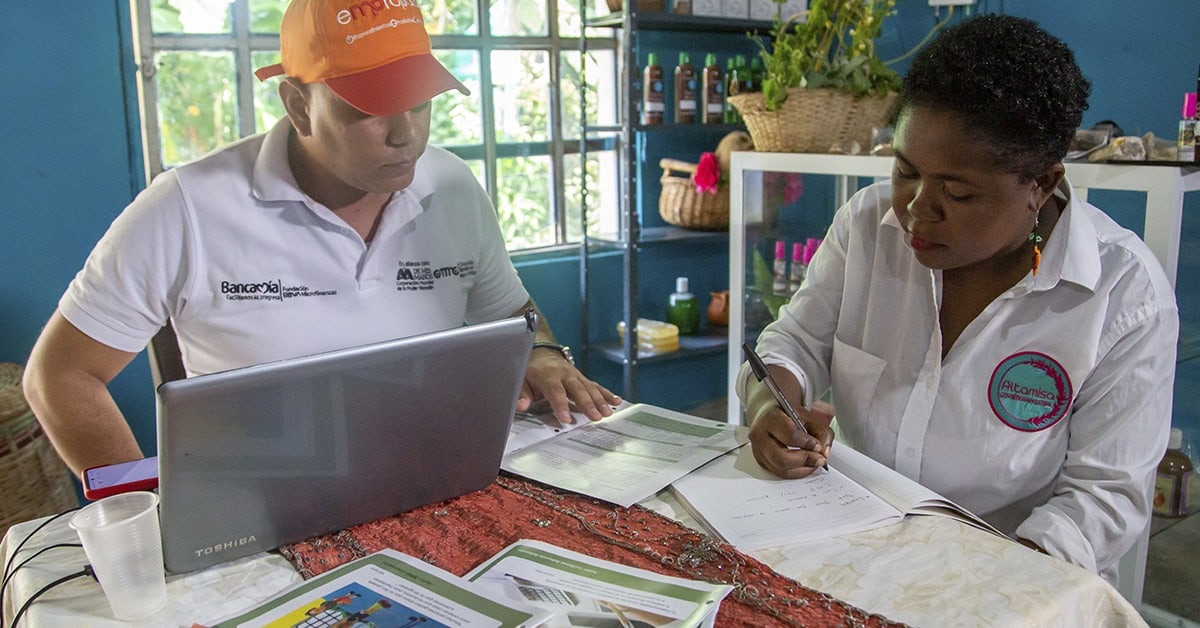 Farmers served by BBVAMF receive training in business management and digital skills to improve their businesses' performance.

No question, the sustainable finance juggernaut stalled in 2022. New GSS+ (green, social, sustainability, sustainability-linked and transition) bond volumes slumped 24% compared with 2021—the first year-over-year (YoY) downturn in a decade, according to the Climate Bonds Initiative (CBI). Green bonds, usually the most reliable in the environmental, social and governance (ESG) group, dropped 16%, the organization reports.

The good news, though, is that ESG-labeled bonds didn't lose ground vis-à-vis other debt instruments—global bond market share held steady at about 5%. That's because rising interest rates hammered bond issuers generally, not just issuers of thematic bonds.

Still, the declines in GSS+ issues weren't trivial. Social bonds plunged 41%, sustainability-linked bonds (SLBs) fell 32%, and sustainability bonds (a combination of green and social) dropped 21% compared with the previous year, reports the CBI. The decline in SLBs is particularly concerning, given they are designed to support transitioning industries like steel and petrochemicals and were among the hottest debt categories in 2021.

What Happened?

"We had expected the global sustainable debt market to reach or even slightly exceed the all-time record set in 2021," Gregor Vulturius, adviser for climate and sustainable finance at Sweden's SEB Bank, tells Global Finance. But then the market seemed to go sideways last year. There was a tapering in new issuances of sustainable bonds and loans due in part to an "anti-ESG wave" in the US, Vulturius suggests. But it also may have been tied to the higher cost of capital and fewer sustainable transitions in the high-yield and real estate bond sectors.

But 2023 may be a different story. "There will be an uptick in SLBs this year versus 2022, which was affected by a general issuance slump in typical SLB sectors—i.e., cyclical industrial sectors," says Stephan Kippe, head of ESG research at Commerzbank.

Some product tuning may still be needed, however, suggests Kippe. "As long as average SLB KPIs [key performance indicators] and step-ups fail to reach more-meaningful levels, ESG-oriented investors are likely to remain on the sidelines, limiting SLB market growth." Earlier this year, Kippe ripped SLBs for their "persistently weak targets and tiny penalties."

Sustainable Finance Awards 2023

Vulturius opines that there is still a strong global need for SLBs. "However, the performance-linked market is going through a phase of increasing scrutiny which in the short term means the market is falling. Eventually, as all market actors agree on credible benchmarks, the market will rebound." This could take another year, though, he cautions.

And what about green bonds, still the dominant labeled-bond category—accounting for more than half of all volume? "We expect continued growth in green bonds, driven by an ongoing shift in investor demand towards highly sustainable assets with broad regulatory acceptance," Kippe says. The lack of suitable investment projects could be a limiting factor, however. By comparison, "Social-bond issuance is likely to remain below its pandemic-driven 2020-2021 peak levels," he adds.

As for broader trends: Vulturius suggests that, given the strong and persistent need for new instruments to raise capital for transition activities—such as chemical manufacturers looking for funds to upgrade processes and machinery—one might see funds earmarked for transition activities being raised on the equity capital markets.

Kippe, for his part, believes that "2023 will be dominated by urgently needed realism and practicality concerns," with lots of discussions about standardization and streamlining of regulatory frameworks: ESG-rating regulations, the EU's Sustainable Finance Disclosure Regulation and its Corporate Sustainability Reporting Directive, etc.

"Another possible avenue is bilateral agreements between donor and host countries for carbon offsets" under Article 6.2 of the Paris Agreement, adds Vulturius. This could "channel hard currency investments into renewable energy from the Global North to the Global South."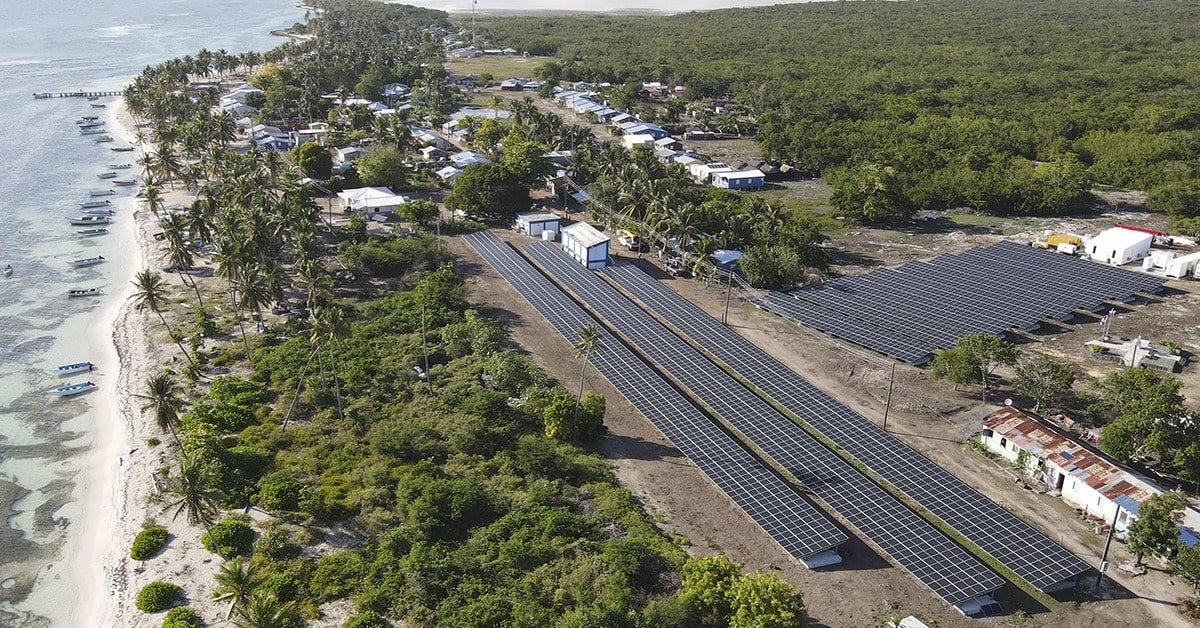 InterEnergy/CEPM green loan from Bank of America and an MBD to support renewable energy and clean transportation infrastructure projects in the Caribbean.
The first quarter of 2023 offered promising signs of a rebound. Green bonds were up 19.4% YoY, for instance, though social and sustainability bonds continued to struggle, reports Bloomberg. BNP Paribas predicts green bond issuance could reach $600 billion in 2023—compared with about $500 billion in 2021—with Europe leading the way. China and Japan may be ready to embrace transition bonds too, adding to GSS+ totals.
All in all, recent signals are positive, suggesting that last year's swoon was more outlier than harbinger.
With this as preamble, Global Finance presents its third annual Sustainable Finance Awards, with winners chosen in regional categories and in 57 countries and territories, as well as global honorees in 13 categories.
---
SUSTAINABLE FINANCE AWARDS 2023: GLOBAL WINNERS
STANDARD CHARTERED
Outstanding Leadership in Sustainable Finance
Standard Chartered is the global leader in sustainable finance as demonstrated by its robust framework; its approach to assessing, mitigating and managing environmental social risk; and its commitment to supporting the energy transition. The bank has set net zero targets by 2050 intends to provide $300 billion in sustainable finance by 2030.
The bank operates in emerging markets and internationally and drives change through its sustainable finance initiatives requiring adaptability and innovation. In 2022, Standard Chartered provided a strategy that aligns with the Paris Agreement goals to its clients in power generation, mining and metals, and oil and gas sectors.
The bank's sustainable assets in its portfolio grew 30% year over year to $13.5 billion USD. To support communities and economic growth, its operational assets saved 1.87 tons of carbon dioxide, enabled over 660,000 microfinance loans, and disbursed 20,000 SME loans.
Standard Chartered issued $42.4 billion USD in sustainable bonds in 2022. Its most notable issuances include Reg S Step-Up Puttable Green Notes for Access Bank that will be used to refinance existing projects and assets. The bank also funded the world's first green Islamic repo for CIMB Bank Berhad in Malaysia, with proceeds used for Shariah-compliant assets and projects that generate positive social impacts. The bank also placed the first ESG-structured Formosa note in Taiwan, which is denominated in a currency other than the Taiwan dollar.
---
BBVA
Outstanding Financial Leadership in Sustaining Communities
BBVA Group, one of Spain's Big Three financial institutions, earmarked €131 million (about $142 million) for community investment in 2022, representing 1.9% of the group's adjusted net attributable profit. It wasn't just Spanish towns and cities that gained. Communities in Turkey, Mexico and parts of South America also profited. For example, BBVA's women entrepreneurs' program in Turkey supported 2,710 women entrepreneurs with financial and nonfinancial business solutions in 2022.
---
SCOTIABANK
Outstanding Leadership in Sustainability Transparency
Reporting and sustainable finance go hand in hand, but few institutions do it quite so thoroughly as Canada's Scotiabank. Scotia reports regularly, publicly and in granular detail on progress, focusing on its key areas of environmental action, economic resilience, social inclusion, leadership and governance securing this award for the third year in a row. It aims to mobilize $350 billion in climate-related finance by 2030; and as of November 2022, Scotia had mobilized $96 billion toward this target. One theme of its regular ESG reports: The work to achieve sustainability is never quite finished.
---
CIBC
Outstanding Leadership in Sustainable Infrastructure Finance
New York State has committed to increasing its use of renewable energy sources to 70% by 2030. The Champlain Hudson Power Express (CHPE) project will be crucial if the state is to reach its goal. The plan is for the CHPE transmission line to begin delivering hydropower from the Canadian border to the New York City metropolitan area by 2026—enough to power more than a million homes and reduce carbon emissions by some 3.9 million metric tons (about 4.3 million US tons). Canada's CIBC acted as coordinating lead arranger and underwriter on this $5.7 billion project.
---
SOCIETE GENERALE
Outstanding Leadership in Sustainable Project Finance
Outstanding Sustainable Financing in Emerging Markets
The geographic reach of Societe Generale (SocGen) is exemplified by its portfolio of sustainable finance projects in 2022. These included participation in Japan's Ishikari Wind and Battery project, where it was the only non-Japanese bank in the lending consortium. SocGen was sole financial adviser for North America's mammoth $5.7 billion Champlain Hudson hydropower project. The French bank also served as lead coordinating bank for the €1.1 billion financing of the Abidjan Metro in Africa's Côte d'Ivoire.
Elsewhere, SocGen has been active on the African continent arguably as long as any Western bank. In Africa's emerging microfinance sector, the bank's exposure came to €120 million at the end of 2022. In September, SocGen was joint bookrunner in supranational African Development Bank's €1.25 billion social bond, the largest order book for a euro-denominated bond in that bank's history.
---
IFC
Outstanding Leadership in Sustainable Finance by a Multilateral Institution
The International Finance Corporation (IFC), a member of the World Bank Group, supported innovative sustainable finance initiatives all through the Global South. It helped to create a new market for social bonds in Asia in 2022, pioneered gender bonds in sub-Saharan Africa and supported blue bond initiatives in the Philippines and Thailand to help reduce marine plastic pollution. Overall, the multilateral institution raised $9 billion through 128 issuances in the last calendar year, of which 20% was raised through green bonds totaling over $1 billion and social bonds totaling over $715 million.­
---
BANK OF AMERICA
Outstanding Leadership in Green Bonds
Outstanding Leadership in Transition/Sustainability-Linked Bonds
Sustainable finance is still dominated by green bonds; and Bank of America had a stellar year in this important category, improving its global ranking from sixth to second on the strength of 88 deals, with a volume of $18.5 billion, outperforming the market, according to Refinitiv. Some of those issuances were quite sizable, too, like Japanese automaker Honda Motor Co's $2.75 billion inaugural green bond that will be used for development of zero-emission vehicles; and like General Motors' first green bond. That $2.25 billion issuance was "the second-largest green deal from a US corporation outside of the financial sector," according to Bloomberg.
The bank lent support to non-green industries looking to transition to a more sustainable future. It was joint book-running manager for Eaton's $1.3 billion sustainability-linked bond (SLB) in August 2022, for instance. That US power management company will need to achieve a 40% reduction in absolute scope 1 and scope 2 greenhouse gas emissions by 2027 or face a step up in interest payments. The bank was joint bookrunner in Brazilian media conglomerate Grupo Globo's $400 million SLB too.
---
CITI
Outstanding Leadership in Social Bonds
Outstanding Leadership in Transition/Sustainability-Linked Loans
In a year when many social bond issuers vacated the field, Citi remained active. It was bookrunner on 23 deals, with a volume of $6.9 billion, third globally in Dealogic's league tables, up from 14th in 2021. It also issued the year's single largest corporate social bond, a $2.5 billion instrument that will finance the construction, rehabilitation and preservation of quality affordable housing for low- and moderate-income people in the US.
Citi also secured a top-three position in sustainability-linked loans (SLLs) in 2022, with a 4.9% global market share on the strength of 70 deals, according to Dealogic. Citi has long maintained a big presence in Latin America. This now includes SLL activities. In Colombia, Citi extended a $100 million SLL to Bancolombia that will boost that bank's sustainable lending projects and support women in leadership positions.
---
ING
Outstanding Leadership in Sustainability Bonds
Sustainability bonds typically perform double duty—supporting environment goals but also addressing social problems like income inequality or housing needs. Aedifica's 10-year, €500 million sustainability bond, for example, issued in September 2021, will refinance environmentally sustainable health care assets for that Belgian firm's health care real estate investment trust. Netherlands-based ING served as a lead manager for the heavily oversubscribed offering, the order book for which reached €1.8 billion. Proceeds will go toward green housing, energy efficiency and health care facilities for retirees.
---
CAIXABANK
Outstanding Leadership in ESG-Related Loans
Spain's CaixaBank was bookrunner for 99 ESG-linked loans, generating $12.7 billion in 2022, according to Refinitiv. The bank has been a pioneer in green mortgages, where borrowers can get a lower interest rate for the purchase of "green" buildings (buildings meeting specified environmental standards). In 2022, Caixa granted €880 million in mortgage loans like these to private individuals for homes with an A or B energy-efficiency certificate. This green mortgage category didn't even exist in 2021.
---
SUSTAINABLE FINANCE AWARDS 2023: GLOBAL WINNERS
| | |
| --- | --- |
| Outstanding Leadership in Sustainable Finance | Standard Chartered |
| Outstanding Financial Leadership in Sustaining Communities | BBVA |
| Outstanding Leadership in Sustainability Transparency | Scotiabank |
| Outstanding Leadership in Sustainable Infrastructure Finance | CIBC |
| Outstanding Leadership in Sustainable Project Finance | Societe Generale |
| Outstanding Sustainable Financing in Emerging Markets | Societe Generale |
| Outstanding Leadership in Sustainable Finance by a Multilateral Institution | IFC |
| Outstanding Leadership in Green Bonds | Bank of America |
| Outstanding Leadership in Social Bonds | Citi |
| Outstanding Leadership in Sustainability Bonds | ING |
| Outstanding Leadership in Transition/Sustainability-Linked Bonds | Bank of America |
| Outstanding Leadership in ESG-Related Loans | Caixabank |
| Outstanding Leadership in Transition/Sustainability-Linked Loans | Citi |