A relative unknown is positioned to claim Steve Jobs' throne.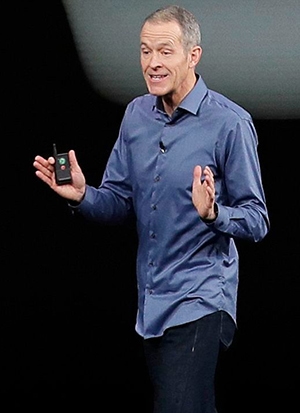 Apple Chief Financial Officer Jeff Williams, little known outside of the company's inner circle, catapulted to sudden notoriety in July when it was announced he would take over the management of the company's hardware and software design teams from longtime head Jonathan "Jony" Ive, who is leaving by year's end to start his own firm. With his new responsibilities, Williams, 56, now also carries an unofficial title—that of CEO heir apparent when boss Tim Cook finally decides to move on.
"Williams is in many ways a doppelgänger for Cook," wrote journalist Adam Lashinsky in his 2012 book Inside Apple: How America's Most Admired–And Secretive–Company Really Works. Both Cook and Williams hail from the South and built their careers at IBM. They also attended Duke University's evening program to earn their MBAs. "Tall, lean, and grey-haired like Cook, Williams was said by Apple executives to look so much like his boss that from behind they could be [easily] mistaken for each other," Lashinsky wrote in his book.
A North Carolina native, Williams joined Apple in 1998—the same year as Cook—and climbed the corporate ladder fairly swiftly. Hired as head of Worldwide Procurement, in 2004 he was named senior vice president of Operations, playing a crucial role in the company's entry into the cellphone market with the launch of the iPhone. By 2010, he was overseeing Apple's entire supply chain, customer service and support network, and in 2015 he was promoted to COO—a role Cook himself held from 2005 to 2011.
Similarity, however, is not an appropriate yardstick to comment on new or potential CEOs, says Loizos Heracleous, professor of Strategy at Warwick Business School: "Once a CEO takes over, they will be judged on company performance," he says. Results in recent years, he adds, indicate that a significant strategic change isn't needed. "When critics say that Apple has not been as innovative since Jobs' demise in 2011, they forget that innovation is not simply about introducing new gadgets," he explains. "Innovation can also be, for example, about the business model—building a tight ecosystem, capitalizing on market influence, creating network links, building an efficient supply chain—all of which have been done excellently by Apple."
Heracleous is convinced that these aspects are even more vital to competitive advantage than introducing new gadgets. "Business-model dimensions are harder for competitors to imitate," he says.