TECHNOLOGY & TREASURY MANAGEMENT — TREASURY SOLUTIONS
Treasury modules offered by enterprise resource planning systems providers are threatening full-suite treasury systems.
By Denise Bedell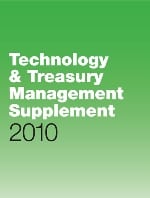 As companies focus more on cost savings, there is an equilibrium that must be maintained between reducing spend on IT investment and garnering savings through IT spend. This can be a difficult balancing act, and one that is keenly felt when considering investment in treasury management systems. It can be the deciding factor when selecting between treasury management systems (TMS) and the treasury and investment modules offered within an enterprise resource planning (ERP) system.
TMS providers, such as SunGard, Wall Street Systems, Thomson or IT2, are able to provide the most complete solution geared specifically for treasury operations, but not every company needs or can use all of that functionality. For many of the largest companies, the full suite makes most sense. When looking for depth of functionality specific to traditional treasury management functions, there is nothing better than a dedicated TMS.
TMS vendors have an edge over ERP providers in that they offer distinct and well-developed modules for some of the biggest risk areas encountered by companies today, including FX, derivatives and hedging. In contrast, ERP functionality for these mission-critical operations is sandwiched within one module. "Especially given where we have been in the currency market, with the volatility we have seen, we are seeing a lot of companies focus on this," says Paul Bramwell, senior vice president of treasury solutions at SunGard AvantGard. "They want to be able to identify risk and be able to hedge it out efficiently and effectively. And they want to be able to move seamlessly from one portal to another," he adds.
However, there are also clear advantages to using a module from a company's incumbent ERP—not least the cost of ownership. "There are different reasons that people come to us for treasury management solutions. The first and most obvious is to drive the costs out of treasury infrastructure," notes Craig Himmelberger, director of ERP financials solution marketing at SAP. Often the use of treasury and investment modules will add little or nothing to the cost of ownership of an incumbent ERP.
Shan Haq, global vice president of marketing at solutions provider Transcepta, adds, "Companies are looking to leverage existing investments and ensure money they spend will have a good return." The low cost of ownership is clearly a big plus for IT-spend-conscious companies. Plus, using an ERP allows the treasury to take advantage of non-core treasury products within the ERP. Judson Murchie, analyst at Aite Group, notes: "An example of this is Oracle's Crystal Ball application, an enterprise-wide reporting and analytics engine. Crystal Ball is used by many treasury groups for robust cash forecasting to model cash flows and provide support for risk management through stress testing and scenario analysis."
And then there is the IT infrastructure. With an incumbent ERP, there is already a knowledgeable in-house IT staff—a staff that may not look too kindly on having to get up to speed with a one-off system.
The potentially seamless integration offered by ERPs with other in-house systems is another advantage. Enrico Camerinelli, senior analyst at Celent, says, "More than the richness of functionalities, it is the seamless integration with the ERP that establishes a strong foothold." Himmelberger notes, "The best customers for us are not those looking at individual pieces in a vacuum but those looking to understand how treasury impacts all sorts of other areas of the company." This is something that treasurers are increasingly aware of—the need to look beyond the walls of treasury and into such processes as the financial supply chain.
Value for Money
Both TMS providers and ERP providers are looking to deliver better value to their clients—albeit in different ways. A number of TMS providers are now offering both a dedicated workstation approach and a browser-based or application service provider (ASP) approach. Which one a company will choose may depend on the size and complexity of the organization.
"Companies want the ability to use and leverage the Internet to reduce the cost of ownership. Most clients are looking to have lower cost of ownership," says Mark Lewis, director, corporate treasury, at Wall Street Systems. "In addition, clients may move towards the ASP model to take IT management out-of-house."
Ultimately, though, whether a company chooses an ERP or a TMS vendor may have more to do with who is making the decision than with functionality.