NEWSMAKERS: UNITED STATES
By Valentina Pasquali
When social-networking giant Facebook filed with the US Securities and Exchange Commission in February to raise $5 billion in one of the most anticipated initial public offerings of recent times, the talk of the town was the 27-year-old founder and CEO Mark Zuckerberg.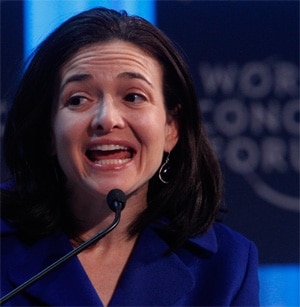 Sandberg brought Facebook into profit
But chief operating officer Sheryl Sandberg, Zuckerberg's more experienced colleague and the company's public face, also deserves credit for Facebook's seemingly unstoppable rise.
When Sandberg joined in 2008, Facebook had 70 million users and wasn't profitable. Now it has 845 million monthly active users. In 2011 it earned profits of $1 billion, thanks to increased advertisement revenue that it has been Sandberg's job to generate.
"Sheryl has helped Facebook transform from a great product into a great business," says Henry Blodget, editor-in chief of Business Insider. "She has recruited exceptional senior people, brought strict discipline to many areas across the organization and helped Facebook mature into a world-class global company."
Sandberg, who stands to make a fortune with the IPO, owning stocks and options worth up to $2 billion, has an impeccable résumé that includes Harvard University and high-profile jobs with the World Bank and the US Treasury. She was a vice president at Google in 2004 when it went public. "Sheryl played an enormous role at Google in keeping her troops' heads in the game during the distraction of an IPO," says Lise Buyer, founder of IPO advisory firm Class V Group. "Making sure the early-to-the-firm employees who hit financial home runs continued to work harmoniously with the later-arriving folks who were just getting up to bat was critical then and will be so again at Facebook."
In the next few months, Sandberg, who has wide-reaching business and political connections, will function as a liaison with Wall Street analysts and potential investors. In the meantime, she has also been overseeing Facebook's growing lobbying effort. "Sheryl brings an insider's understanding of Washington that is important to any company in the sights of federal and congressional leaders," says Stephen Stesney of First Street Research Group.
"I don't know that Sheryl would ever want to subject herself to the crap that politicians have to put up with, but if she does, she'll be an excellent candidate for president of the United States," says Blodget of Business Insider. Facebook stock should begin trading by May.