In today's virtual world, fintech development can take place anywhere. With funding for start-ups split 50:50 between traditional financial centers and elsewhere, the race is on to attract the hottest young firms.

---
---
A modern-day gold rush is gathering pace to establish fintech hubs in cities around the globe, as the world's largest metropolises seek to position themselves as the next financial boomtowns. The goal is to take a piece of the pie in a sector that saw global investment triple year-on-year—to $12.2 billion in 2014—and to build up the sort of high-end, knowledge-based jobs that government's crave.
London is easily the most important fintech hub in Europe and is giving San Francisco, with its Web expertise, and New York, with its financial might, a run for their money as the foremost fintech location in the world.
Eric van der Kleij is a serial entrepreneur who was asked by the UK government early in 2011 to help with strategy development for the Tech City initiative. "It was a recently formed government, just come into power—and they'd asked, 'What can we do to accelerate and amplify this cluster?' He was speaking about the tech hub that was growing in an area affectionately known as Silicon Roundabout here [in East London]," recalls Kleij. "I was beguiled by the special advisers to Number 10 [Downing Street, the prime minister's residence], who were very clearly determined to really make a difference.
Kleij was then asked to become the first CEO of Tech City. At the time, London was preparing for the 2012 Olympics, which presented the perfect opportunity to extol the virtues of the UK's biggest city to investors, talent and technologists—and to attract both foreign and indigenous tech companies. "In addition to that," he continues, "I had the privilege of working with the team at Number 10, creating a direct conduit [to] policymakers. It was an unprecedented time." He cites the advantage of being close to advisers that were tasked with crafting tax and immigration policies designed to make the city attractive to fintech companies and individuals.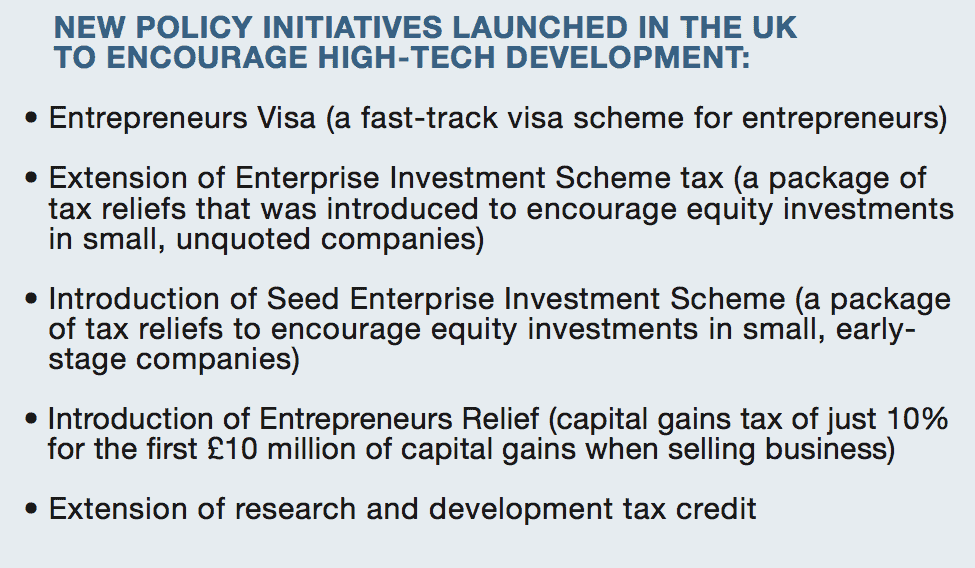 This access helped push five major policy changes (see box, p 44). Governments can provide policy or cash to help such developments, but Kleij believes policy is the more essential: If attractive and supportive policies are in place, less cash is needed to drive development.
Nikita Blanarik, a banking innovation consultant at global business and technology consultancy Capco, says the approach a government takes to developing any start-up ecosystem (fintech included) is critical to its success. "The provision of SME-friendly conditions for tax, start-up capital and market competition are all key. Equally, culture is very important—making sure that a sector can preserve the way it works and interacts."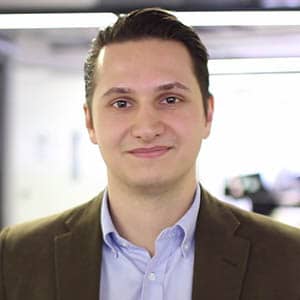 Blanarik believes fintech clusters require both the availability of "existing material" to work with (R&D centers, existing start-ups, universities, corporations and so forth) and "moulding elements" (the availability of funding, mentoring from investors as well as accelerators and, more generally, networking opportunities so that companies can interact with all of these actors). "In short, start-ups and smaller fintech companies aim for rapid growth and expansion. To do that they need support, but they also need a market. This is why London has been so attractive—the sheer amount of different players in the financial space is immense, thus drawing more products and services towards the city." He cites the opening of the banking sector to nontraditional players as being "great motivation for new propositions."
Following on from the success of Tech City, the Canary Wharf Group developed its own fintech "cluster," called Level39—named for its location on the 39th floor of the iconic One Canada Square building in the Canary Wharf financial quarter. "Fintech—in one of the key financial districts—is a narrative the world would clearly understand," explains Kleij. Level39 soon outgrew the 39th floor and now occupies three floors. It is Europe's largest technology accelerator for finance, retail, cybersecurity and future-cities technology providers.
Describing it as a concentrated fountain of fintech talent, Kleij says the secret source that makes the space work is its deep thematic strength and the more than 100 mentors who give their time for free to help the community of 176 start-ups. This, in turn, has attracted bigger companies, including IBM—which situated its only BlueMix Garage innovation center, apart from the one in San Francisco, there. The company gives Level39 start-ups unique access to their Cloud and Watson, IBM's artificially intelligent computer system. UBS has also launched an innovation space at Level39—the first major Western bank to officially launch a blockchain innovation lab (blockchain is the technology backbone behind cryptocurrencies). It has also attracted major technology firms, with China's Alibaba group choosing to make Canary Wharf its European headquarters.
PICKING UP STEAM DOWN UNDER
By emulating Level39, Sydney hopes to overtake Singapore and Hong Kong as the major fintech hub in Asia-Pacific. Stone & Chalk, Sydney's newest fintech hub, is backed by the New South Wales government and some of Australia's largest banks. It was forced to seek larger office space before even opening—an event scheduled for the coming months. Sydney already hosts the Tyro Fintech Hub, and Kleij says, "It's an interesting thing for a country of that size, that they felt strategically it was important to accelerate and launch their own fintech hubs."
Fintech hubs, however, do not need to be situated in major financial centers. Nasir Zubairi, a venture partner at Berlin fintech start-up factory FinLeap, says the presence of e-commerce behemoth Rocket Internet has drawn a lot of tech talent to Germany's creative—rather than financial—hub. "The world is a global market, and, especially as we are dealing with technology-based solutions, they are location-agnostic in many ways. [Germany's key financial center] Frankfurt doesn't really have that core pool of talent. It might have the banking talent and the knowledge base there, but we need to mix it very intelligently with technology, with the young and hungry, execution-focused talent and the creative types."
Berlin is a creative hub, notes Zubairi, which is a key element in the mix that makes a location ripe for driving innovation. "A core component of that is access to resources," he adds. "You need to be in a location where there is a strong pipeline of good-quality technology and businesses that can help make things happen, and Berlin definitely has that."
Blanarik predicts Central and Eastern Europe will likely be home to new fintech clusters in the near future. "There is a huge amount of extremely skilled development talent, a different view on financial services and a relatively low cost of doing business, as well as a constantly growing infrastructure for them to operate in. Once customers in these markets become more open to fintech propositions [as customers are starting to be in the UK], we will definitely see a great deal of growth there."
---
---