NEWSMAKER CANADA
By Gilly Wright
Not one to do anything by halves, BlackBerry's CEO, Thorsten Heins, has overseen the launch of a new operating system called BlackBerry 10 and its first non-keyboard smartphone, the Z10.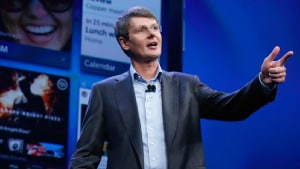 Heins hopes to shape the next decade of smartphones
Photo Credits: SHANNON STAPLETON/ REUTERS
He has also rebranded Research in Motion to the more memorable and significant brand name BlackBerry. Industry watchers have called this a make-or-break launch for BlackBerry: The telecom device manufacturer has seen its fortunes overtaken by its rivals. Heins says he is "convinced this platform will shape the next 10 years as profoundly and as positively as BlackBerry shaped the last decade."
Jan Dawson, chief telecoms analyst at UK-headquartered research firm Ovum provides a slightly more cautious appraisal. "I think it's a great update for an existing BlackBerry user. The new software, and especially the browser, is an enormous improvement over what it had before."
But Dawson believes it will be a struggle to convert existing users of other platforms, like Android and Apple's iOS, in significant numbers. "The apps aren't there, the ecosystem isn't there, and their marketing so far is missing the mark," she explains. "[BlackBerry's] target market is people who are productivity focused, who just want to get things done, and who like to juggle multiple communication channels at once. But I think the people for whom those are the primary reasons to buy a device are a small segment, and many are existing BlackBerry users. Most other people would prioritize something else over those elements when choosing a device, and that's BlackBerry's challenge."
Although the initial launch of the new operating system took place only in the UK, Heins insists sales have beaten expectations, eating into the market share of rivals iOS and Android.
But a tardy US launch, says Dawson, will futher hinder its efforts to seriously challenge competitors: "The launch in March will be very late in, or even past the end of, its financial quarter, and they'd much rather have had those sales in the earlier quarter to demonstrate momentum."