NEWSMAKERS: US
By Udayan Gupta
For Michael Dell, the University of Texas dropout who created one of the most successful PC businesses in the world, the past few months have brought high drama.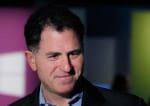 Michael Dell: Caught in a bind
And although there is still uncertainty over how the final scene will play out, the outcome seems clear. Dell Computer will go private—with a current valuation of $24.4 billion—in the largest high-tech privatization to date, and Michael Dell, who retains a 16% stake in the company, will continue to be a key player—although exactly what his role will be is unclear.
The good signs are that large shareholders, such as Southeastern Asset Management activist investor Carl Icahn, and a slew of private equity funds, such as Blackstone and the tech-savvy private equity firm Silver Lake Partners, see value in the company. But the value they envision may not be in keeping Michael Dell on or preserving the company, but in redeploying the parts.
As a PC maker Dell is one of the market leaders, but its status as a tech innovator is highly questionable. Indeed, not only has the role of the PC diminished in comparison to mobile and other high-tech platforms, but Dell's share of the PC market has also slipped.
Indeed, most observers expect Dell to go the way of Xerox, Kodak and HP—technology companies that fell because they were too comfortable with being on top of their market segment, unaware that the segment was morphing into something completely different.
In 1973 a Cowen & Co analyst, Al Groppelli, had this to say about Xerox: "Xerox is experiencing the pangs of maturity. Its attempts to forestall entry into this stage of growth by the acquisition route have failed. Caught in this bind, Xerox will be placed in the unenviable role of trying to maintain a dominant position in its industry while faced with new forces with which it may not be able to cope."
What Groppelli said about Xerox 40 years ago is true for Dell today. Trying to partner with Microsoft, another fading giant, or shore itself up with new capital might give Michael Dell some breathing room, but it will not preserve Dell.