NEWSMAKERS: US
By Udayan Gupta
Technology companies lead a charmed life. Flawed business strategy, poor execution, inexperienced management…some technology companies seem to shrug them off and continue.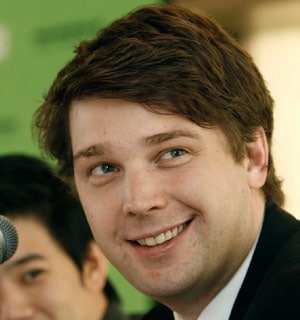 The master of spin: Groupon's founder, Andrew Mason
But the February firing of Andrew Mason, the founder of Groupon — the highly-touted digital discounter — might force technology investors to take stock of what they own and whether the present managers and directors, however charismatic, can continue to execute.
Mason's firing isn't the first instance where a company with a fundamentally flawed business strategy has fired the manager in charge. In 2011, Hewlett-Packard fired Leo Apotheker, its third CEO in six years, replacing him with Meg Whitman, the former eBay head and failed California gubernatorial candidate. In May 2012, Yahoo fired Scott Thompson, its second CEO in two years.
Activist investors may soon be asking for stress tests of many technology companies. Hedge fund investor David Einhorn already has begun to put Apple to the test for holding on to nearly $137 billion in cash. And others may soon begin to ask companies such as HP, Yahoo and now Groupon, if they know where they are going. In truth, Groupon, with its current valuation of $3.5 billion—less than 30% of its IPO value—may be failing the test.
For a media company that is, in reality, a glorified peddler of digital green stamps, Groupon has had a charmed life. With artful spin, founder Mason and investors such as Ted Leonsis pushed the company to increasingly higher valuations. When it went public in 2011, the still unprofitable company with rapidly slowing revenue growth was valued at nearly $13 billion.
The SEC questioned Groupon's system of accounting, one that exaggerated current income and kicked expenses down the road. And a shareholder accused Groupon executives of pursuing a "fraudulent" scheme that deceived the investing public. None of this seemed to affect the company until late February, when it announced yet another quarter of losses—$81 million for the fourth quarter ended in December 2012—and Mason finally resigned.