A TREASURER'S BEST FRIEND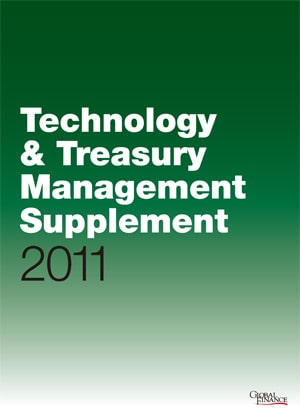 With cash visibility and control more important than ever, and with risk management becoming an increasing part of the corporate treasurer's job, technology is playing an ever more pivotal role. As its sophistication grows, treasury technology can help treasurers better manage cash, accounts, FX and transaction flows.
In this year's Technology and Treasury Management supplement, we look at the convergence between treasury and technology in three main areas. With currency volatility still a major issue for treasury managers—and likely to remain so—foreign exchange exposure management is more crucial. In response, treasurers are making even greater use of their enterprise resource planning (ERP) and treasury management systems to deliver the data and analyses they need to better manage their exposures.
One of the more recent and exciting developments in the treasury management space is the introduction of mobile corporate banking. The past year has seen banks and financial software vendors launch a number of mobile corporate banking applications that enable treasurers to remotely authorize payments, view trade documentation such as letters of credit and conduct electronic invoice presentment and payment on a mobile device. We hear from some of the early movers in this space, who say that the advent of smartphones has the potential to radically transform treasury management—particularly as screen real estate increases with the emergence of tablet computers such as the iPad. However, unlike its retail equivalent, mobile corporate banking is still in its infancy, and not every bank is convinced of its value. More important, perhaps, mobile network operators and the banks are still drawing the lines of engagement in the tussle over who owns the customer and who can deliver the greatest value.
A debate is also raging over the relative value and performance benefits of ERP and dedicated treasury management systems. A key question is whether the treasury functionality within ERP systems has evolved sufficiently for them to rival dedicated systems in relation to treasury management capabilities. Increasingly, treasurers are looking to leverage their existing ERP investments instead of buying a dedicated treasury management system. We look at the pros and cons of both approaches.
Anita Hawser
Europe editor