Global Finance ranks the 200 Biggest Emerging Market Banks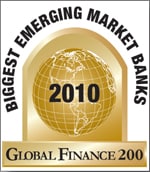 NEW YORK, December 6, 2010 As the world's key emerging markets continue to drive the global economy out of recession, Global Finance unveils its third annual Global Finance 200, the definitive list of the biggest banks in the emerging markets. As well as detailing the 200 biggest emerging market banks by asset size, Global Finance also identifies the biggest banks in each emerging market region – Asia, Latin America, Central & Eastern Europe, the Middle East and Africa.

The full list and supporting data will be published in the January 2011 issue and on the magazine's website GFmag.com. "This year's results show that almost two years into the storm that many believed would send the emerging markets into a tailspin, the leading banks of the developing world are proving bigger, stronger and more resilient than ever," said Joseph Giarraputo publisher and editorial director of Global Finance.

Global Finance assembled the list with the help of Bankersalmanac. The basis of all the rankings is the size of total assets, i.e., the balance sheet total, as of the end of 2009. All figures have been converted into US dollars at the rate applicable at the date of that balance sheet. Great care has been taken to ensure the information's accuracy, but Bankersalmanac.com and Global Finance can accept no responsibility for any losses or damages arising from any errors or omissions. These bank rankings are based on and compiled from balance sheet information held by Bankersalmanac on September 21, 2010, and additional research by Global Finance.
| | | | |
| --- | --- | --- | --- |
| Rank | Bank Name & Country | Rank | Bank Name & Country |
| 1 | Industrial & Commercial Bank of China* – China | 101 | The Siam Commercial Bank* – Thailand |
| 2 | China Construction Bank* – China | 102 | Banco Bradesco Financiamentos – Brazil |
| 3 | Agricultural Bank of China* – China | 103 | Bancofra – Brazil |
| 4 | Bank of China – China | 104 | Komercn banka – Czech Republic |
| 5 | Bank of Communications – China | 105 | Taiwan Business Bank – Taiwan |
| 6 | Banco do Brasil – Brazil | 106 | The Export-Import Bank of Korea – South Korea |
| 7 | Ita Unibanco – Brazil | 107 | Bank Tejarat – Iran |
| 8 | China Merchants Bank* – China | 108 | Swedbank – Estonia |
| 9 | Banco Bradesco – Brazil | 109 | Banco de Chile – Chile |
| 10 | Shinhan Bank* – South Korea | 110 | First Gulf Bank – UAE |
| 11 | Shanghai Pudong Development Bank – China | 111 | The Saudi British Bank – Saudi Arabia |
| 12 | State Bank of India – India | 112 | Banque Extrieure dAlgrie – Algeria |
| 13 | Sberbank – Russia | 113 | Beijing Rural Commercial Bank – China |
| 14 | Kookmin Bank* – South Korea | 114 | Banco del Estado de Chile – Chile |
| 15 | China Minsheng Bank* – China | 115 | Ping An Bank – China |
| 16 | Bancontander (Brasil) – Brazil | 116 | Banque Saudi Fransi – Saudi Arabia |
| 17 | Caixa Econmica Federal – Brazil | 117 | Evergrowing Bank – China |
| 18 | Industrial Bank (CIB)* – China | 118 | Bank SinoPac – Taiwan |
| 19 | Woori Bank – South Korea | 119 | Shanghai Rural Commercial Bank – China |
| 20 | China Everbright Bank – China | 120 | Syndicate Bank – India |
| 21 | China Citic Bank – China | 121 | Oriental Bank of Commerce – India |
| 22 | Industrial Bank of Korea* – South Korea | 122 | UCO Bank – India |
| 23 | Korea Development Bank* – South Korea | 123 | PT Bank Central Asia – Indonesia |
| 24 | Bank of Taiwan – Taiwan | 124 | HSBC Mexico – Mexico |
| 25 | VTB Bank – Russia | 125 | Chongqing Rural Commercial Bank – China |
| 26 | Hana Bank – South Korea | 126 | Arab National Bank – Saudi Arabia |
| 27 | The Standard Bank of South Africa – South Africa | 127 | E.Sun Commercial Bank – Taiwan |
| 28 | Hua Xia Bank – China | 128 | Indian Overseas Bank – India |
| 29 | Guangdong Development Bank – China | 129 | Nova Ljubljanska banka – Slovenia |
| 30 | Korea Exchange Bank* – South Korea | 130 | RHB Bank – Malaysia |
| 31 | Absa Bank – South Africa | 131 | Banque Misr SAE – Egypt |
| 32 | Shenzhen Development Bank* – China | 132 | Russian Agricultural Bank – Russia |
| 33 | BBVA Bancomer – Mexico | 133 | Bank of Moscow* – Russia |
| 34 | Banco Nacional de Mexico – Mexico | 134 | Allahabad Bank – India |
| 35 | Ziraat Bank – Turkey | 135 | Bank Audi sal – Audi Saradar Group – Lebanon |
| 36 | ICICI Bank – India | 136 | Daegu Bank* – South Korea |
| 37 | Taiwan Cooperative Bank – Taiwan | 137 | Busan Bank* – South Korea |
| 38 | Bank of Beijing* – China | 138 | Banco de Crdito e Inversiones – Chile |
| 39 | Garanti Bank – Turkey | 139 | Taishin International Bank* – Taiwan |
| 40 | Emirates NBD Bank – UAE | 140 | MashreqBank PSC – UAE |
| 41 | Malayan Banking Berhad – Malaysia | 141 | Attijariwafa bank – Morocco |
| 42 | Isbank – Turkey | 142 | BRE Bank* – Poland |
| 43 | Nedbank – South Africa | 143 | Corporation Bank – India |
| 44 | FirstRand Bank – South Africa | 144 | PT Bank Negara Indonesia (Persero) – Indonesia |
| 45 | The National Commercial Bank – Saudi Arabia | 145 | China Zheshang Bank – China |
| 46 | Akbank – Turkey | 146 | Bank of Ningbo – China |
| 47 | Bank of Shanghai – China | 147 | Huishang Bank Corporation – China |
| 48 | Mega International Commercial Bank* – Taiwan | 148 | Bank VTB 24 (closed joint-stock company) – Russia |
| 49 | Punjab National Bank – India | 149 | Banca Comerciala Romana – Romania |
| 50 | Land Bank of Taiwan* – Taiwan | 150 | Banco Popular de Puerto Rico – Puerto Rico |
| 51 | Bank of Baroda – India | 151 | The Government Savings Bank – Thailand |
| 52 | Bank of India – India | 152 | Dubai Islamic Bank – UAE |
| 53 | Bank Melli Iran – Iran | 153 | Bank of Ayudhya Public – Thailand |
| 54 | First Commercial Bank – Taiwan | 154 | Vietnam Bank for Agriculture and Rural Development (VBARD) – Vietnam |
| 55 | Canara Bank – India | 155 | AmBank (M) – Malaysia |
| 56 | Standard Chartered First Bank Korea* – South Korea | 156 | Banque Centrale Populaire – Morocco |
| 57 | HSBC Bank Brasil -Banco Multiplo – Brazil | 157 | Bank of Hangzhou – China |
| 58 | Gazprombank – Russia | 158 | Bank of Nanjing – China |
| 59 | Hua Nan Commercial Bank* – Taiwan | 159 | Nacional Financiera – Mexico |
| 60 | Banco Votorantim – Brazil | 160 | Alfa-Bank – Russia |
| 61 | PKO Bank Polski – Poland | 161 | Banque Marocaine du Commerce Extrieur – Morocco |
| 62 | National Bank of Abu Dhabi – UAE | 162 | ING Bank Slaski – Poland |
| 63 | Bangkok Bank – Thailand | 163 | BLOM Bank – Lebanon |
| 64 | IDBI Bank – India | 164 | Union National Bank – UAE |
| 65 | OTP Bank – Hungary | 165 | Finansbank – Turkey |
| 66 | Public Bank – Malaysia | 166 | The Shanghai Commercial & Savings Bank – Taiwan |
| 67 | Chinatrust Commercial Bank* – Taiwan | 167 | Banco Citibank – Brazil |
| 68 | Arab Bank – Jordan | 168 | Andhra Bank – India |
| 69 | HDFC Bank – India | 169 | Hong Leong Bank – Malaysia |
| 70 | Samba Financial Group – Saudi Arabia | 170 | Banesco Banco Universal – Venezuela |
| 71 | Qatar National Bank – Qatar | 171 | Bancolombia – Colombia |
| 72 | Bank of Jiangsu – China | 172 | Parsian Bank – Iran |
| 73 | Citibank Korea – South Korea | 173 | State Bank of Hyderabad – India |
| 74 | Yapi Kredi – Turkey | 174 | FirstBank Puerto Rico – Puerto Rico |
| 75 | Riyad Bank – Saudi Arabia | 175 | Bank Maskan – Iran |
| 76 | Cathay United Bank* – Taiwan | 176 | Banco de la Nacin Argentina – Argentina |
| 77 | CIMB Bank – Malaysia | 177 | Banco de Crdito del Per – Peru |
| 78 | Ceskoslovenska obchodni banka – Czech Republic | 178 | Standard Chartered Bank Taiwan* – Taiwan |
| 79 | Ceska Sporitelna – Czech Republic | 179 | Investec Bank – South Africa |
| 80 | Chang Hwa Commercial Bank – Taiwan | 180 | Bank Keshavarzi – Iran |
| 81 | Krung Thai Bank* – Thailand | 181 | Banco de Credito y Comercio – Cuba |
| 82 | Bank Polska Kasa Opieki – Poland | 182 | Banco de Oro Unibank – Philippines |
| 83 | Al Rajhi Banking and Investment Corp – Saudi Arabia | 183 | Bank of Dalian – China |
| 84 | National Bank of Kuwait – Kuwait | 184 | Metropolitan Bank & Trust – Philippines |
| 85 | VakifBank – Turkey | 185 | Commercial Bank of Syria* – Syria |
| 86 | Bancontander (Mexico) – Mexico | 186 | Zagrebacka banka – Croatia |
| 87 | Abu Dhabi Commercial Bank – UAE | 187 | Bank Zachodni – Poland |
| 88 | Union Bank of India – India | 188 | Kyongnam Bank* – South Korea |
| 89 | Bank Mellat* – Iran | 189 | Abu Dhabi Islamic Bank – UAE |
| 90 | Taipei Fubon Commercial Bank* – Taiwan | 190 | Kazkommertsbank – Kazakhstan |
| 91 | Banco Mercantil del Norte – Mexico | 191 | Denizbank – Turkey |
| 92 | National Bank of Egypt – Egypt | 192 | Mercantil CA Banco Universal – Venezuela |
| 93 | PT Bank Mandiri (Persero) – Indonesia | 193 | State Bank of Patiala – India |
| 94 | Bank Saderat Iran – Iran | 194 | ZAO Raiffeisenbank – Russia |
| 95 | Banco Santander Chile – Chile | 195 | Banco do Estado do Rio Grande do Sul – Brazil |
| 96 | Central Bank of India – India | 196 | Indian Bank – India |
| 97 | Kasikornbank* – Thailand | 197 | Gulf Bank – Kuwait |
| 98 | Halkbank – Turkey | 198 | MKB Bank – Hungary |
| 99 | Axis Bank – India | 199 | Slovenska sporitelna – Slovakia |
| 100 | Kuwait Finance House – Kuwait | 200 | BRD-Groupe Socit Gnrale – Romania |
Source: BankersAlmanac, *Asset figures provided by bank
For editorial information please contact: Dan Keeler, Editor, email:

dan@gfmag.com

For information on how to obtain the Global Finance 200 logo, please write to: Chris Giarraputo, Managing Director:

chris@gfmag.com