Sim Tshabalala, group CEO of Standard Bank, explains how Africa's biggest bank is expanding throughout the continent and boosting trade and investment with China.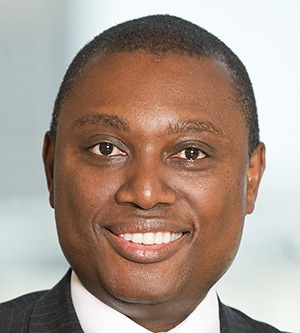 Global Finance (GF): How has the Africa Regions business unit of Standard Bank helped to offset the effect of slower growth in South Africa?
Sim Tshabalala: Africa Regions' contribution to headline banking earnings grew to 31% of the total in 2018, from 28% in 2017. The top five contributors to Africa Regions' headline earnings were Angola, Ghana, Mozambique, Nigeria and Uganda. Most of the other African countries in which we have businesses are growing at much faster rates than South Africa. Kenya, Uganda and Cote d'Ivoire are all expected to expand more than 6% this year. Africa's banking market is growing even faster than GDP, particularly in countries such as Cote d'Ivoire, Ghana and Kenya.
GF: How have retail and business customers reacted to the closing of branches to realign your delivery model to a digital reality?
Tshabalala: The logic actually runs the other way: Customers' banking behavior is fundamentally changing. Over the past three years, branch transaction volumes have been falling by about 14% a year in South Africa. Over the same period, digital transactions have been accelerating. They grew 17% in 2016, 21% in 2017, and 34% last year. The net result is that only 1.5% of transactions in South Africa are being done through tellers. This doesn't mean that our clients don't need us to have branches; it means they need branches for different things—no longer simple transactions, but rather to get advice and to solve complex problems.
We are using technology, and mobile phones in particular, to deliver low-cost transactional channels accessible to all our customers. We offer options like cash back at the [retail checkout] till rather than the ATM, free digital banking rather than using a branch, and the ability to transact using digital wallets, even without a bank account.
We're encouraged by the success of our Instant Money service, which was processing around two million transactions per month in the last quarter of 2018 in South Africa and nine other African countries. Instant Money enables individuals and businesses to make payments directly to an ordinary feature phone from any Standard Bank channel and participating retailers. Similarly, products like SnapScan have made a difference to microbusinesses and entrepreneurs, removing the need for an expensive point-of-sale card machine.
GF: What is the outlook for South Africa's economy and its electricity supply?
Tshabalala: The serious challenges at the state-owned electricity utility pose a risk to South Africa's growth outlook. For 2019, we estimate that GDP will grow at around 1.3%. However, for every 5% shortfall in electricity supply over a year, we estimate a negative impact on GDP of between 0.3 and 0.5 of a percentage point. South Africa's electricity supply is very likely to remain constrained over the medium term. We are, however, encouraged by the restructuring of the sector announced in the February 2018 State of the Nation address, which included the establishment of an independent system operator and a larger role for the private sector in electricity generation.
GF: Are there any new developments in your partnership with Industrial and Commercial Bank of China (ICBC)?
Tshabalala: We see the strategic partnership with the ICBC as a major competitive advantage, making us the Africa bank of choice for Chinese businesses. Over the past decade, this partnership has accelerated and deepened economic trade relations between China and Africa. It has also provided around $10 billion in financing support for approximately 40 projects in Africa involving Chinese companies, leveraging investment of more than $30 billion.
China is now Africa's largest trade partner, with bilateral trade and investment ties growing rapidly. China's trade with Africa increased from $100 billion in 2007 to $230 billion by the end of 2017. Chinese foreign direct investment grew from $16 billion in 2011 to $40 billion in 2016. The Africa-China corridor presents enormous opportunities. As many as 10,000 Chinese-owned firms are operating across Africa. Growing numbers of African businesses, ranging from individual entrepreneurs to corporations, are doing business in China.