ELITE PERFORMERS
By Adam Rombel
In the second of a two-part series, Global Finance recognizes the best corporate/ institutional and consumer Internet banks globally.
For the 13th year, Global Finance 's World Best Internet Bank Awards is spotlighting and honoring the banks from around the globe that are innovating and prospering online.
This year 220 individual banks entered the competition. They were evaluated by a judging panel comprising representatives from Infosys. Based on the judges' evaluations, Global Finance editors made the final selections.
The Internet banking stalwarts leading the way globally include Citi, Standard Chartered, Wells Fargo and Scotiabank.
These banks and other award winners are forging leadership in mobile banking services, online payments, cash management, social media and Web design and integration, as well as attracting new customers in growing markets, strengthening ties with existing clients and boosting information security.
The top banks are quickly responding to customer demand for better service, state-of-the-art functionality and personalized products, according to Balaji Yellavalli, vice president and head of client services, US financial services and insurance, at Infosys Technologies. One way they do this is by testing new Internet tools with clients and analyzing the user experience to hone their product.
Citi was named the global winner for best overall Internet bank and best corporate/institutional Internet bank. It also captured the regional crowns for various categories. The banking giant has won critical acclaim for its integrated Web services and new, innovative product rollouts.
Rajesh Yohannan, Citi's Asia Pacific regional head of eBusiness & global mobile head, said: "The team has worked hard to introduce innovative features such as mobile and tablet-based location services, real-time click-to-chat, electronic delivery of statements/advices and global view of accounts. We will continuously strive to raise the bar with more innovations in the Internet and mobile space to serve our customers better."
Standard Chartered—the global, Asia Pacific and Middle East/Africa winner for best consumer Internet bank—has been able to attain full straight-through processing for opening credit cards, personal loans and deposit accounts on the Internet. It allows customers to complete application forms online and submit supporting documentation through the same medium, according to Infosys. "Therefore, it enables the entire verification and processing for various products online," Yellavalli says. Standard Chartered has also boosted product cross-selling by delivering customized marketing messages based on customer behavior, such as browsing patterns.
Wells Fargo, which was named best corporate/institutional Internet bank in North America for a second straight year, has won praise for its Commercial Electronic Office (CEO) portal and CEO mobile services.
The CEO portal offers Wells Fargo commercial and corporate customers secure, single sign-on access to more than 80 online banking services, including cash management, credit, foreign exchange, global payments, trade services and trust. The CEO Mobile service allows clients to use their smart phones to initiate and approve payments, receive alerts about critical transactions, review account balances and transactions, manage commercial card expense reporting and review and reset rates for expiring term loans. Congratulations to all the winning banks, and stay tuned for information on the call for entries for the 2013 World's Best Internet Bank Awards competition.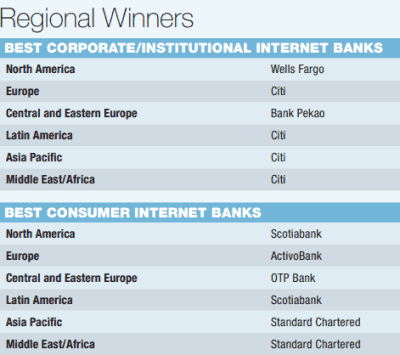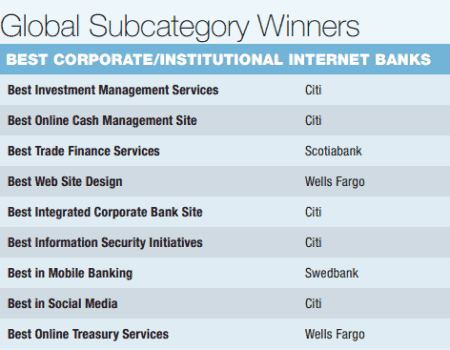 AWARDS: BEST INTERNET BANKS ROUND 2