ANNUAL SURVEY AND AWARDS— REDEFINING SUCCESS
By Michael Shari
Global investment banks and strong local banks make the list in our annual awards.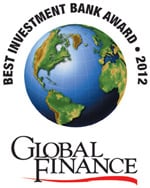 For an investment bank, success has long been defined as staying true to one's brand. In general, this means maintaining clients' confidence in the bank's ability to raise capital for them and to cobble together mergers and acquisitions. But the definition of success in investment banking changed in the frenetic markets of last year. Investors oscillated between risk-on and risk-off as the world hopscotched from crisis to crisis, dragging down equity market activity overall by 28% from the previous year. Last year saw 40% fewer initial public offerings worldwide than the high-water-mark year of 2007.
Many investment banks redefined their own success as "one word—survival," says Fred Cannon, director of research at boutique investment bank Keefe, Bruyette & Woods. In such treacherous markets, investment banks that were able to raise the most capital—or any capital at all—had large balance sheets that could be deployed on a dime to keep a deal from falling apart. Not surprisingly, the titans of Wall Street had the upper hand in that game even before it started last summer.
But the Darwinian nature of last year also favored domestic banks. In countries where investors were the least inclined to take even carefully calculated risks, local banks with strong franchises that had avoided trouble in 2008–2009 grew market share.
Our selection criteria for determining the world's best investment banks—how much capital a bank could raise for its clients in such a challenging market, market share, customer service and advice, deal structuring capabilities, distribution network, staff dedicated to investment banking—produced a diverse and interesting array of winners around the globe this year.
| | |
| --- | --- |
| Best Investment Bank | Goldman Sachs |
| Best Equity Bank | J.P. Morgan |
| Best Debt Bank | Bank of America Merrill Lynch |
| Best M&A Bank | Goldman Sachs |
| Best Up-and-Comer | Evercore Partners |
| Most Creative | Stifel Nicolaus Weisel |
| | |
| --- | --- |
| Best Equity Deal: | Glencore International $10.1 billion IPO, May 11, 2011 |
| | |
| Lead Manager: | Citi |
| | |
| Global Bookrunners: | Credit Suisse, Morgan Stanley, Bank of America Merrill Lynch, BNP Paribas |
| | |
| Best Debt Deal: | Nationwide Building Society $19.9 billion in mortgage-backed securities (Silverstone Master Issuer pic Series 2011-1), October 31, 2011 |
| | |
| Lead Managers: | Bank of America Merrill Lynch, Barclays Capital, J.P. Morgan, UBS, Nationwide Building Society |
| | |
| Best M&A Deal: | Kinder Morgan $37.88 billion acquisition of El Paso Corp, October 16, 2011 |
| | |
| Advising Target: | Morgan Stanley, Goldman Sachs |
| | |
| Advising Acquirer: | Evercore Partners, Barclays Capital |
| | |
| --- | --- |
| Consumer | Citi |
| Financial Institutions | Keefe, Bruyette & Woods |
| Healthcare | Piper Jaffray |
| Infrastructure | Scotiabank |
| Industrials/Chemicals | Jefferies |
| Media/Entertainment | J.P. Morgan |
| Metals & Mining | BMO Capital Markets |
| Oil & Gas | Goldman Sachs |
| Power | Morgan Stanley |
| Real Estate | Raymond James |
| Technology | Morgan Stanley |
| Telecoms | J.P. Morgan |
NORTH AMERICA
Best Investment Bank
Goldman Sachs
Best Equity Bank
Bank of America Merrill Lynch
Best Debt Bank
Bank of America Merrill Lynch
Best M&A Bank
Goldman Sachs
WESTERN EUROPE
Best Investment Bank
Credit Suisse
Best Equity Bank
Credit Suisse
Best Debt Bank
Barclays Capital
Best M&A Bank
Goldman Sachs
ASIA
Best Investment Bank
China International Capital Corp
Best Equity Bank
Ping An Securities
Best Debt Bank
China International Capital Corp
Best M&A Bank
Nomura
CENTRAL & EASTERN EUROPE
Best Investment Bank
Goldman Sachs
Best Equity Bank
Goldman Sachs
Best Debt Bank
VTB Capital
Best M&A Bank
Deutsche Bank
NORDIC
Best Investment Bank
Pareto Securities
Best Equity Bank
Pareto Securities
Best Debt Bank
Nordea Markets
Best M&A Bank
SEB
LATIN AMERICA
Best Investment Bank
Itaú BBA
Best Equity Bank
Bank of America Merrill Lynch
Best Debt Bank
Santander
Best M&A Bank
BTG Pactual
MIDDLE EAST
Best Investment Bank
Samba Capital
Best Equity Bank
Gulf International Bank
Best Debt Bank
HSBC
Best M&A Bank
Goldman Sachs
AFRICA
Best Investment Bank
Standard Bank
Best Equity Bank
Java Capital
Best Debt Bank
Barclays Capital
Best M&A Bank
Goldman Sachs
NORTH AMERICA
Canada
BMO Capital Markets
US
Goldman Sachs
EUROPE
France
BNP Paribas
Germany
Deutsche Bank
Italy
Intesa Sanpaolo
Netherlands
ING
Portugal
CaixaBI
Russia
VTB Capital
Spain
BBVA
Sweden
Handelsbanken
Switzerland
Credit Suisse
Turkey
Oyak Yatirim
United Kingdom
Barclays Capital
ASIA
Australia
Macquarie
China
China International Capital Corp
Hong Kong
HSBC
India
State Bank of India
Indonesia
Mandiri Sekuritas
Japan
Daiwa Capital Markets
Kazakhstan
Halyk Finance
Mongolia
Eurasia Capital
Singapore
Standard Chartered
South Korea
Samsung Securities
Taiwan
Fubon Financial
LATIN AMERICA
Argentina
Citi
Brazil
Bradesco BBI
Chile
LarrainVial
Colombia
Bancolombia
Mexico
Citi
MIDDLE EAST
Bahrain
GIB Capital
Egypt
Arab African International Bank
Israel
HSBC
Jordan
Arab Financial Investment
Kuwait
Markaz
Lebanon
BankMed
Oman
BankMuscat
Qatar
QInvest
Saudi Arabia
Samba Capital
UAE
Standard Chartered
AFRICA
Nigeria
FBN Capital
South Africa
Standard Bank
| | |
| --- | --- |
| Global | Simpson Thacher & Bartlett |
| North America | Simpson Thacher & Bartlett |
| Western Europe | Linklaters |
| Asia | Linklaters |
| CEE | Dewey & LeBoeuf |
| Latin America | Cleary Gottlieb Steen & Hamilton |
| Middle East & Africa | Linklaters |

Best Investment Banks 2012