ANNUAL SURVEY: BEST INVESTMENT BANKS
Earnings from investment banking helped major financial institutions return to profitability, but the rules are changing.
By Gordon Platt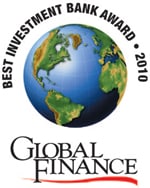 Major banks reported hefty gains in first-quarter 2010 profits, with a powerful assist in most cases from their investment banking operations. Deutsche Bank's earnings rose 48% in the quarter from a year earlier. Record earnings at its investment bank accounted for more than 90% of the total. In the United States, Bank of America Merrill Lynch, J.P. Morgan and Goldman Sachs all reported solid gains from fixed-income trading that contributed greatly to better-than-expected earnings in the first quarter of 2010.
The value of worldwide mergers and acquisitions declined 28% last year to $2 trillion, making it the slowest year for the M&A; market since 2004, according to Thomson Reuters. M&A; activity in the US showed signs of strength in the first quarter of 2010, however, increasing 60% from a year earlier. If the global recovery stays on track and acquisition financing becomes more readily available, M&A; could contribute substantially to investment banking revenue this year.
There are plenty of reasons for bankers to be cautious, however. Regulatory reform is one of them. New regulations on over-the-counter derivatives, higher capital requirements and a new tax to fund bank rescues could cut significantly into future earnings. Meanwhile, the European debt crisis threatens to slow the global recovery.
Amid the uncertainties, the best investment banks continue to put the interests of their clients first and deliver first-rate capital raising and risk-management services. Global Finance once again is recognizing those financial institutions that are helping their customers to grow and succeed. The magazine's editors, with input from industry analysts, used a series of criteria to identify the best investment banks in a wide range of categories, by geography and sector.
Our selection criteria included market share, customer service and advice, deal-structuring capabilities, distribution network, and staff dedicated to investment banking. We also considered efforts to overcome difficult market conditions, pricing and after-market performance of underwritten securities, and market reputation.
| | |
| --- | --- |
| Best Investment Bank | J.P. Morgan |
| Best Equity Bank | J.P. Morgan |
| Best Debt Bank | J.P. Morgan |
| Best M&A; Bank | Morgan Stanley |
| Best Up-and-Comer | GulfMerger |
| Most Creative | Bank of America Merrill Lynch |
Best Equity Deal

Lead underwriters

Lloyd's Banking Group

$22.5 billion rights issue

Bank of America Merril Lynch, UBS Investment Bank,

Citi, Goldman Sachs, HSBC and J.P. Morgan Cazenova

Best Debt Deal

Lead Managers

$7 Billion Qatar bond

Credit Suisse, QNB Capital,Barclays Capital,

Goldman Sachs, and J.P. Morgan

Best M&A; Deal

Berkshire Hathaway-Burlington

Northern Santa Fe

Advising target
Goldman Sachs
| | |
| --- | --- |
| Consumer | Lazard |
| Financial Institutions | Bank of America Merrill Lynch |
| Health Care | Barclays Capital |
| Infrastructure | Scotia Capital |
| Industrial/Chemicals | J.P. Morgan |
| Media/Entertainment | Bank of America Merrill Lynch |
| Metals & Mining | BMO Capital Markets |
| Oil & Gas | Bank of America Merrill Lynch |
| Power | Morgan Stanley |
| Real Estate | UBS Investement Bank |
| Technology | Barclays Capital |
| Telecom | Credit Suisse |
| | |
| --- | --- |
| NORTH AMERICA | |
| Best Investment Bank | J.P. Morgan |
| Best Equity Bank | J.P. Morgan |
| Best Debt Bank | J.P. Morgan |
| Best M&A; Bank | Morgan Stanley |
| WESTERN EUROPE | |
| Best Investment Bank | Deutsche Bank |
| Best Equity Bank | J.P. Morgan |
| Best Debt Bank | Deutsche Bank |
| Best M&A; Bank | Morgan Stanley |
| ASIA | |
| Best Investment Bank | Morgan Stanley |
| Best Equity Bank | UBS Investement Bank |
| Best Debt Bank | Nomura |
| Best M&A; Bank | Morgan Stanley |
| CENTRAL & EASTERN EUROPE | |
| Best Investment Bank | Bank of America Merrill Lynch |
| Best Equity Bank | Bank of America Merrill Lynch |
| Best Debt Bank | J.P. Morgan |
| Best M&A; Bank | Bank of America Merrill Lynch |
| NORDIC | |
| Best Investment Bank | Handelsbanken Capital Markets |
| Best Equity Bank | Handelsbanken Capital Markets |
| Best Debt Bank | DnB NOR |
| Best M&A; Bank | Rothschild |
| LATIN AMERICA | |
| Best Investment Bank | Citi |
| Best Equity Bank | Citi |
| Best Debt Bank | Citi |
| Best M&A; Bank | BTG Pactual |
| MIDDLE EAST | |
| Best Investment Bank | SambaCapital |
| Best Equity Bank | SambaCapital |
| Best Debt Bank | HSBC |
| Best M&A; Bank | UBS Investment Bank |
| AFRICA | |
| Best Investment Bank | Standard Bank |
| Best Equity Bank | RMB Morgan Stanley |
| Best Debt Bank | Standard Bank |
| Best M&A; Bank | J.P. Morgan |
NORTH AMERICA
Canada
Scotia Capital
United States
J.P. Morgan
EUROPE
France
BNP Paribas
Germany
Deutsche Bank
Italy
Mediobanca
Netherlands
ING
Portugal
Caixa BI
Russia
Troika Dialog
Spain
Santander
Switzerland
Credit Suisse
Turkey
Garanti Securities
United Kingdom
Barclays Capital
ASIA
Australia
UBS Investment Bank
China/Hong Kong

China International

Capital Corporation (CICC)

India
Kotak Mahindra Bank
Indonesia
Mandiri Sekuritas
Japan
Nomura
South Korea
Samsung Securities
Taiwan
Fubon Financial Holding
LATIN AMERICA
Argentina
Citi
Brazil
BTG Pactual
Mexico
Citi
MIDDLE EAST
Bahrain
Unicorn Investment Bank
Egypt
EFG-Hermes
Israel
HSBC Bank
Jordan
Arab Bank
Kuwait
NBK Capital
Lebanon
BankMed
Oman
BankMuscat
Qatar
QNB Capital
Saudi Arabia
SambaCapital
United Arab Emirates

Abu Dhabi Investment

Company (Invest AD)

AFRICA
Nigeria
Standard Bank
South Africa
Standard Bank
| | |
| --- | --- |
| Global | Skadden |
| North America | Skadden |
| Western Europe | Freshfields Bruckhaus Deringer |
| Asia | Baker & McKenzie |
| Central & Eastern Europe | Clifford Chance |
| Latin America | Pinheiro Neto Advogado |
| Mddle East & Africa | Shearman & Sterling |
By market:
Best Investment banks 2010: Global Winners
Best Investment banks 2010: Deals of the Year
Best Investment banks 2010: Sector Winners
Best Investment banks 2010: Regional Winners
Best Investment banks 2010: Country Winners