SEEKING STABILITY
By Thomas Clouse, Jonathan Gregson, Antonio Guerrero & Gordon Platt
Global Finance presents its 19th annual awards for the best banks in the developed and emerging markets.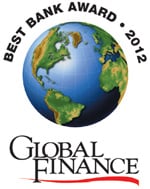 The global financial system is out of the recovery room but remains in rehabilitation. North American banks are strong and stable for the most part, and banks in Western Europe are taking steps to improve their balance sheets, but questions are arising over the health of China's banking system. Investors sold Chinese bank stocks in March in anticipation of slowing economic growth and concerns about risk on loans to local governments.
The sovereign debt crisis in Europe has increased the need for banks to deleverage. Investors are rewarding banks that take a prudent approach to provisioning and writing down non-performing loans (NPLs).
Banks in Central and Eastern Europe are less exposed to the problems facing banks elsewhere in Europe. Economic progress is also continuing across the Nordic region. A number of big US banks reported stellar earnings last year on strong loan growth, fewer NPLs and record deposits. Improving US economics and abundant corporate bond issues are brightening the outlook.
The emerging markets offer some exciting opportunities for bankers, but even here question marks are popping up more frequently. Can BRIC nations maintain their fast economic growth rates? Is it safe for bankers to venture into new frontier markets where credit cultures do not yet exist?
In our 19th annual survey, Global Finance has identified the best banks in 136 countries, as well as eight regions. In selecting the winners, we relied on input from industry analysts, corporate executives and banking consultants, as well as research by Global Finance 's reporters and editors. Our selection criteria included knowledge of local conditions and customer needs, growth in assets, profitability, strategic relationships, experience of staff, innovative products, competitive pricing, level of nonperforming loans and effective use of technology.
The winners are not always the biggest banks but rather the best—those with the qualities that corporations should look for when choosing a bank. These are banks with effective risk management systems, quality service and best practices in corporate governance.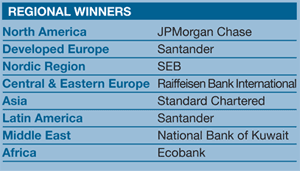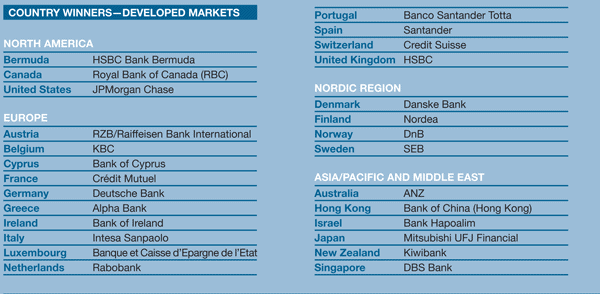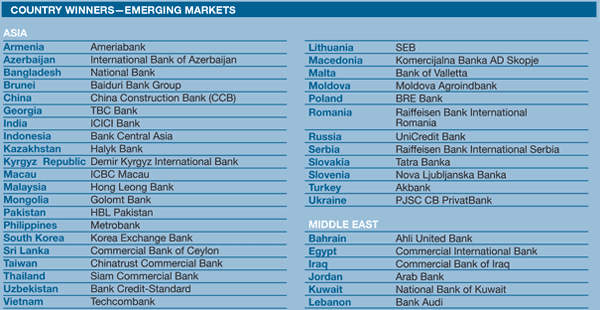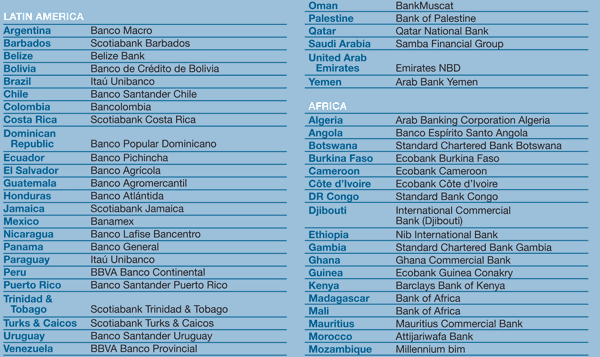 World's Best Banks 2012