BRIGHT STARS
By Thomas Clouse, Jonathan Gregson, Antonio Guerrero & Gordon Platt
Following a year that included some of the biggest scandals in banking history—the London Whale, the Libor rate-fixing scandal, widespread money laundering, insider trading, rogue trading and outright fraud—it is reassuring to focus on the positive side of the financial services industry. In our 20th annual survey, Global Finance has identified the best banks in 136 countries and eight regions of the world. These are the banks that put their customers first and help them to succeed in a still-challenging global economic environment.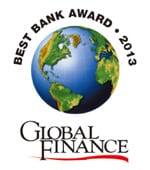 In North America, Canada's strongly capitalized and well-managed banks have continued to prosper—although a few have seen ratings downgrades. US banks have benefited from improved asset quality and an incipient housing recovery. Loan losses have begun to recede.
In Europe, however, the sovereign debt crisis and lack of economic growth continues to weigh on the banking industry. It is unclear whether the bailout of Cyprus means that large depositors will be forced to bear part of the costs of future bank rescues elsewhere in the eurozone.
In the Middle East, banks are performing quite well, and oil-producing countries' economies are growing strongly. Islamic finance is in persistent demand. Africa's banks are leaping ahead with the introduction of mobile-banking systems in previously unbanked rural areas. The continent's natural resources are attracting growing investment from Asia, where economic growth remains respectable.
More than five years after the start of the global financial crisis, a number of regulatory reforms are under way to make the financial system safer. The fact remains, however, that there is no global regulator and that central banks have kept the system afloat with easy money. It remains to be seen if the system can stand on its own once this support is removed.
Now more than ever, customers must depend on trustworthiness and excellence in execution from their banking partners. In selecting the world's best banks, we relied on input from industry analysts, corporate executives and banking consultants, as well as research by Global Finance's reporters and editors. Our criteria included knowledge of local conditions and customer needs, growth in assets, profitability, strategic relationships, staff experience, innovative products, competitive pricing, level of nonperforming loans and effective use of technology. The winners are not always the biggest banks, but rather, the best—those with the qualities that corporations should look for when choosing a banking partner.
| | |
| --- | --- |
| North America | Royal Bank of Canada |
| Nordic Region | Nordea |
| Middle East | National Bank of Kuwait |
| Latin America | Banco Santander |
| Western Europe | BNP Paribas |
| CEE | Raiffeisen Bank International |
| Asia | HSBC |
| Africa | Ecobank Transnational |
COUNTRY WINNERS-DEVELOPED MARKETS
NORTH AMERICA

| | |
| --- | --- |
| Bermuda | HSBC Bank Bermuda |
| Canada | Royal Bank of Canada |
| United States | Bank of America |
EUROPE

| | |
| --- | --- |
| Austria | Bank Austria |
| Belgium | BNP Paribas Fortis |
| France | BNP Paribas |
| Germany | Deutsche Bank |
| Greece | National Bank of Greece |
| Ireland | Bank of Ireland |
| Italy | Intesa Sanpaolo |
| Luxembourg | Banque et Caisse d'Epargne de l'Etat |
| Malta | Bank of Valletta |
| Netherlands | ING |
| Portugal | Banco Santander Totta |
| Spain | BBVA |
| Switzerland | Credit Suisse |
| United Kingdom | Barclays |
NORDIC REGION

| | |
| --- | --- |
| Denmark | Danske Bank |
| Finland | Nordea |
| Norway | Nordea Bank Norge |
| Sweden | Nordea Hypotek |
ASIA/PACIFIC AND MIDDLE EAST

| | |
| --- | --- |
| Australia | ANZ Group |
| Hong Kong | HSBC |
| Israel | Bank Hapoalim |
| Japan | Sumitomo Mitsui Financial Group |
| New Zealand | Kiwibank |
| Singapore | Oversea-Chinese Banking Corporation |
COUNTRY WINNERS-EMERGING MARKETS
LATIN AMERICA

| | |
| --- | --- |
| Argentina | Banco Macro |
| Barbados | Scotiabank Barbados |
| Belize | Belize Bank |
| Bolivia | Banco de Crédito de Bolivia |
| Brazil | Banco Bradesco |
| Chile | Banco Santander Chile |
| Colombia | Bancolombia |
| Costa Rica | Banco BAC San José |
| Dominican Republic | Banco Popular Dominicano |
| Ecuador | Banco Pichincha |
| El Salvador | Banco Agrícola |
| Guatemala | Banco Industrial |
| Honduras | Banco Atlántida |
| Jamaica | Scotiabank Jamaica |
| Mexico | Banamex |
| Nicaragua | Banco Lafise Bancentro |
| Panama | Banco General |
| Paraguay | Banco Itaú Paraguay |
| Peru | BBVA Continental |
| Puerto Rico | Banco Santander Puerto Rico |
| Trinidad & Tobago | Scotiabank Trinidad & Tobago |
| Turks & Caicos | Scotiabank Turks & Caicos |
| Uruguay | Banco Santander Uruguay |
| US Virgin Islands | Scotiabank USVI |
| Venezuela | BBVA Banco Provincial |
CENTRAL & EASTERN EUROPE

| | |
| --- | --- |
| Albania | Raiffeisen Bank Albania |
| Belarus | Belarusbank |
| Bosnia & Herzegovina | Raiffeisen Bank dd Bosnia i Hercegovina |
| Bulgaria | UniCredit Bulbank |
| Croatia | Privedna banka Zagreb |
| Czech Republic | eská spoitelna |
| Estonia | DnB |
| Hungary | OTP Bank |
| Kosovo | Raiffeisen Bank Kosovo |
| Latvia | SEB Latvia |
| Lithuania | Nordea Banka Lietuva |
| Macedonia | Komercijalna Banka AD Skopje |
| Moldova | Moldova Agroindbank |
| Poland | BRE Bank |
| Romania | Raiffeisen Bank Romania |
| Russia | Sberbank |
| Serbia | Raiffeisen Bank Serbia |
| Slovakia | Slovenská sporitea |
| Slovenia | Nova Ljubljanska Banka |
| Turkey | Garanti Bank |
| Ukraine | PrivatBank |
ASIA-PACIFIC

| | |
| --- | --- |
| Armenia | Ameriabank |
| Azerbaijan | AccessBank |
| Bangladesh | Prime Bank |
| Brunei Darussalam | Bank Islam Brunei Darussalam |
| Cambodia | Acleda Bank |
| China | Industrial and Commercial Bank of China |
| Georgia | TBC Bank |
| India | HDFC Bank |
| Indonesia | Bank Central Asia |
| Kazakhstan | Halyk Bank |
| Kyrgyz Republic | Demir Kyrgyz International Bank |
| Macau | ICBC Macau |
| Malaysia | Maybank |
| Mongolia | Golomt Bank |
| Pakistan | United Bank |
| Philippines | Bank of the Philippine Islands |
| South Korea | Shinhan Bank |
| Sri Lanka | Commercial Bank of Ceylon |
| Taiwan | CTBC Bank |
| Thailand | Siam Commercial Bank |
| Uzbekistan | HamkorBank |
| Vietnam | VietinBank |
MIDDLE EAST

| | |
| --- | --- |
| Bahrain | Ahli United Bank |
| Egypt | Commercial International Bank |
| Iraq | Commercial Bank of Iraq |
| Jordan | Arab Bank |
| Kuwait | National Bank of Kuwait |
| Lebanon | Bank Audi |
| Oman | BankMuscat |
| Palestine | Bank of Palestine |
| Qatar | Qatar National Bank |
| Saudi Arabia | Samba Financial Group |
| United Arab Emirates | National Bank of Abu Dhabi |
| Yemen | Arab Bank Yemen |
AFRICA

| | |
| --- | --- |
| Algeria | Arab Banking Corporation Algeria |
| Angola | Banco Espírito Santo Angola |
| Botswana | Standard Chartered Bank Botswana |
| Burkina Faso | Ecobank Burkina Faso |
| Cameroon | United Bank for Africa (Cameroon) |
| Côte d'Ivoire | Ecobank Côte d'Ivoire |
| DR Congo | Standard Bank Congo |
| Djibouti | International Commercial Bank (Djibouti) |
| Ethiopia | Nib International Bank |
| Gambia | Standard Chartered Bank Gambia |
| Ghana | Ecobank Ghana |
| Guinea | Ecobank Guinea Conakry |
| Kenya | Barclays Bank of Kenya |
| Madagascar | Bank of Africa-Madagascar |
| Mali | Bank of Africa-Mali |
| Mauritius | Mauritius Commercial Bank |
| Morocco | Attijariwafa Bank |
| Mozambique | Millennium bim |
| Namibia | Standard Bank Namibia |
| Nigeria | FirstBank of Nigeria |
| Rwanda | Banque Commerciale du Rwanda |
| Senegal | United Bank for Africa (Senegal) |
| Sierra Leone | International Commercial Bank (Sierra Leone) |
| South Africa | Standard Bank |
| Togo | Ecobank Togo |
| Tunisia | Banque Internationale Arabe de Tunisie |
| Uganda | Stanbic Bank Uganda |
| Zambia | Standard Chartered Bank Zambia |
| Zimbabwe | Standard Chartered Bank Zimbabwe |

Awards: World's Best Banks 2013