ANNUAL SURVEY: DOWN, BUT NOT OUT
By Andrew Cunningham
Global Finance presents it annual ranking of The World's Safest Banks.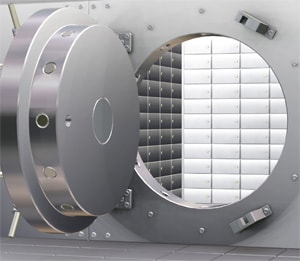 European banks still account for 20 of the World's Safest 50 Banks, but Europe's hold on the rankings is weakening as a result of the multinotch rating downgrades that have accompanied the eurozone financial crisis.
Spanish and Italian banks have been particularly hard hit. Santander, which placed 10th a year ago, with an average rating of AA, no longer comes close to being included in the Safest 50 rankings, with its current average BBB+ rating. BBVA, which placed 17th last year, showed a similar decline.
Last year's Safest 50 list also included two Italian banks, Cassa Depositi e Prestiti (31st) and Intesa Sanpaolo (37th), neither of which qualified this year. Deutsche Bank also failed to reach this year's top 50, after placing 33rd last year.
The safest 10 banks in the world continue to be European, as they have been for the past two years, but nine of them are either owned or sponsored by their national or regional governments. Rabobank, ranked 10th in this year's list, remains the strongest private sector bank in the world.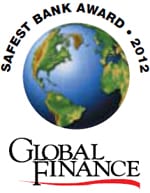 Heading the rankings for the fourth year in a row is KfW, Germany's state-owned development lender. On hearing of his bank's first placed ranking, Frank Czichowski, senior vice president at KfW Bankengruppe, commented: "Safety first has been the prevailing theme of the last few years for many investors around the globe. Ranking KfW as the world's safest bank for the fourth year in a row underlines the status of KfW bonds as a safe, solid and sustainable investment. It is an honor for us to receive this prestigious award."
Five banks hold AAA ratings from all three major rating agencies. That coveted position this year includes Germany's L-Bank, which was upgraded to AAA by Standard and Poor's (S&P) in March. France's Caisse des Dépôts et Consignations (CDC) lost its AAA rating from S&P in January.
North American banks account for 12 of the safest 50—including seven from Canada and just five from the United States. Canadian firms TD Bank Group and Scotiabank (Bank of Nova Scotia), at 11th and 12th, are the highest-ranked non-European banks. BNY Mellon is the highest-ranked US bank, at 29th, down five places from last year, while JPMorgan Chase drops out of the list following rating downgrades earlier this year.
The Asian region contributed seven banks to this year's top 50. Singapore leads the way with three banks, ranked in 13th, 14th and 15th places: DBS Bank, Oversea-Chinese Banking Corp and United Overseas Bank. China has two banks in the top 50, and Japan and Taiwan one each. Australia contributed four banks to the Safest 50, the same as last year.
MIDDLE EASTERN BANKS RISE
The inclusion of four banks from the Middle East, all from the Gulf, illustrates some of the ways in which the rankings have changed. All four banks hold exactly the same ratings as they did last year, when only National Bank of Abu Dhabi (NBAD) and National Bank of Kuwait qualified. But this year a score of 19 points, equivalent to two A+ ratings and one AA-, ensures automatic inclusion in the Safest 50 ranking, enabling Qatar National Bank and Saudi Arabia's Samba to enter the list. NBAD's strong asset growth, enabled it to climb 15 places to 31st position—the biggest jump shown by any bank in this year's rankings. Last year, 19 points secured inclusion only if accompanied by significant asset size.
To be eligible for inclusion in Global Finance 's World's' Safest Banks listing, banks must be among the largest 500 in the world, ranked by assets, and must hold ratings from at least two of the three big ratings agencies: Fitch, S&P and Moody's. Banks that are wholly owned subsidiaries of other banks are ineligible. In practice, banks needed about $10 billion in assets to be eligible for inclusion in this year's list. This lower asset threshold explains why Kiwibank, with assets of $11 billion, entered this year's rankings (at 22), after being ineligible for inclusion last year.
METHODOLOGY
Eligible banks are awarded points corresponding to the level of each of the ratings they hold. If a bank has only two ratings, then an implicit score for the third rating is calculated by taking the average of the two actual ratings and deducting one point. If a bank has a sub-investment-grade rating from any of the agencies, it is automatically disqualified, regardless of the level of any other ratings it may have. If several banks have the same score, then they are ranked by asset size, reflecting the strong empirical correlation between bank size and bank strength.
Nine banks scored 18 points (equivalent to three A+ ratings), with the largest four claiming the last four places in the Safest 50. The other five were, National Commercial Bank (Saudi Arabia), Suncorp-Metway (Australia), Al Rajhi Bank (Saudi Arabia), Riyad Bank (Saudi Arabia) and Banco Santander Chile.
No bank from Central & Eastern Europe (CEE) scored highly enough to be included in the global rankings, but many continued to display strong ratings. eská spoitelna and Komerní banka, both from the Czech Republic, scored 15 points—equivalent to three A ratings. VÚB, which led last year's CEE rankings, falls to sixth place after downgrades from Fitch and Moody's.
The Latin American list is led by two Chilean banks that also score highly enough for inclusion in the global rankings—BancoEstado (42nd in the global list) and Banco de Chile (46th in the global list).
HOW WE MEASURE THE SAFETY OF BANKS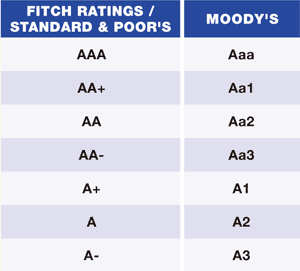 The safest banks chart compares the ratings for the world's largest 500 banks, based on asset size. Long-term foreign currency ratings issued by Fitch Ratings, Standard & Poor's and Moody's Investors Service were used. Where possible, ratings on holding companies were used rather than operating companies, and banks that are wholly owned by other banks were omitted. Government import-export finance institutions were also omitted. Within each rank set, banks are organized according to asset size based on data for the most recent annual reporting period provided by Fitch Solutions and Moody's. In previous years we assigned a "tie" score to banks that had the same number of points and had assets within $5 billion of each other. We have changed our methodology on this point and will no longer be giving ties. Ratings are reproduced with permission from the three ratings agencies, with all rights reserved. A rating is not a recommendation to purchase, sell or hold a security, and it does not comment on market price or suitability for a particular investor.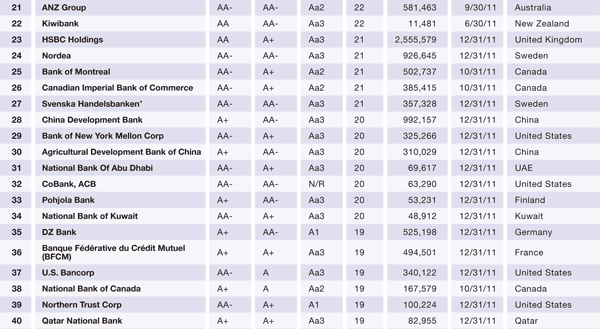 REGIONAL SAFEST BANKS
Global Finance 's annual listing of the safest banks by region.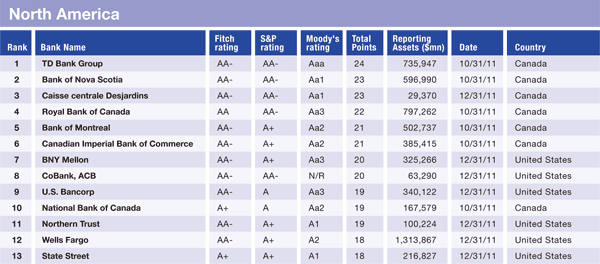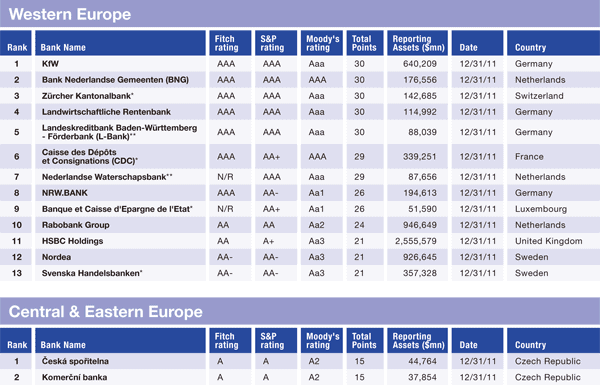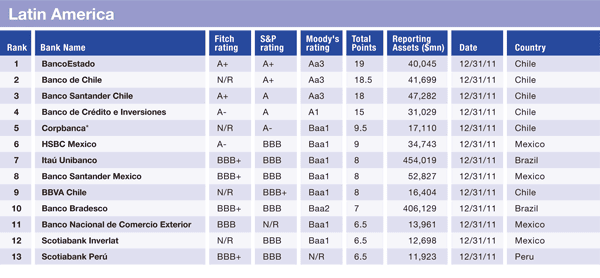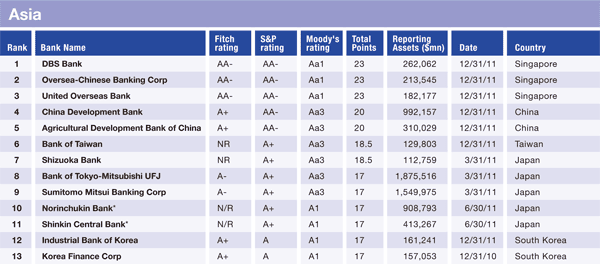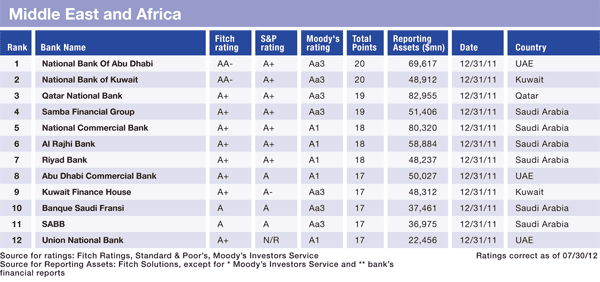 MOST IMPROVED BANKS
Although the overwhelming trend has been for banks to show lower ratings now than they did a year ago—even if many remain highly rated—some banks have been getting stronger. Ten of the banks which feature in this year's global and regional rankings hold higher scores than they did this time last year, and four of those received their upgrades since Global Finance' s last survey in April.
Chilean banks have done particularly well. CorpBanca and Banco de Crédito e Inversiones and Banco de Chile have all been upgraded in the past year.
Two European banks show higher scores than they did a year ago. S&P upgraded Standard Chartered to A+ in December 2011, and L-Bank to AAA in March.
Most Improved Ratings Since Safest Banks' Midyear Update, April 2012