BBVA's President and COO Carlo Torres Villa on the explosive growth of online banking and mobile banking.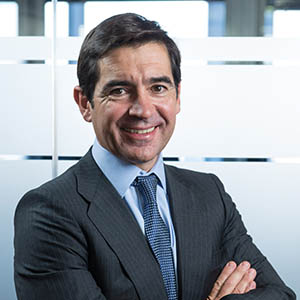 Global Finance: How do you see the retail banking business evolving?
Carlos Torres Villa: Banks need to evolve toward offering truly transparent, ultra convenient, data-rich solutions that empower customers and help them in their decision making. For banks to provide that unique experience they need to tackle a comprehensive transformation and develop key competencies that are going to be essential in the future, such as design, big data, software development or e-commerce.
GF: How much of your business is online?
Torres Villa: Transactions are declining at branches in mature markets, while growth through digital channels is exponential. At BBVA, the number of customers banking through mobile has jumped to 6.4 million in the first quarter of 2015 from 500,000 in 2011, and the explosive growth will continue. But the role of the branches is critical and will be very relevant going forward. Physical networks will adapt, evolve, to focus on value-added services. What is very interesting is that improvements in convenience and in the experience immediately lead to incremental revenue.
GF: Do you see common trends in retail banking in Latin America and Europe?
Torres Villa: There are different macro conditions, banking penetration rates, greater development of different banking products, internet penetration rates, and more. However, in any region, customers are eager for convenience banking. And that's what we are for. There are also many other similarities such as strong growth in mobile banking.Powerful solutions to client's needs have universalacceptance and thus are global in nature. That is the direction in which we are moving. For example, we are rolling out our mobile payments app, BBVA Wallet, in Mexico, Chile and the U.S., after an extremely successful debut in Spain. Bu we also have specific approaches for each country depending on the context.
GF: What investments is BBVA eyeing to stay on top?
Torres Villa: Over the past four years we have invested about 3.3 billion euros in new hardware and software development as part of a complete overhaul of our technology platform. Having a state-of-the-art technology platform is critical in the digital age. We processed 90 million transactions a day in 2006, and that number surpassed 400 million a day in April. In 2017, we'll be able to manage one billion transactions a day.
We are also acquiring critical skills and talent to strengthen the long-term competitiveness of our business model. That is why we acquired Spring Studio, a San Francisco-based, user experience and design firm; or Madiva Soluciones, a Spanish big data startup. We have attracted world-class talent from digital players. We also manage a Venture fund based in San Francisco that has invested in more than 10 startups in the FinTech space (including Personal Capital, Coinbase, Taulia, SumUp, DocuSig) and several venture funds (500Startups and Ribbit Capital) over the past three years. Those investments represent learning and partnership opportunities.
GF: What attracts retail customers?
Torres Villa: Having a branch nearby is generally the most relevant factor. Providing the best solutions to client's needs through all channels is essential. Simple, a fully digital banking service we acquired in the U.S., is a clear example of customers seeking the best possible experience. Simple doesn´t attract customers via price but through convenience, beautiful design, empowerment tools and outstanding service.
GF: How does BBVA use Big Data (information on customers culled from direct contacts and social media)?
Torres Villa: We have set in motion a highly ambitious Big Data project. After a period of getting things ready and attracting the right talent, we are already improving processes related to customer segmentation, credit risk scoring, and fraud reduction, among other areas. In 2014 BBVA Data & Analytics was created to work in realizing and seizing the true value from Big Data The diverse and experienced team of data experts at BBVA Data & Analytics work with both internal and third-party data sources in order to foster the application of Big Data in BBVA, and its wide portfolio of fproducts and services.
We have automated segmentation efforts and moved from manual processes that lasted two months to digitals ones that take a few hours. We have also managed to rescue 4% of SMEs denied loans thanks to different Big Data developments. .
GF:What are the main risks in your business? What keeps you up at night?
Torrest Villa: The disruption underway in banking is a threat but also a great opportunity. My concern is to ensure we seize the opportunity and make the best of it. We are completely focused on growing results from our franchises, intensifying our focus on best solving our clients' needs, and developing the key competencies that will help us do that and ensure long-term success for BBVA. It is a very exciting time.