Tech innovator's career trajectory shows ingenuity isn't without risk.
To some he is a visionary; to others he is inflating a bubble in tech valuations. But there is little doubt that Masayoshi Son, chairman and CEO of SoftBank, is disrupting markets, which is why he's our pick for 2018 Individual Innovator—Asia-Pacific. Yet Son's path to one of the world's most powerful technology investors has been far from linear. He reportedly lost $70 billion during the dot-com crash of 2000, but recovered sufficiently to make a $20 million investment in Alibaba that has become one of the best investments in history. SoftBank's 28% stake in Jack Ma's technological juggernaut is now worth around $140 billion.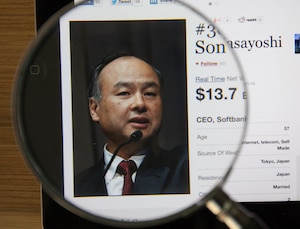 Other forays haven't been as successful. Son's attempt to turn around US mobile phone operator Sprint ultimately resulted in a merger with T-Mobile. Undeterred, SoftBank snapped up UK chipmaker Arm Holdings for $32 billion in 2016. Recent investments have included $2.5 billion in Indian ecommerce site Flipkart and investments in ride-hailing services—including Didi, Grab, Ola and Uber—where Son seems intent on gaining dominance in Asia.
Still, it is SoftBank's $100 billion Vision Fund that has been getting headlines, after it received backing from Gulf sovereign wealth funds (SWF). With an initial $45 billion pledge from Saudi Arabia's Public Investment Fund, it also raised $15 billion from Abu Dhabi's SWF Mubadala. The Vision Fund has been quick to invest in myriad technology-related companies. Son's ability to make snap decisions, often pouring substantial amounts of capital into ventures, has unnerved fellow venture capitalists. On its current trajectory, SoftBank could amass some of the world's most innovative companies—a move that is likely to jolt the relative comfort of Silicon Valley.
Son recently compared himself to Yoda, the Jedi master from the Star Wars franchise who uses "the Force" to make investment decisions. With rumors of a Vision Fund 2.0 raising another $100 billion, he might well adopt one of Yoda's guiding principles: "Train yourself to let go of everything you fear to lose."