Tayfun Küçük, chief technology officer at Odeabank, tells Global Finance the bank will focus on mobile as a key channel for customer acquisition.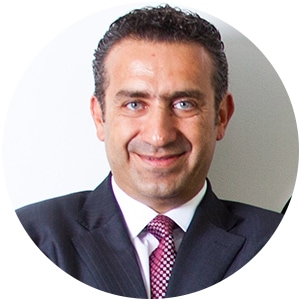 Global Finance: What is Odeabank planning to attract more depositors and lenders?
Tayfun Küçük: Odeabank's strategy is to have a relatively low number of branches (100 branches in five years), so mobile is one of the most important channels for customer acquisition. The three main tools for digital customer acquisition are credit card, consumer loan and overnight savings account, and Odeabank provides straight-through-processed applications on all channels.
Since the launch of our mobile banking app in January 2015, we have replicated mobile's user interface and transaction menu across all of our direct banking channels, including Internet, ATMs, phone and branch self-service areas.
The navigation resembles a phone keypad on which one can quickly reach desired transactions by typing in numeric sequences for any transaction, such as "2-4" for credit card payments. This works across all channels, including Interactive Voice Response (IVR), ATMs, Internet and mobile banking. We are proud to say that our mobile banking users exceeded Internet banking users around a year ago.
To increase customer engagement and loyalty, our mobile app provides its users an integrated gamification platform with game mechanics such as points, badges and rewards.
GF: Some banks, such as HSBC, have been exiting countries such as Turkey. What does that mean for Turkish banks, and in particular for Odeabank?
Küçük: It was the rationale for multinational banks to focus on their core operations and sell their emerging markets assets, as they can easily find investor interest for those assets. On the other hand, the 2000–2001 banking crisis here was a key turning point, which led to strong recapitalization of the sector. This, coupled with successful macroeconomic policies and a strong disinflation period, resulted in high profitability for a decade. Strict regulation and supervision also provided a cushion against the 2008 financial crisis.
Odeabank started operations at the end of 2012 on the back of our shareholder Bank Audi's trust in Turkey's potential. Odeabank has climbed in the rankings quickly to become the ninth-largest bank among Turkey's private banks in terms of total loans, and tenth-largest bank in terms of total assets, in only three years.
GF: How has recent unrest in Turkey affected banking?
Küçük: We believe that Turkey will manage the short-term risks related to the recent unrest, thanks to its solid macroeconomic fundamentals. After the failed coup attempt, the economic administration took decisive actions to contain any adverse effects on financial systems, and domestic political uncertainties have recently eased, improving country risk premiums and leading to a recovery in the financial markets. The Turkish banking sector has continued to operate seamlessly, and consumer banking is no exception. Given its young population and propensity to consume, consumer banking remains one of the key underpenetrated pillars in the Turkish banking sector.