Robert O'Donoghue, ING's global head of working capital solutions, explains the importance of a full view of the supply chain and reasons for growth.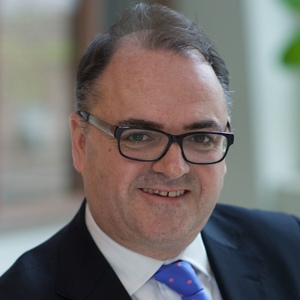 Global Finance: How important is cooperation with suppliers, and how can banks help corporations optimize financial supply chains to reduce inefficiencies and costs?
Robert O'Donoghue: Cooperation between a buyer and its suppliers is key to the establishment of a successful supply chain finance (SCF) program. A proper understanding of each other's financial position and needs is essential in the creation of a true win-win proposition.
SCF enables the strengthening of a supplier's balance sheet (liquidity) and more profitability through improved financing terms. These benefits increase the scope within which to negotiate improved terms for a buyer that result in a more-liquid supply chain overall.
Banks have the ability to bring transparency into a company's supply chain, because proper implementation requires that processes (e.g., invoice approval time, actual payment terms and discounts received, checking whether suppliers providing services to multiple subsidiaries of a group are offered the same financial terms, etc) be opened up to ensure that maximum benefits are reaped. This implementation process can be used as a stepping stone to improve a company's internal operations, resulting in more cost effectiveness and efficiency overall through more streamlined and consistent procedures.
GF: What are the key components of ING's SCF platform and how do you ensure it is agile enough to support the evolving requirements of a diverse range of clients?
O'Donoghue: At ING, we continuously update and improve our SCF platform to ensure it remains among the best-in-class platforms in terms of efficiency, security and user-friendliness, for our buyers and their suppliers alike. In line with this strategy, ING continues to strive to take the classical SCF solution and expand it across industries in new ways for both investment- and noninvestment-grade clients.
Over the last year we have kicked off a number of projects with multiple teams from different disciplines within ING to assess the benefits of new technologies and solutions like blockchain, robotics and data analytics for our SCF solutions. If they add value to our clients' experience, we will aim to incorporate them into our daily process quickly, as we have done with our proprietary supplier onboarding tool, using a scrum [an iterative and incremental agile software framework for managing product development]. This is a way of working that we have used within ING and our SCF franchise for several years now.
GF: What does the future hold for SCF?
O'Donoghue: SCF has clearly come a long way, especially in Europe, over the last few years. But there is still more growth expected, as new countries and industries adopt the solution. In addition to this, innovation will continue to drive both the further development of SCF and the wider goal of working capital optimization. This will also enable the broader offering of SCF to a wider population of suppliers, helping small and medium-size companies to benefit from a cheaper and more-efficient source of financing. Governments in a number of countries, including the Netherlands and the UK, are supporting growth and better understanding of the product and the opportunities it offers to fuel growth in the wider economy.