Enrique Alvarez, head of Strategy at Santander, talks about the impact of digitization, mobile banking and other groundbreaking technologies being put to work in Latin America.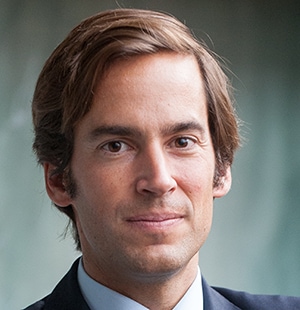 Global Finance (GF): What is Santander's vision for its business in Latin America?
Enrique Alvarez: Santander has a longstanding relationship with Latin America, which goes back to when the bank was founded 160 years ago. Our presence has grown over time and the region is key for the Group, contributing to our diversification and growth. We are in Latin America to stay.
Our banks in Latin American have also proved to be a relevant source of innovation. Take as an example Work Cafes in Chile, a revolution of the branch concept that makes customers want to come to the bank. Or Superdigital in Brazil, a mobile platform for making deposits, withdrawals and payments even if you do not have a bank account, providing new products and services to the unbanked population. These are just some examples of how we are innovating to help people and businesses prosper, our purpose.
GF: What are the main challenges that Latin American markets pose for the bank?
Alvarez: In macroeconomic terms, the outlook for the world economy is positive. Growth is expected to be close to 4% in 2018, a six-year high. And, most importantly, the cycles are aligned: Both developed and emerging countries are growing. Regarding Latin America, the general situation can be summed up in four main points: sustained growth in lending, higher interest rates than in mature markets and low banking penetration levels, and a more favorable demographic evolution than in mature markets. This environment favors profitable growth. So, at this point of the cycle, there are no major concerns on the economic front.
It is true that emerging markets sometimes involve higher levels of volatility on different fronts, but we have a deep understanding of the region and know how to manage in these contexts as we have proven in the recent years. We are convinced our local teams will continue to deliver outstanding results for the Group while doing things right in a simple, personal and fair way.
More broadly, Latin America has the same challenge we are facing worldwide: the digital revolution, which is creating new challenges and opportunities at a pace we have never seen before. That change is having an impact on politics and society everywhere. And for Santander, it has an impact on how we do business. That's why we believe it is essential to fulfill the cultural transformation we are working so hard on.
GF: What are the main opportunities that Latin American markets pose for the bank?
Alvarez: Challenges and opportunities are closely linked together in the context of the digital revolution. Latin America offers huge potential for growth as there is still a significant percentage of the population that remains unbanked, 160 million people.. Digitization offers the possibility of providing financial products and services to people who wouldn't have had access to them before and to do so in a more efficient way.
Now banking can be done through a mobile phone, without the need to travel to deposit money or take out a loan or get insurance. For us, this is a clear opportunity to earn the loyalty of more customers. The example of Superdigital I mentioned earlier proves this potential-it is growing at around half a million customers a year in Brazil, supporting inclusive and sustainable growth wherever we operate. Our services and products are already bringing new customers into the financial system, enabling them to share the benefits of growth.
GF: How can Latin American banks remain profitable?
Alvarez: Santander has a unique model, with scale in its key markets which is very difficult to replicate. The critical mass we have in our core countries, which are also the region's most relevant banking markets, is crucial to understanding the recurrence and stability of our profits. At the same time, the benefits of being part of a Group are clear in terms of economies of scale, innovation and sharing of talent and best practices.
The macro environment in Latin America is positive, and so is the context for the banking business, so we are optimistic. The digital revolution provides new, more efficient ways to provide products and services to people who have never before worked with a bank, and to do so more efficiently. We are confident we will continue to deliver profitability, which will in turn enable us to support the communities where we operate.