ING CEO Ralph Hamers explains how his bank is using digital technology to improve customer relationships.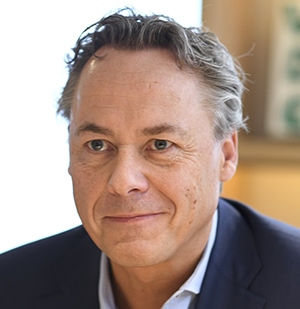 Global Finance (GF): Where do you see the most significant progress being made within ING Group during 2017?
Ralph Hamers: ING's strategy is built around empowerment and the promise to customers to make banking clear and easy, available anytime and anywhere, and to keep getting better. What makes me most proud is the progress we make with them and for them.
In 2017, the overall number of retail customers increased to 37.4 million, up more than four million since the launch of the Think Forward strategy in 2014. The number of primary relationships—customers with a current account, with recurring income and at least one other product—grew to 10.8 million. So we're on track to meet our ambition of 14 million primary customers by 2020. These strong relationships with customers helped to drive ING's robust commercial growth and financial results in 2017. ING recorded a full-year 2017 net profit of €4.9 billion [$5.9 billion], an increase of 5.5% year-on-year.
GF: How rapidly is the Think Forward strategy being implemented? What will be its main benefits?
Hamers: The digital trend, with its direct interaction with customers in a personal, instant, relevant and seamless way, based on standard products, is continuing. I believe digital "ecosystems" are where customers will spend their time in the future, and we want to be where our customers are. So we aim to be part of these ecosystems and also to be a go-to platform for all our customers' financial needs, open to third-party providers of financial and other relevant offerings. To achieve that, we're accelerating the Think Forward strategy and transforming our organization—both our front office and our systems and operations.
In addition, we are developing the data skills to really know our customers and provide the personal and relevant service they expect. This will be the basis of a strong brand that earns customer loyalty and sets us apart from competitors. Our innovative approach also includes our own internally incubated fintechs, such as Yolt, whose aggregation app is in beta testing in the UK and growing rapidly, and the Payconiq payments app that we launched in Belgium and are rolling out in the Netherlands and Luxembourg.
Partnerships with over 140 fintechs are speeding up our own pace of innovation. In late 2017, we launched the €300 million ING Ventures fund to invest in start-ups and companies that have already gained some market traction. These investments are aligned to our strategy of providing a differentiating customer experience.
GF: What do strategic partnerships bring to ING, and how do you see these developing in the future?
Hamers: ING believes collaboration with fintechs is key to further implementing our Accelerate Think Forward strategy and to improving the customer experience by making banking personal, instant, relevant and seamless. We also have strategic partnerships in Asia with other banks, like Bank of Beijing in China, Kotak Mahindra Bank in India and TMB in Thailand; and we work together, building on our combined strengths, in these fast-growing markets. In wholesale banking, we have developed Easy Trading Connect, a blockchain-based platform that aims to digitize and standardize commodity transactions in order to increase speed and efficiencies in the trade process. We have worked together with clients such as Mercuria and Louis Dreyfus, as well as other banks, to develop this platform.
In the energy sector this has already lead to the creation of a consortium with the biggest energy companies, traders and various banks, including ING, launching a new company that is developing a new, secure, real-time blockchain-based digital platform to manage physical energy transactions from trade entry to final settlement. ING has also launched Cobase, an independent fintech that operates a multibank platform offering companies a single point of access to all their bank accounts and other financial products and services from their various banks and financial-service providers.
Partnerships are a great learning experience for us: We learn [from fintechs] about agility, creativity and entrepreneurship, while we offer the fintech a strong brand, a large client base and financial expertise.