CONTINENTAL EROSION
By Andrew Cunningham
Global Finance presents its annual ranking of the Top 50 Safest Banks in the Emerging Markets.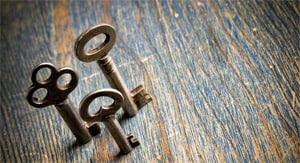 Banks in the Arabian Gulf and Asia have strengthened their hold on the rankings of safest banks in emerging markets, accounting for 43 of the safest 50 listed by Global Finance magazine, compared with 39 a year ago.
Ironically, the European banking markets caused some of the biggest changes to the Safest Emerging Markets Banks rankings over the past year: Only three Eastern European banks are included in the top 50, compared with six a year ago. Downgrades of the European banks have led to lower ratings for many of their Eastern European subsidiaries.
The downgrading of South African banks led to Absa Bank's falling out of the global ranks, with the result that no sub-Saharan banks are included in the list.
TOP SCORERS
The four top-scoring banks each hold two AA- ratings and one A+ rating. The top three are unchanged from last year: China Development Bank receives the highest mark on the basis of its asset size, followed by Agricultural Development Bank of China and National Bank of Abu Dhabi. National Bank of Kuwait moves up one place to fourth, replacing Banco Santander Chile, which falls to 15th position.
Banco Santander Chile's fall means that BancoEstado now ranks as the safest bank in Latin America, holding ninth position in the global scale.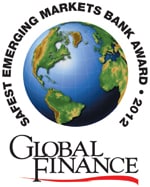 Global Finance 's listing of the safest banks in emerging markets is based on ratings assigned by the three major credit rating agencies. To be eligible for consideration, banks had to be among the largest 500 emerging markets banks in the world, based on asset size, and they had to have at least two ratings. Subsidiaries of developed markets banks may be included, provided that they are not 100% owned. Eligible banks are awarded points corresponding to the level of each of the ratings they hold. If a bank has only two ratings, then an implicit score for the third rating is calculated by taking the average of the two actual ratings and deducting one point. If several banks have the same score, they are ranked by asset size.
Four countries supplied three-fifths of the Safest 50 banks—a greater concentration than last year. Saudi Arabia and South Korea supplied nine banks each, and China and the United Arab Emirates six each. From Latin America, only Chilean banks scored highly enough to rank in the top 50. Banks from the Arabian Gulf provided 22 of the top 50, the same number as last year.
| | |
| --- | --- |
| Fitch Ratings / Standard & Poor's | Moody's |
| AAA | Aaa |
| AA+ | Aa1 |
| AA | Aa2 |
| AA- | Aa3 |
| A+ | A1 |
| A | A2 |
| A- | A3 |
| BBB+ | Baa1 |
| | | | | | | | |
| --- | --- | --- | --- | --- | --- | --- | --- |
| Rank | Bank Name | Fitch rating | S&P rating | Moody's rating | Total Points | Reporting Assets ($mn) | Country |
| 1 | China Development Bank | A+ | AA- | Aa3 | 20 | 992,157 | China |
| 2 | Agricultural Development Bank of China | A+ | AA- | Aa3 | 20 | 310,029 | China |
| 3 | National Bank of Abu Dhabi | AA- | A+ | Aa3 | 20 | 69,617 | United Arab Emirates |
| 4 | National Bank of Kuwait | AA- | A+ | Aa3 | 20 | 48,912 | Kuwait |
| 5 | Korea Finance Corporation | AA- | A+ | Aa3 | 20 | 157,053 | South Korea |
| 6 | Industrial Bank of Korea | AA- | A | Aa3 | 19 | 161,241 | South Korea |
| 7 | Qatar National Bank | A+ | A+ | Aa3 | 19 | 82,955 | Qatar |
| 8 | Samba Financial Group | A+ | A+ | Aa3 | 19 | 51,406 | Saudi Arabia |
| 9 | BancoEstado | A+ | A+ | Aa3 | 19 | 40,045 | Chile |
| 10 | Bank of Taiwan | N/R | A+ | Aa3 | 18.5 | 129,803 | Taiwan |
| 11 | Banco de Chile | N/R | A+ | Aa3 | 18.5 | 41,699 | Chile |
| 12 | National Commercial Bank | A+ | A+ | A1 | 19 | 80,320 | Saudi Arabia |
| 13 | Al Rajhi Bank | A+ | A+ | A1 | 18 | 58,884 | Saudi Arabia |
| 14 | Riyad Bank | A+ | A+ | A1 | 18 | 48,237 | Saudi Arabia |
| 15 | Banco Santander Chile | A+ | A | Aa3 | 18 | 47,282 | Chile |
| 16 | Abu Dhabi Commercial Bank | A+ | A | A1 | 17 | 50,027 | United Arab Emirates |
| 17 | Kuwait Finance House | A+ | A- | Aa3 | 17 | 48,312 | Kuwait |
| 18 | Banque Saudi Fransi | A | A | Aa3 | 17 | 37,461 | Saudi Arabia |
| 19 | SABB | A | A | Aa3 | 17 | 36,975 | Saudi Arabia |
| 20 | Union National Bank | A+ | N/R | A1 | 17 | 22,456 | United Arab Emirates |
| 21 | Industrial and Commercial Bank of China* | A | A | A1 | 16 | 2,458,988 | China |
| 22 | China Construction Bank | A | A | A1 | 16 | 1,949,213 | China |
| 23 | Bank of China | A | A | A1 | 16 | 1,877,514 | China |
| 24 | KB Kookmin Bank* | A | A | A1 | 16 | 222,668 | South Korea |
| 25 | Shinhan Bank | A | A | A1 | 16 | 198,706 | South Korea |
| 26 | NongHyup Bank | A | A | A1 | 16 | 170,441 | South Korea |
| 27 | Arab National Bank | A | A | A1 | 16 | 31,353 | Saudi Arabia |
| 28 | Agricultural Bank of China | A | N/R | A1 | 15.5 | 1,853,313 | China |
| 29 | Hana Bank* | N/R | A | A1 | 15.5 | 133,409 | South Korea |
| 30 | Land Bank of Taiwan* | N/R | A- | Aa3 | 15.5 | 75,505 | Taiwan |
| 31 | First Gulf Bank | A+ | N/R | A2 | 15.5 | 42,881 | United Arab Emirates |
| 32 | Abu Dhabi Islamic Bank | A+ | N/R | A2 | 15.5 | 20,241 | United Arab Emirates |
| 33 | Commercial Bank of Kuwait | A+ | N/R | A2 | 15.5 | 13,332 | Kuwait |
| 34 | Mega International Commercial Bank | A- | A | A1 | 15 | 75,962 | Taiwan |
| 35 | Chinatrust Commercial Bank | A | A | A2 | 15 | 62,080 | Taiwan |
| 36 | eská spoitelna | A | A | A2 | 15 | 44,764 | Czech Republic |
| 37 | Komerní banka | A | A | A2 | 15 | 37,854 | Czech Republic |
| 38 | Banco de Crédito e Inversiones | A- | A | A1 | 15 | 31,029 | Chile |
| 39 | Commercial Bank of Qatar | A | A- | A1 | 15 | 19,654 | Qatar |
| 40 | Woori Financial Group* | A- | A- | A1 | 14 | 210,480 | South Korea |
| 41 | Emirates NBD | A+ | N/R | A3 | 14 | 77,499 | United Arab Emirates |
| 42 | Saudi Hollandi Bank | A- | N/R | A1 | 14 | 15,346 | Saudi Arabia |
| 43 | Doha Bank | A | A- | A2 | 14 | 14,401 | Qatar |
| 44 | BankMuscat | A- | A- | A1 | 14 | 18,798 | Oman |
| 45 | Korea Exchange Bank | A- | A- | A2 | 13 | 87,181 | South Korea |
| 46 | Saudi Investment Bank | A- | A- | A2 | 13 | 13,852 | Saudi Arabia |
| 47 | Cathay United Bank* | N/R | A- | A2 | 12.5 | 57,404 | Taiwan |
| 48 | Taipei Fubon Commercial Bank* | N/R | A- | A2 | 12.5 | 49,699 | Taiwan |
| 49 | PKO Bank Polski | N/R | A- | A2 | 12.5 | 55,817 | Poland |
| 50 | Suhyup Bank* | N/R | A- | A2 | 12.5 | 18,557 | South Korea |
Source for ratings: Fitch Ratings, Standard & Poor's, Moody's Investors Service
N/R – No Rating
Ratings current on 15 October 2012
Source for reporting assets: Fitch Solutions, except *Moody's Investors Service