ASIA
By Anita Hawser
REGIONAL WINNER : HSBC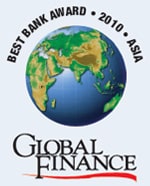 As regional and foreign banks look to Asia to grow their business beyond their domestic markets, competition is heating up in the region. Traditionally a strong provider across 20 or so Asian markets, Hongkong and Shanghai Banking Corporation (HSBC) still has the edge, although this may well change. Last year was a challenging one for most banks, not excluding HSBC, with low net interest margins and a fall-off in trade and investment flows. HSBC saw a 7.6% decline in pre-tax profit on 2008 levels, yet it still achieved a respectable HK$62.6 billion ($8.1 billion) in pre-tax profits. As a "deposit-rich" bank, growth in deposits remained strong at 9.9%. The bank also continued to expand across the region, increasing its shareholding in Bao Viet Holdings and finalizing its acquisition of Bank Ekonomi in Indonesia. HSBC purports to be the leading international bank in Asia's biggest market, China, where it has 98 outlets in 22 cities. It has also played an integral role in the development of China's renminbi market, including facilitating the use of renminbi in cross-border trade. HSBC plans to open its new mainland China headquarters in Shanghai in the first half of this year.
Michael Geoghegan, chairman
www.hsbc.com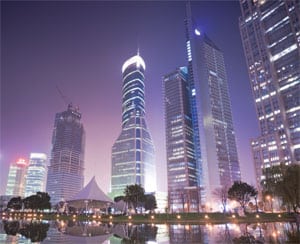 Armenia
HSBC Bank Armenia
According to Fitch Ratings, HSBC Armenia occupies the top position when it comes to retail deposits, with a 23% market share. It also dominates trade lending, with a 14% market share at the end of the first half of 2009, says Fitch. HSBC Armenia's net profit in the 12 months to December 31, 2009, was 1.6 billion drams ($4 million), which was down from 2008 levels but perhaps reflects a difficult operating environment in 2009, with slight declines in net interest and fee and commission income compared to the same 12-month period in 2008. HSBC Armenia benefits from the high credit rating of its parent, and at the end of 2009 it boasted total assets of approximately $339 million.
Timothy Slater, CEO
www.hsbc.am
Azerbaijan
International Bank of Azerbaijan
As a universal bank, International Bank of Azerbaijan (IBA) provides a wide range of banking services and plays a leading role in the country's socioeconomic development, including the financing of projects such as wind farming and cotton production. It is also an early adopter of electronic banking solutions, including Internet and mobile banking, and has developed real-time money-transfer capabilities between IBA subsidiary banks in Russia and Georgia. In 2009 IBA's share of total national banking assets stood at 44%, and it had a 46.5% share of total domestic loan portfolios. The bank's international expansion stepped up a gear in 2009 with the opening of a representative office in New York.
Jahangir Hajiyev, chairman
www.ibar.az
Bangladesh
AB Bank
AB Bank, formerly known as Arab Bangladesh Bank, was the first private sector bank in the country. It provides a wide range of banking services encompassing retail, corporate, SME, investment and Islamic banking. For the half year ended June 30, 2009, the bank's net profit stood at 1.5 billion taka ($22 million). The Credit Rating Agency of Bangladesh assigned the bank a long-term rating of A1 in 2008, saying it has the capacity to meet its credit commitments. In the first half of 2009, total assets of the bank stood at 94.6 billion taka ($1.4 billion).
Kaisar A. Chowdhury, president and managing director
www.abbank.com.bd
China
ICBC
Ratings agency Fitch maintains that rapid credit growth has put Chinese banks' capitalization under pressure, and it questions whether the associated on- and off-balance sheet risks have been fully acknowledged. Yet from December 31, 2008, to September 30, 2009, ICBC loans and advances to customers increased by just 22%. ICBC is one of the few Chinese banks that have successfully diversified their business beyond the mainland. It provides a wide range of banking services encompassing custody, cash management, investment banking, wealth management and credit and debit card services. Domestically, it claims to be the bank with the largest market capitalization, the most customer deposits and profit, and highest brand value. ICBC saw 2009 net profits increase 16.3% to RMB129.4 billion ($18.9 billion). "This award means recognition of our commendable financial performance," says Luo Xi, vice president, ICBC. "During the past year, ICBC overcame the hard hit as a result of the financial crisis and realized healthy and stable development. ICBC also managed a new leap forward by seizing opportunities in the crisis, showing investors the bank's strong competitiveness and sound risk control and value creation capabilities."
Yang Kaisheng, president
www.icbc.com.cn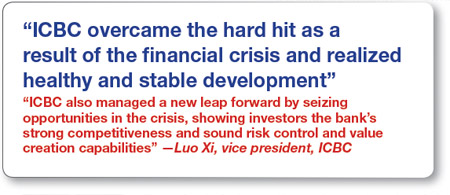 Georgia
Bank of Georgia
Bank of Georgia has a substantial customer base, comprising more than 730,000 retail and 82,000 corporate clients. It also boasts a wide distribution network via its branches, ATMs and point-of-sale (POS) terminals. BOG is in a leading market position among Georgian banks in terms of total assets, client deposits and net loans. Last year it saw an influx of client deposits, resulting in a 15.3% quarter-on-quarter increase of consolidated client deposits from Q2 to Q3 2009. According to analysts, the bank's tier 1 capital adequacy ratio (20.4% as of September 30) and total capital adequacy ratio (21.2%) give BOG considerable loss-absorption capacity and low near-term refinancing risk. BOG has also expanded outside its home market with operations in Ukraine, Belarus and Israel, where its subsidiary, Georgia Financial Investments, offers high-yield deposit services.
Irakli Gilauri, CEO
www.bog.ge
India
HDFC Bank
India's second-largest private sector lender, HDFC has expanded its domestic ATM network within the country to 4,000 ATMs. For the nine months ended December 31, 2009, the bank's operating profit increased by 31.2% compared to the previous year, to Rs47 billion ($1.1 billion). Net profit for the same period was also up by just over 30% to Rs21 billion ($472 million). The bank's ambition is to have a presence in major industrial and commercial centers where its corporate customers do business. It is also developing a strong retail customer base.
Aditya Puri, managing director
Indonesia
Bank Central Asia
A winner in this category last year, Bank Central Asia (BCA) has a strong domestic branch network and continued to build on last year's success, with net profit as of December 2009 increasing by almost 18% on 2008 levels to 6.8 trillion rupiah ($751 million). Most of the gains were made in net interest income (20.6% increase year on year) and other operating income. The bank saw return on equity (ROE) increase to 31.8% as of December 31, 2009. The bank also maintained a low net NPL (non-performing loan) ratio of 0.1% in the same period. Recently the bank launched a renminbi trade settlement service to facilitate business with China and to reduce foreign exchange risk.
Djohan Emir Setijoso, president director and CEO
www.klikbca.com
Kazakhstan
Halyk Bank
A winner in this category for the first time this year, Halyk Bank boasts an extensive network comprising more than 625 outlets. As of September 30, 2009, the bank's total assets stood at 2.1 billion tenge ($14 million), representing growth of 29.3%. It claims to have a leading market share when it comes to total deposits (21.7%) and fee and commission income (21.4%) as of September 30. Umut Shayakhmetova, CEO, says that during 2009 the bank increased its market share in assets and deposits, having closed its books with a profit. "Our conservative approach to external borrowings allowed for easy foreign debt service while a prudent lending policy made a positive effect on the quality of our loan portfolio, helping to mitigate NPL growth," she adds. "In future periods we shall aim at developing further as a client-oriented financial services group, making best use of our strengths and opportunities."
Umut Shayakhmetova, CEO
www.halykbank.kz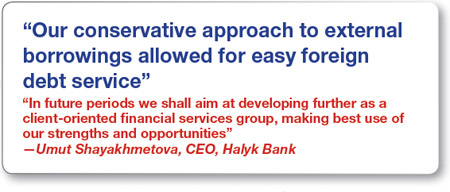 Kyrgyz Republic
AsiaUniversalBank
Constantly increasing servicing levels remains one of the highest priorities for AsiaUniversalBank, says Nurdin Abdrazakov, CEO of AsiaUniversalBank. "Kyrgyzstan is a very dynamic emerging market, which means constant perfection on all levels is vitally important to stay competitive." Competition is increasing year by year, says Abdrazakov, and market leaders make a stronger effort to develop their product portfolios and quality of servicing. "It's a natural feature of an emerging market, where development is increasingly dynamic," he adds. Positive results in 2009 saw the bank grow its total capital to 2.9 billion som ($63 million) as of January 1, 2010. Total revenues increased by approximately 45% in 2009 to 1.8 billion som ($39 million), and net profit for the year amounted to 328 million som ($7 million).
Nurdin Abdrazakov, CEO
www.aub.com

Macau
ICBC Macau
This year's winner is the result of Industrial and Commercial Bank of China (ICBC) assuming control of Macau-based lender Seng Heng Bank. In July 2009 the Macau branch of ICBC and Seng Heng Bank were integrated to form ICBC Macau. The combined entity, which is the largest of all locally registered banks, boasted assets of approximately 52 billion patacas ($6.5 billion) as of December 31, 2009, constituting growth of 87% on 2008 levels. The bank is endeavoring to provide a "unified financial platform" connecting Macau with mainland China and other countries via ICBC's global network. Leveraging ICBC's network, its Macau operations and representative office in Lisbon, ICBC Macau will also develop business between China and Portuguese-speaking countries.
Shen Xiaoqi, CEO
www.icbc.com.mo
Malaysia
Public Bank Berhad
Public Bank boasts 250 branches in Malaysia and 109 overseas branches in markets such as Hong Kong, China, Cambodia, Laos, Vietnam and Sri Lanka. At the end of 2009 the bank's assets totaled 217 billion ringgit ($67 billion), making it the third-largest bank in Malaysia. Strong growth of just over 10% in net interest and financing income saw net profit in 2009 reach 2.52 billion ringgit ($780 million). In 2009 the bank's loans grew by 14.4% compared to 7.8% for the Malaysian banking system as a whole. Teh Hong Piow, Public Bank's founder and chairman, says: "We appreciate this honor, as it is a testimony to our commitment to remain nothing short of being the best. This award will further motivate our staff to continue to strive for greater heights of excellence and uphold the bank's brand promise—which is based on integrity, honesty and excellent service delivery—to its customers."
Teh Hong Piow, founder and chairman
www.pbebank.com

Mongolia
Khan Bank
A consistent winner in this category, Khan Bank is Mongolia's largest bank based on assets. Its main focus is retail banking and lending to SMEs, and its expertise lies in lending to retail and micro, small and medium-size enterprises. Its extensive network comprising 488 branches is designed to reach into rural areas, where it has its biggest customer base. As of September 30, 2009, the bank's total assets amounted to 971.8 billion tugrik ($704 million). The bank continues to innovate when it comes to Internet and mobile banking.
J. Peter Morrow, CEO
www.khanbank.com
Pakistan
Habib Bank Ltd
Pakistan's uncertain domestic and political climate continues to weigh on the country's economic performance. In addition to the fallout from the global economic crisis, the country has been battling its own internal security issues, with a spate of terrorist attacks affecting parts of the country. Against such a backdrop, it seems even more remarkable that in 2009 the HBL Group increased its pre-tax profit by more than 26% to Rs21.4 billion ($255 million). Deposits also saw strong growth of more than 14%, increasing to Rs683 billion ($8.2 billion). Sultan Ali Allana, Habib's chairman, says the bank has a strong commitment to upgrading networks and continues to focus on retail banking operations. The bank has enhanced its alternative delivery channels to increase outreach and service to people who do not have access to financial services in Pakistan. "We…continue to expand our operations in south Asia, the GCC and the UK, where there is a large south Asian diaspora," says Allana. "These awards recognize our superior market positioning and are a reflection of the bank's commitment to excel in areas of product delivery and customer service."
Sultan Ali Allana, chairman
www.habibbankltd.com

Philippines
Banco de Oro
A new winner in this category, Banco de Oro saw strong growth in deposits and assets in 2009, as well as in profitability. The bank is ranked first in the market based on total assets, loans and receivables, and total deposits. As of September 30, 2009, total deposits stood at 642.1 billion pesos ($14 billion), representing year-on-year growth of 11.6%. In the same period the bank's total capital increased by almost 20% to 65.4 billion pesos ($1.5 billion). In 2009 the bank also expanded its consumer banking business with the acquisition of GE Money Bank (GEMB), which added additional customers, branches and ATMs nationwide.
Nestor V. Tan, president and director
www.bdo.com.ph
South Korea
Shinhan Bank
The year 2008 was a difficult one for South Korean banks, with most of them having to draw upon capital from the government's recapitalization fund. Toward the end of last year they faced a problem of a different kind in the form of the liquidity problems exposed at Kumho Asiana Group. According to newspaper reports, the country's financial institutions were exposed to $13.5 billion worth of debt from the South Korean conglomerate. Despite a decline in interest income from 2008 to 2009, non-interest income at Shinhan Bank increased by just over 27% year on year to 1.1 trillion won ($979 million) in 2009 compared with 2008. The bank has its sights set on boosting earnings from overseas operations. In February, The Korea Times reported that the bank plans to gain more than 50% of its total sales from outside of Korea, with the initial focus being on growing its business within Asia.
Lee Baek Soon, president and CEO
www.shinhan.com
Sri Lanka
Commercial Bank of Ceylon
A consistently strong performer in this category for the past 12 years, Commercial Bank of Ceylon (CBC) consolidated its assets and capital base in 2009. It also increased its tier 1 capital by almost 11% to Rs25.8 billion unaudited ($223 million), and assets increased by more than 14% to Rs322.3 billion unaudited ($2.8 billion) compared to 2008 levels. According to unaudited figures provided by the bank, net profit also inched up slightly higher (0.86%) on 2008 levels to Rs4.3 billion ($37 million). Despite a more challenging economic environment in 2009, Commercial Bank says it maintained its leading position among private sector banks based on assets and profits. "Despite the downturn in the local as well as the global economy, Commercial Bank has been able to achieve satisfactory results…while at the same time managing the risk exposures effectively," says Amitha Gooneratne, managing director, Commercial Bank of Ceylon. "We are now well placed to benefit from the peaceful times that have dawned on Sri Lanka after almost 30 years, enabling us to expand our network and services aggressively within Sri Lanka as well as regionally."
A. L. Gooneratne, managing director and CEO
www.combank.net

Taiwan
Chinatrust Commercial Bank
According to Fitch Ratings, the profitability of Taiwanese banks remained low in 2009. However, banks' asset quality exceeded analysts' expectations, with the financial sector's NPL ratio declining from a peak of 1.63% in March-April 2009 to 1.29% at the end of November. Although 2009 saw some one-off incidents for Chinatrust Commercial Bank, such as the need to put aside provisions for its exposure to structured notes and a NT$7.37 billion ($233 million) loss incurred by its US subsidiary, the bank posted a consolidated pre-tax profit of NT$3.3 billion ($104 million). The bank's asset quality remains strong, with an NPL of 0.84%. "Chinatrust is, and has been, the leader in Taiwan on credit card, retail banking, wealth management, payment services and various institutional banking businesses," says Michael DeNoma, chairman of the bank. He says the bank's mission is to "protect and build" customer savings and wealth, and its vision is to fortify the bank's position as the Taiwan champion, Asian and Greater China leader and North America innovator. "We are now in the process of transforming ourselves into the first truly international Chinese bank in history, and we welcome all who share with us our values and visions to join us in the making of a new chapter in the history of banking."
Michael B. DeNoma, chairman
www.chinatrust.com.tw

Thailand
Siam Commercial Bank
The strong performance of Thai banks in 2009 saw Fitch Ratings revise the outlook on the country's four largest private banks, including Siam Commercial Bank (SCB), from negative to stable last November. "Amidst the economic turmoil in 2009, SCB was able to close the year with a healthy and above-target profit, which strongly bears out the bank's right strategic direction to become the 'premier universal bank in Thailand,' plus the bank's resilience in adapting to a very challenging economic environment, which resulted in the solid performance," says Vichit Suraphongchai, chairman of Siam Commercial Bank. In 2009 SCB earned net profit of 20.76 billion baht ($644 million). Net interest and dividend income accounted for 60.8% of total revenue, while non-interest income accounted for 39.2%. At the end of 2009 the bank's market capitalization stood at 294.88 billion baht ($9 billion), which Suraphongchai says is the highest among financial institutions in Thailand. "These results and the underlying trends point, yet again, to the unique and powerful competitive position of the bank," he says. "The results also underscore the agility of the bank's employees to quickly shift gear and snugly fit with the rapidly evolving Thai economic landscape."
Vichit Suraphongchai, chairman
www.scb.co.th

Uzbekistan
Credit-Standard Bank
Moody's maintained its stable outlook and E+ financial strength rating on Credit-Standard in 2009 and upgraded its long-term foreign currency deposit rating to B2. Moody's looked favorably on the government's ability to support "systemically important" banks such as Credit-Standard. In the third quarter of 2009 the bank's assets stood at 320.6 billion som ($204 million), constituting a 34% increase compared with the beginning of the year. Customer deposits increased by 32%, with the majority of the bank's customers being state-owned and foreign companies. Also in the third quarter, the bank's loan portfolio increased by 58% to 29.2 billion som ($18 million). Last year, as part of its retail expansion strategy, the bank opened two new "mini banks" in Tashkent.
Aziz Mirdjuraev, chairman
www.credit-standard.uz
Vietnam
Asia Commercial Bank
According to Fitch, rapid loan growth helped shore up Vietnamese banks' profitability in 2009. However, in light of such rapid growth, it expressed reservations about loan quality. Last year was a difficult one, with net interest margins declining and higher loan impairment charges, says Fitch. Against this backdrop, Asia Commercial Bank (ACB) grew assets by almost 50% to 173 trillion dong ($9.1 billion) and notched up 2.8 trillion dong ($147.3 million) in pre-tax profit, which it says was the leading result among its peers. Despite increased concerns about asset quality among Vietnamese banks, ACB chipped away at NPLs, with its NPL ratio declining from 0.9% to 0.41%, compared to the average NPL rate for the entire Vietnamese banking system of 2.46%.
Ly Xuan Hai, president and CEO
www.acb.com.vn/en