Treasury & cash management
Corporations are focusing ever more intensely on their cash and liquidity management operations. In these credit-challenged times, selecting the best treasury and cash management provider is more important than ever.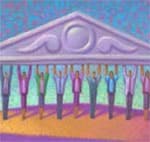 With the continuing turmoil in the world's financial markets and an ongoing increase in risk aversion, the face of the treasury and cash management industry is changing rapidly. The crisis has certainly leveled the playing field in terms of those banks less exposed to the subprime crisis being able to capitalize on the flight to quality that is taking place as customers review existing credit lines and banking relationships.
In light of the turmoil in global financial markets over the past 12 months, judging this year's awards was more challenging than usual, given the uncertainty surrounding those banks that have been nationalized, partly nationalized or the subject of ongoing government bailouts. While the financial crisis has sorely tested the investment banking model and found it to be wanting, global transaction banking, which incorporates the cash management and transaction services business lines of most banks, is expected to emerge from this crisis in much better shape as banks look to solidify their position by facilitating the cross-border movement of funds between trading counterparties and to help companies achieve greater visibility over their working capital and liquidity.
While scale and transaction volumes are important in terms of being able to re-invest in technology and delivering economies of scale, in the wake of the crisis effective treasury and cash management is more about providing both banking and corporate customers with a wider range of value-added services around transaction reporting, account visibility and risk management. And as existing relationships between treasury and cash management banks and their customers are tested by the current crisis, those banks and software vendors with healthier balance sheets have the opportunity to shine and gain market share over their competitors.
An increasing differentiator will be the ability of treasury and cash management providers to service the needs of those companies in the lower to mid-tiers as they are the ones that are hurting the most as credit becomes scarcer and they seek to unlock capital trapped in inefficient accounts receivable and accounts payable processes. Commitment to the business and the ability to service customers' needs no matter where they are located are essential for banks to retain customer loyalty. That requires a combination of local market knowledge and expertise and ongoing investment in technology to make the customer's experience a consistent one, whether doing business with a bank in Asia, Western Europe or the Middle East.
Global Finance has picked the cash management banks and treasury management software providers we believe have successfully combined geographical reach, product innovation, investment in technology and local market knowledge to meet the needs of their customers. Winners were selected using a range of subjective and objective criteria including companies' investment in new and innovative technologies, profitability, product depth and breadth, market share and regional coverage. Our winners reflect those companies that are innovating beyond core treasury and cash management services to provide real value-added solutions to their banking and corporate customers.
Regions covered in the awards include North America, Western Europe, Asia, Latin America, Central and Eastern Europe, the Nordic region, Africa and the Middle East. We also selected the best overall cash management banks in each region and across five regional categories encompassing payments and collections, liquidity management, risk management, CLS-linked offerings and money market funds.
A best overall global cash management bank was also chosen, and—in recognition of the increasing popularity of the private white-labeling business, where cash management banks that have made the upfront investment in global payment networks, platforms and solutions provide their technology for other banks to use—we have awarded Best White Label System Provider.
Anita Hawser