ANNUAL SURVEY/ WORLD'S BIGGEST BANKS
It is just two years since we last listed the world's biggest banks, and in that time the assets of the top 10 have jumped from what was then an eye-popping $12 trillion to more than $18 trillion. The 50% rise—$6,000 billion dollars—represents more than twice the gross domestic product of China. In the same time, the total assets of the top 50 grew by more than $10 trillion, over twice the GDP of Japan.
Switzerland's UBS and Britain's Barclays continue to jostle for pole position with Barclays pipping UBS for the title of the world's biggest bank this year. As well as snagging the top spot, Barclays passed a key milestone as its assets edged over $2 trillion. The biggest British banks continue to grow impressively, taking three of the top 10 spots—but only five of the top 50.
Surprisingly, former league leader Citi continued its slide down the table, dropping to fifth biggest behind two French banks, BNP Paribas and Crédit Agricole—perhaps in part mirroring the dollar's slide against the euro. Mizuho Financial Group's tumble from third to 11th in the list is perhaps even more stark, but its fall, along with those of the other Japanese banks, is indicative of the challenges Japan's corporations are facing across the board.
In contrast, China still has four banks in the top 50, and all have seen substantial rises up the rankings. German banks have surrendered their dominance in terms of numbers of banks in the top 50 to the US, while Canada, Australia and Sweden all have banks on the list for the first time.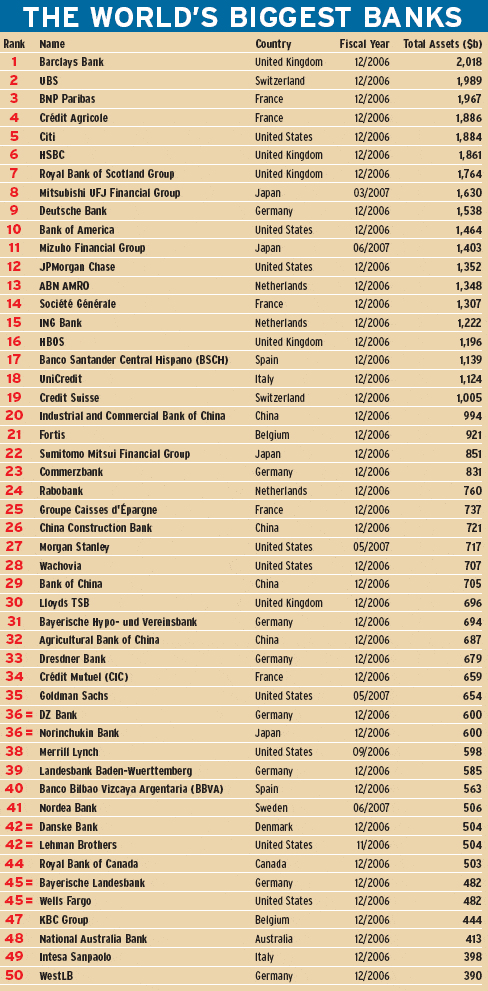 Dan Keeler