BANKS DEVELOP SOCIAL SKILLS
In the second of a two-part series, Global Finance identifies the best global and regional Internet banks.
By Adam Rombel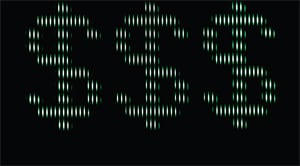 Not many of the headlines about the global banking industry in the past year have been about excellence and innovation. Instead, talk of the credit crunch, the recession, bad assets, bank bailouts, shrinking budgets and excessive executive compensation has predominated.
In the Internet banking space, the story is very different. The winners of this year's Best Internet Bank awards are adapting to the rapid evolution of the Internet by developing winning applications, services and business models to satisfy customer demands and beat the competition.
In short, Global Finance is recognizing the banks that are prospering and advancing online despite difficult times. Financial institutions such as Banamex, Banco Santander, Citi, GarantiBank, HSBC, ICBC, Swedbank and Wells Fargo are using the Internet to convert existing clients into more profitable online customers, to enhance efficiency in product delivery and to improve customer service and client loyalty. The web is also central to these banks' efforts to enter new markets, find new customers, increase payment and trading revenue and adapt to changing customer preferences.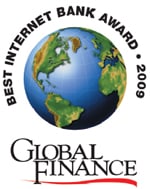 Rajesh Menon, a partner in the banking and capital markets practice of Infosys Consulting, says the best Internet banks will see a large percentage of customers adopting and using online channels, and the bank's customers will maintain confidence in Internet banking amid fears about fraud and identity theft. According to Menon, a successful Internet bank will have the trust of clients in carrying out a larger share of their transactions through the web, will offer its traditional products through the online channel—providing the same or better customer experience online compared to the branch—and will achieve cost reductions through the adoption of the online channel.
These attributes were among the criteria the awards judging panel, led by Infosys, used to select the winning banks. In addition, the judging panel looked at the breadth of online products and services offered, website design and functionality and the integration of Internet banking products and services.
Citi was named the overall global winner and the winner among corporate/institutional banks globally and took home seven regional and sub-category honors. The bank's CitiDirect service garnered particular praise for its rich features, which include customizable reporting applications, a four-tiered security process, cash-flow planning and forecasting capabilities and an end-to-end trade solution on one secure platform that is available 24 hours a day from anywhere in the world. It also facilitates aggregation and visibility at the local, regional and global levels.
HSBC was selected as the world's best consumer Internet bank and won six global sub-categories and three regional awards. Its HSBC Premier service provides access to clients in more than 40 countries. Account balances in different countries are consolidated into a convenient one-page view for customers. Customers can also transfer funds between their HSBC accounts anywhere in the world in multiple currencies in near real-time at no cost, according to Menon. He called HSBC Premier a "first-in-market, unique online banking service."
Two-Way Traffic
The online banking industry is on the cusp of a major transition that will enable the Internet to continue to transform the way clients do their banking, according to Menon and other consultants. This transformation's key components include banks incorporating social media applications and forums into their Internet banking sites and services.
Celent, a Boston–based financial research and consulting firm, predicts banks' participation in social media will "skyrocket over the next 12 months." In a new report, entitled "Demystifying Social Media and Next-Generation Online Banking," Celent asserts that banks must have a social media strategy and must integrate it into all of their online sites, day-to-day activities and customer relationships.
"Banks can even go the extra mile and build their own user communities and allow users to rank web pages, products and services. These seem like add-ons today but are quickly becoming critical components of the web," Celent adds. "The days of pushing data and information out to the consumer are over. It's now a two-way street, and banks should capitalize on the stream of data."
BEST INTERNET BANKS: PART II

Global Winner
Citi
Best Corporate/Institutional Internet Bank
Citi
Best Consumer Internet Bank

HSBC
Regional Winners: Best Corporate/Institutional Internet Banks

North America
Citi
Europe
HSBC
Asia
HSBC
Latin America
Banamex/Citi
Central & Eastern Europe
Bank Pekao
Middle East & Africa
Citi
Regional Winners: Best Consumer Internet Banks

North America
Wells Fargo
Europe
GarantiBank
Asia
Citi

Latin America

Banco Santander
Central & Eastern Europe
Swedbank
Middle East & Africa
HSBC
Global Sub-Category Winners: Best Corporate/Institutional Internet Banks

Investment Management Services
Citi
Online Cash Management Site
Citi
Trade Finance Services
HSBC
Website Design
HSBC
Integrated Corporate Bank Site
ICBC
Information Security Initiatives
HSBC
Global Sub-Category Winners: Best Consumer Internet Banks

Investment Management Services
Bank Hapoalim
Bill Payment & Presentment
Citi
Online Consumer Credit Site
HSBC
Website Design
Commonwealth Bank
Integrated Consumer Bank Site
Banco Santander
Information Security Initiatives
HSBC
Online Deposits Acquisition
HSBC
Country Winners: Best Corporate/Institutional Internet Banks

North America
Canada
Scotiabank/Scotia Capital
United States
Citi
Europe
Austria
Citi
Belgium
Citi
Denmark
Citi
Finland
Citi
France
Citi
Germany
Citi

Greece

EFG Eurobank Ergasias
Ireland
Citi
Italy
Citi
Luxembourg
Citi
Netherlands
Citi
Norway
Citi
Portugal
Banco Espírito Santo
Spain
Citi
Sweden
Citi
Switzerland
Citi
Turkey
Yapi Kredi Bank
United Kingdom
HSBC
Asia
Australia
Citi
Bangladesh
Citi
Brunei
HSBC
China
Citi
Hong Kong
HSBC
India
Citi
Indonesia
HSBC
Japan
Citi
Kazakhstan
Citi
Kyrgyz Republic
AsiaUniversalBank
Malaysia
OCBC
Nepal
Standard Chartered
New Zealand
Citi
Pakistan
Citi
Philippines
Citi
Singapore
HSBC
South Korea
Citi
Sri Lanka
HSBC
Taiwan
Chinatrust Commercial Bank
Thailand
Citi
Vietnam
Citi
Latin America
Argentina
Citi
Brazil
Citi
Colombia
Citi
Costa Rica
Citi
Dominican Republic
Citi
Ecuador
Citi
El Salvador
Citi
Guatemala
Citi
Haiti
Citi
Honduras
Citi
Jamaica
Citi
Mexico
Banamex
Panama
Citi
Paraguay
Citi
Peru
Citi
Puerto Rico
Citi
Trinidad & Tobago
Citi
Uruguay
Citi
Venezuela
Citi
Central & Eastern Europe
Bulgaria
Citi
Czech Republic
Citi
Hungary
Citi
Lithuania
SEB Bankas
Poland
Bank Pekao
Romania
Citi
Russia
Citi
Slovakia
Citi
Ukraine
Citi
Middle East & Africa
Algeria
Citi
Bahrain
Citi
Botswana
Standard Chartered
Cameroon
Citi
Congo
Citi
Côte d'Ivoire
Citi
Egypt
Citi
Gabon
Citi
Ghana
Standard Chartered
Israel
Bank Hapoalim
Jordan
Standard Chartered
Kenya
Citi
Kuwait
Citi
Lebanon
Citi
Morocco
Citi
Nigeria
Citi
Qatar
Standard Chartered
Saudi Arabia
Samba Financial Group
Senegal
Citi
Sierra Leone
Standard Chartered
South Africa
Citi
Tanzania
Citi
Tunisia
Citi
United Arab Emirates
HSBC
Uganda
Citi
Zambia
Citi
Zimbabwe
Standard Chartered
Country Winners: Best Consumer Internet Banks

North America
Bermuda
HSBC
Canada
CIBC
United States
Wells Fargo
Europe
Channel Islands
HSBC
Cyprus
Marfn Popular Bank Public
France
HSBC
Greece
EFG Eurobank Ergasias
Malta
HSBC
Norway
DnB Nor Bank ASA
Portugal
Millennium BCP
Turkey
GarantiBank
Asia
Australia
HSBC
Brunei
HSBC
China
ICBC
Hong Kong
HSBC
India
Citi
Indonesia
Citi
Japan
Citi
Kyrgyz Republic
AsiaUniversalBank
Malaysia
Citi
Pakistan
Citi
Philippines
Citi
Singapore
HSBC
South Korea
Shinhan Bank
Sri Lanka
HSBC
Taiwan
Taishin International Bank
Thailand
Citi
Vietnam
HSBC
Latin America
Argentina
Santander Río
Brazil
HSBC
Chile
Banco Santander
Colombia
Bancolombia
Dominican Republic
Scotia Bank
Jamaica
Scotia Bank
Mexico
Banamex
Peru
BBVA Banco Continental
Puerto Rico
Banco Popular de Puerto Rico
Venezuela
Mercantil Banco Universal
Central & Eastern Europe
Czech Republic
HSBC
Estonia
Swedbank
Hungary
Budapest Bank Nyrt
Latvia
SEB Banka
Lithuania
SEB Bankas
Poland
Bank Millennium
Romania
GarantiBank Romania
Russia
ZAO Raifeisenbank
Slovakia
Tatra Banka
Middle East & Africa
Egypt
HSBC
Israel
Bank Hapoalim
Jordan
Arab Bank
Oman
Bank Muscat
Qatar
Mashreq Bank
Saudi Arabia
SABB
United Arab Emirates
Citi
Regional Sub-Category Winners: Best Corp/Institutional Internet Banks

North America
Investment Management Services
Citi
Online Cash Management Site
Citi
Trade Finance Services
Citi
Website Design
Citi
Integrated Corporate Bank Site
Citi
Information Security Initiatives
Standard Chartered
Europe
Investment Management Services
HSBC
Online Cash Management Site
HSBC
Trade Finance Services
Citi
Website Design
Yapi Kredi Bank
Integrated Corporate Bank Site
HSBC
Information Security Initiatives
HSBC
Asia
Investment Management Services
HSBC
Online Cash Management Site
HSBC
Trade Finance Services
HSBC
Website Design
HSBC
Integrated Corporate Bank Site
ICBC
Information Security Initiatives
HSBC
Latin America
Investment Management Services
Citi
Online Cash Management Site
Citi
Trade Finance Services
Citi
Website Design
Citi
Integrated Corporate Bank Site
Banamex
Information Security Initiatives
Citi
Central & Eastern Europe
Online Cash Management Site
Citi
Trade Finance Services
Citi
Website Design
Citi
Integrated Corporate Bank Site
BRE Bank
Information Security Initiatives
Citi
Middle East & Africa
Investment Management Services
Citi
Online Cash Management Site
Citi
Trade Finance Services
Standard Chartered
Website Design
Citi
Integrated Corporate Bank Site
Samba Financial Group
Information Security Initiatives
HSBC
Regional Sub-Category Winners: Best Consumer Internet Banks

North America
Bill Payment & Presentment
Wells Fargo
Online Consumer Credit Site
CIBC
Website Design
Wells Fargo
Integrated Consumer Bank Site
HSBC
Information Security Initiatives
HSBC
Online Deposits Acquisition
Wells Fargo
Europe
Investment Management Services
HSBC
Bill Payment & Presentment
DnB Nor Bank ASA
Online Consumer Credit Site
HSBC
Website Design
Yapi Kredi Bank
Integrated Consumer Bank Site
Hellenic Bank
Information Security Initiatives
Akbank
Online Deposits Acquisition
Akbank
Asia
Investment Management Services
Citi
Bill Payment & Presentment
Citi
Online Consumer Credit Site
HSBC
Website Design
Commonwealth Bank
Integrated Consumer Bank Site
ICBC
Information Security Initiatives
HSBC
Online Deposits Acquisition
HSBC
Latin America
nvestment Management Services
Banamex
Bill Payment & Presentment
Santander Río
Online Consumer Credit Site
Santander Río
Website Design
HSBC
Integrated Consumer Bank Site
Banco Santander
Information Security Initiatives
Banamex
Online Deposits Acquisition
Banco Popular de Puerto Rico
Central & Eastern Europe
Bill Payment & Presentment
Swedbank
Website Design
Swedbank
Integrated Consumer Bank Site
Swedbank
Information Security Initiatives
SEB Bankas
Middle East & Africa
Investment Management Services
Bank Hapoalim
Bill Payment & Presentment
Mashreq Bank
Online Consumer Credit Site
SABB
Website Design
Bank Hapoalim
Integrated Consumer Bank Site
Samba Financial Group
Information Security Initiatives
HSBC
Online Deposits Acquisition
HSBC