STAYING NIMBLE
By Kathryn Tully
Of Global Finance 's derivatives exchange awards, IntercontinentalExchange has won the achievement award four times out of five, while NYSE Euronext, the European Climate Exchange, Eurex and the Chicago Board Options Exchange have shared the top performer award.
In North America, JP Morgan has topped the most bank categories, winning best interest-rate and best credit derivatives provider. JP Morgan is also the top overall credit derivatives provider in Europe, while Deutsche Bank wins in FX derivatives. Morgan Stanley has consistently trounced the opposition for commodity derivatives.
Yet Société Générale is the most impressive derivatives provider overall. The bank comes top for equity derivatives in Europe, tops the most categories in Asia, winning best equity derivatives and commodity derivatives provider, and also leads the pack in Latin America. HSBC comes out ahead in the Middle East.
The derivatives market is going through a significant overhaul, particularly in North America, where a large portion of the swaps market must soon be traded and cleared through exchanges, so the jury is still out as to which banks will be nimble enough to win the most business in the future.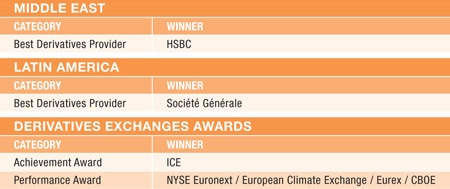 GLOBAL RISK MANAGEMENT PROVIDERS 2012: WINNERS' CIRCLE