Ralph Hamers, CEO and chairman of ING Group, talks with Global Finance about how ING's lending practices and use of fintech are bolstering the bank—and sustaining the environment.
---
---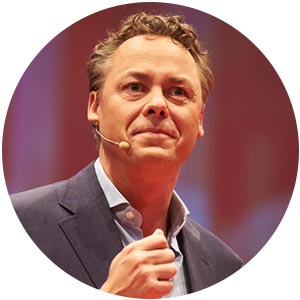 Global Finance: ING bank reported Q4 2015 profits above expectations. Tell us the causes of this success.
Ralph Hamers: It all starts with our clients. In 2015 our customer base grew by over 1.4 million new customers, to 34.4 million at year-end. Of this total, customers selecting ING as their primary bank rose by almost 7%, to 8.9 million. We intend to grow our core lending by 3% to 4% per year. Net customer deposits grew by €5.1 billion ($5.7 billion), a growth of 5%. As a result of this strong commercial performance, ING was able to generate an underlying net profit of €4,219 million in 2015, 23.2% higher than in 2014.
GF: You seem to be confident that ING can keep increasing customer lending at 3% to 4% a year despite economic headwinds. How do you plan to obtain that?
Hamers: In 2015 our core lending book grew by almost €22 billion, or 4.2%. In wholesale banking this was mainly driven by our transaction service business, which is a key growth area for us, as well as our global industry lending business that provides specialized lending to a broad range of industry sectors including infrastructure, energy, natural resources, telecom, trade commodity finance and real estate finance. We have a deep knowledge of these sectors and long-standing relationships with many of our clients. We value these relationships, and, more importantly, so do our clients. As an example, in the US 80% of industry lending business is recurring business. We also grew SME [small and midsize enterprise] lending and consumer lending, areas in which we are looking at fintech innovations to help strengthen our lending capabilities and better serve our clients. As an example, in the fourth quarter of last year, we took a stake in an instant lender to small businesses, called Kabbage, which we are now trialing in Spain. In January we announced an investment in fintech WeLab, which provides consumer loans in China and Hong Kong in a fully automated process that takes just minutes from application to approval.
GF: Can you please comment on the bank's exposure to energy loans and its impact on the bank?
Hamers: We serve our clients in the energy sector via various lending segments in our wholesale bank, including transaction services, trade commodity finance, and structured export finance. The largest part of our energy lending, almost €30 billion, which represents 5% of the bank's total lending outstanding, is in oil and gas. This is an area in which we have a strong expertise and long-standing client relationships, mainly with investment-grade companies. Furthermore, 85% of our loans outstanding in oil and gas are short-term, self-liquidating trade finance or not directly exposed to oil price risk. The remaining 15% is exposed to oil price risk to different degrees, while we have many different mitigants in place. Generally speaking, ING's financing is cash-flow-based on a senior secured basis if not investment-grade. All these factors contributed to the low risk costs and nonperforming loans (1.8%) that we experienced in 2015.
GF: Some US banks have reduced lending to coal businesses. Is ING doing so as well?
Hamers: Since becoming CEO of ING, I have become increasingly aware of the dangers of climate change and of the responsibility the private sector has to drive positive change in this area. As a bank we believe our role is to facilitate and finance society's shift to sustainability. In other words, contribute to progress—not just economic, but also environmental and social. Last year we decided to stop financing new coal-fired power plants and new thermal coal mines worldwide, and not accept new clients whose businesses are more than 50% dependent on them. Going forward, ING will continue engaging with coal-related clients to discuss their strategies to reduce CO2 emissions. Furthermore, our own portfolio shows there's a clear trend towards financing renewable energy (wind, solar, water and geothermal power). Almost 50% of our financing of power generation projects was awarded to renewable energy around the world in 2015, up from 23% in 2009. This makes ING one of the world's biggest financiers of renewable energy projects.