The mayor of Louisville, Kentucky is successfully translating his private-sector experience as an innovator into government policies.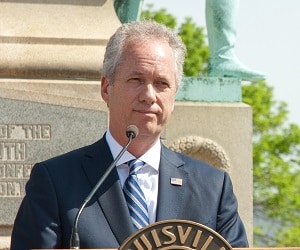 Greg Fischer, the mayor of Louisville, Kentucky, is a true innovator in all senses of the word. At the age of 25, Fischer co-invented an automatic ice- and beverage-dispensing machine still used in many stores and restaurants. The company, called SerVend, grew from a local Kentucky operation into what is now a global company that employs more than 300 people. SerVend has since been sold off to a Wisconsin-based food-service equipment company.
Fischer ran in the 2008 Democratic primary for US Senate and lost. However, his 2010 bid for mayor was successful and he has held that post ever since. Fischer's mantra of "create jobs, improve education and make Louisville an even more compassionate city," seems to drive his innovative ideas. In Fischer's Cradle to Career education program, for example, he helped design an education system that aims to nurture successful careers well before the first job interview takes place. The program is meant to develop a community and city of "lifelong learners" that helps remove barriers to student achievement.
Fischer has also been at the forefront of the digital revolution within his city. Five years prior to Alphabet setting up its Google Fiber high-speed Internet service in Louisville and signing up its first customers in 2017, Fischer started aggressively courting the tech company (as well as others) to provide gigabit broadband. "This is the fastest we've gone from the start of construction to customer sign-up," according to Google Fiber's network operations lead, Ashley Kroh. "In every other market it's taken a year or longer." In order to get the ball rolling, Fischer helped get passed the One Touch Make Ready ordinance that allowed broadband providers to hang their cables on existing utility poles.
Louisville is also working with CNET's Smart Apartment, which tests connected home devices. That, along with the city's innovation hub—LouieLab—are looking at ways to relay city weather, traffic data, and public events through devices such as Amazon's Alexa. Fischer has been an innovator in the world of immigration policy. His Global Louisville Action Plan has been set up to welcome and woo immigrants to fill some 30,000 or more unfilled city jobs.
But beyond the data, the technology, the platforms and programs, Fischer says that to live and work together, people—and cities—need to be compassionate. "To be a good mayor, you have to have the heart of a social worker and the head of a chief executive officer," he told a TED Talks audience. "When you take a look at the balance sheet or the budget of a city, state, or federal government, there is no line item on there that says, 'sense of community.' But it's our most important asset, and without it nothing can get done. So, we're smart to intentionally build it."