Bank of China, the fourth-largest bank in the world, has been an ener-getic leader in expanding overseas. In an interview with Global Finance, Chen Siqing, the bank's president, spoke about internationalization efforts and the importance of overseas growth.
---
---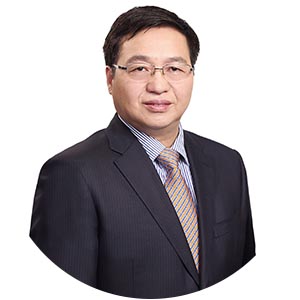 Global Finance: What are the latest developments in Bank of China's internationalization drive?
Chen Siqing: Internationalization is always a golden-lettered signboard that makes BOC different. From 2012 through 2015, BOC's overseas assets grew by 54%, accounting for 27% of the Group's total assets. Overseas profit before taxes as a percentage of the Group total rose by five percentage points. Both assets and profit far exceeded those of all other Chinese banks combined.
No matter how the market environment changes, BOC unswervingly adheres to internationalization. In 2015, BOC established five overseas institutions, in Vientiane (Laos), Prague (Czech Republic), Rangoon (Myanmar), Casablanca (Morocco) and Vienna (Austria) demonstrating the advantages of our internationalization strategy. Thus far, BOC has the broadest overseas presence, which covers 46 countries and regions, among Chinese banks. In the future, BOC will leverage our strengths in internationalization to further increase the contribution of overseas operations.
GF: Two prongs in the government's internationalization effort are the Silk Road Economic Belt and the Maritime Silk Road, known jointly as the "Belt and Road Initiative." Is BOC on track to meet its Belt and Road targets?
Chen: The Belt and Road Initiative not only requires massive project finance supports, but also involves economic and trade cooperation that will produce a huge, diverse demand for financial services, offering new opportunities to banks. BOC has stepped up our efforts on the Belt and Road financial artery, granting $28.6 billion of credit facilities to countries along the Belt and Road in 2015, more than the target amount determined at the beginning of the year.
The cooperation with international organizations, including the Asian Infrastructure Investment Bank, the BRICS New Development Bank and the Silk Road Fund, has entered the substantial stage. These credit facilities were granted mainly to "Going Global" Chinese enterprises operating in such fields as infrastructure, energy, mineral resources, equipment manufacturing and production capacity cooperation.
The Belt and Road Initiative is a long-term systematic program. The above-mentioned projects just represent preliminary results. In the future, BOC will deploy our Belt and Road Initiative as follows: First, expand the physical presence in countries along the Belt and Road in pursuit of full coverage of that region. Second, focus on major projects and key businesses. Third, strengthen collaboration between BOC's domestic and overseas institutions and multilateral cooperation to capitalize on the advantages of integrated services. Fourth, actively push renmimbi to "go global." While serving Going Global Chinese enterprises, we will further expand our customer base of local leading enterprises and large multinational corporations overseas as well as strengthen collaboration between domestic and overseas institutions and diversified operations. Overall, BOC will seek to grant no less than $30 billion of credit facilities related to the Belt and Road Initiative in 2016.
GF: As Chinese banks accelerate their overseas expansion by serving overseas Chinese enterprises, how do you intend to increase the number of overseas non-Chinese customers?
Chen: BOC always values both overseas Chinese enterprises and local customers. We have long been focusing our customer base on Going Global Chinese enterprises, overseas local high-quality enterprises and Fortune 500 companies, in a bid to create a global, integrated marketing-service system and establish a global customer service platform. We persistently lay equal emphasis on cross-border collaborative businesses and overseas local businesses as part of our effort to fortify the groundwork for overseas development and integrate into local mainstream markets.