BEST FX PROVIDERS


Global Finance selects the leaders in the world's biggest financial market.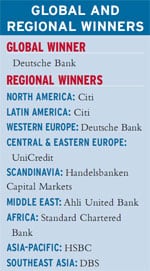 The foreign exchange market has continued to thrive throughout the global financial crisis, providing some welcome profits for beleaguered financial institutions. Average daily turnover has surpassed $3 trillion in the world's biggest financial market, with online trading systems in particular experiencing a dramatic rise in volume. Increased volatility in the market and big shifts in cross-border portfolio flows have spurred the growth in trading.
The best foreign exchange banks are those institutions that provide fast, reliable and cost-effective services to global businesses and investors, as well as advice and innovative products to meet the specific needs of their increasingly diverse range of customers.
Global Finance selected Deutsche Bank as the global winner. We also chose the leading foreign exchange banks in 82 countries and regions, as well as the best online trading systems, including bank-owned, independent and retail trading systems. In addition, we selected the best bank for foreign exchange research, as well as separate award winners for fundamental research, technical research, currency forecasts, and strategy and hedging.
With input from industry analysts, corporate executives and technology experts, Global Finance selected the winners based on objective and subjective factors. Our criteria included transaction volume, market share, global coverage, customer service, competitive pricing and technology.
Foreign exchange is likely to remain an important profit center for banks and a closely watched market in the months ahead, as the spreading global economic slowdown heightens fears of competitive devaluations, especially in Asia, where China has recently slowed the rise of the yuan to ease the pain being felt by its exporters. Market participants also are anxious to see the unfolding dollar policy of the incoming US administration. It seems certain that the foreign exchange market is due for some interesting times.
North America
Citi
Latin America
Citi
Western Europe
Deutsche Bank
Central and Eastern Europe
UniCredit
Scandinavia
Handelsbanken Capital
Markets
Middle East
Ahli United Bank
Africa
Standard Chartered Bank
Asia-Pacific
HSBC
Southeast Asia
DBS
| | |
| --- | --- |
| Angola | BES Angola |
| Argentina | Citi |
| Armenia | Converse Bank |
| Australia | Commonwealth Bank of Australia |
| Austria | Bank Austria |
| Bahrain | Ahli United Bank |
| Belarus | Priorbank |
| Belgium | KBC Bank |
| Brazil | Itau |
| Canada | Scotia Capital |
| Chile | Banco Santander Chile |
| China | Bank of China |
| Colombia | Bancolombia |
| Costa Rica | Scotiabank Costa Rica |
| Cyprus | Bank of Cyprus |
| Czech Republic | CSOB |
| Denmark | Danske Bank |
| Ecuador | Citi |
| Egypt | Commercial International Bank |
| El Salvador | Citi |
| Estonia | Hansabank |
| France | BNP Paribas |
| Gambia | Standard Chartered Gambia |
| Georgia | Bank of Georgia |
| Germany | Deutsche Bank |
| Greece | Eurobank EFG |
| Guatemala | Banco Industrial |
| Hong Kong | HSBC |
| Hungary | OTP Bank |
| India | HDFC Bank |
| Israel | Bank Hapoalim |
| Italy | UniCredit |
| Jamaica | Scotiabank Jamaica |
| Japan | Mitsubishi UFJ Financial |
| Jordan | Arab Bank |
| Kazakhstan | BTA Bank |
| Kuwait | National Bank of Kuwait |
| Latvia | SEB Banka |
| Lebanon | BLOM Bank |
| Lithuania | SEB Bank |
| Malaysia | Maybank |
| Mexico | Banamex |
| Moldova | Moldova Agroindbank |
| The Netherlands | Rabobank |
| New Zealand | Westpac Banking |
| Nigeria | First Bank of Nigeria |
| Norway | DnB NOR |
| Oman | BankMuscat |
| Pakistan | Habib Bank |
| Peru | Scotiabank Peru |
| Poland | Bank Pekao |
| Portugal | Millennium bcp |
| Qatar | Qatar National Bank |
| Russia | VTB |
| Saudi Arabia | Samba Financial Group |
| Singapore | DBS |
| Slovak Republic | CSOB |
| Slovenia | Nova Ljubljanska Banka |
| South Africa | Standard Bank |
| South Korea | Korea Exchange Bank |
| Spain | Santander |
| Sweden | Handelsbanken Capital Markets |
| Switzerland | Credit Suisse |
| Taiwan | Chinatrust Commercial Bank |
| Thaliand | Siam Commercial Bank |
| Turkey | Akbank |
| UAE | Emirates NBD |
| Ukraine | PrivatBank |
| United Kingdom | RBS |
| United States | Citi |
| Honorable Mention United Stated | The Bank of New York Mellon |
| Uruguay | Citi |
| Venezuela | Banco Mercantil |
| Vietnam | Sacombank |
| | |
| --- | --- |
| | The Bank of New York Mellon |
| | |
| --- | --- |
| | The Bank of New York Mellon |
| | |
| --- | --- |
| | The Bank of New York Mellon |
| | |
| --- | --- |
| Best Bank | State Street's FX Connect |
| | Currenex |
| Best Independant | FXall |
| Best Retail | Interbank fx |
Gordon Platt