Yann Gérardin, head of corporate and institutional banking, talks about how BNP stays ahead in serving corporate and institutional clients.
---
---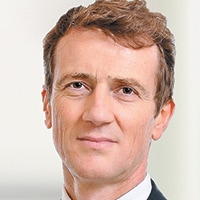 Yann Gérardin: BNP Paribas stands balanced on a diversified mix of business revenues and geographic exposure, but our businesses are integrated and reinforce each other. In the context of a general trend towards disintermediation in the financial markets, our diversified and integrated business model is an important strength. We are adept at anticipating and managing change. Our history as a bank is to be client-centric. We are committed to being a leader in responsible business conduct, a role model in terms of ethical conduct, reliability, trust and accountability.Global Finance: What are BNP Paribas's traditional strengths in corporate and institutional banking (CIB), and how will you build on them?
GF: How is CIB's ambitious transformation plan progressing and how will it impact the client experience?
Gérardin: The transformation plan, announced in February 2016, is well into its implementation phase. For CIB it consists of three arms: 'Focus' aims at freeing capital to target growth by cutting unproductive assets and trimming some businesses, countries and client portfolios. It plans to reduce risk-weighted assets by €20 billion [$22 billion], or €10 billion net of reinvestments, intended to allow us to continue gaining market share. 'Improve' will aim to make €1 billion of cost savings across all regions and business by 2019. Finally, 'Grow' will focus on developing businesses that generate fees at a low cost of capital—such as securities services, transaction banking and cash management—while continuing to selectively invest in Asia Pacific and the Americas.
A good example of growth is in our cash management business. In July 2015, we signed a deal with RBS [Royal Bank of Scotland] to take on their cash management business, and since then we've taken on over 1,200 large corporate relationships, including International Paper and BT. They will now have access to all our FICC [Fixed Income Clearing Corporation], rates, financing and advisory businesses.
GF: What do you see as the main benefits of digitization at CIB?
Gérardin: The digitized bank of the future will have a vast competitive edge over a traditional incumbent. The digital transformation of CIB needs to be viewed as more than just a stand-alone effort. Front-end features are important, but so too are frontline tools, internal processes, data assets and staff capabilities. These must come together to create a coherent front-to-back proposition.
AI (artificial intelligence) for example, as part of a wider process of automation, will play a significant role in defining the future of our industry. The financial services leaders of today need to fully understand the ideas behind it and adapt to the fast pace of change. In CIB we will continue to leverage our existing first-class platforms and technology, such as Centric, while still considering targeted investments—such as in R3 and Digital Asset Holdings in blockchain technology.
GF: How is fintech transforming your business? What is the role of L'Atelier BNP?
Gérardin: The ultimate aim of BNP Paribas's collaboration with the tech start-up ecosystem is to drive forward the digitization of the Group's businesses, enabling the rollout of innovative products and services in line with the changing expectations of our corporate and individual clients. A major priority among BNP Paribas's targets for the year 2020 is to create a digital bank that is able to offer a high-quality customer experience, both in terms of the customer journey and the security of operations.
L'Atelier BNP Paribas is a tech innovation tracking and consulting specialist with offices in Paris, San Francisco and Shanghai, whose mission, based on 35 years of immersion in the digital economy, is to advise and assist the BNP Paribas Group and its corporate clients with their digital transformation.
In February 2016, L'Atelier BNP Paribas launched the very first bank-run accelerator dedicated specifically to fintech start-ups. It has proved highly popular, with 142 young companies applying to join the program, and eight fintech companies are now in the accelerator. Working in tandem with one of the bank's businesses and coached by our innovation experts at the L'Atelier BNP Paribas Lab, each fintech team is drawing on the rapidly evolving information and communication technologies to explore fresh business opportunities and develop new products and services for customers.