Samuel Tsien, CEO of OCBC, shares his thoughts on the bank's stellar 2018 and future opportunities to serve customers.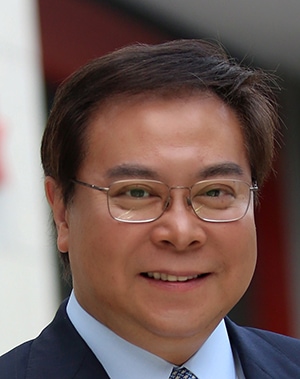 Global Finance (GF): What were the bank's key achievements in 2018?
Samuel Tsien: We ended financial year 2018 with a record net profit of $4.49 billion Singapore dollars ($3.31 billion), despite the challenging market conditions, for an 11% increase year-on-year. We further strengthened our capital position and stayed firmly focused on OCBC's corporate strategy of developing and investing in our core banking, wealth management and insurance franchise across Asia. Our results show the strength and resilience of our diversified business franchise, disciplined cost control, prudent risk management practices and upskilling of our talents.
We recorded strong growth across all our core markets of Singapore, Malaysia, Indonesia and Greater China. In 2018, we also launched our Greater Bay Area strategy to capture more opportunities in this economic region, which the Chinese government is looking to turn into the world's biggest bay area. We set ourselves a target to double our profit from the region to S$1 billion by 2023, and we are well on track to do so.
Apart from business results, 2018 was also a year when we launched our brand promise, to be "Simply Spot On" for our customers. This is a pledge we make to our customers: that we will always make it a point to truly understand their needs to come up with the best solution for them through every stage of their lives. Our board of directors also established a new Ethics and Conduct board committee to reinforce the need for honesty and integrity in all we do.
In 2018, we also consolidated our organization's stand on sustainability. With a new sustainability framework in place, we have a clear vision of what sustainability means to us.
GF: OCBC delivered solid return-on-equity growth last year. Will this be achievable in 2019?
Tsien: If you look at our ROE for the first nine months of 2018, it would be 12.2%. But when we take into account the last quarter of the year, the ROE got reduced to 11.5% as a result of the weaker performance due to market adjustments for our investments in insurance. However, we believe that we can continue to meet our target ROE of 12% and above. If you remove the volatilities that we saw in the last quarter of 2018, 12% is a realistic number for us to achieve.
GF: Are you comfortable with the bank's exposure to lending in mainland China?
Tsien: Yes, we are comfortable with our exposure in China. This is because only a small proportion of our loans is booked inside China, while the rest are booked in either Hong Kong, Singapore or other parts. So, when you compare the actual amount of loans booked within China to our group's total loan book, the proportion of loans from China is even smaller.
GF: How is the bank responding to the challenges of technological innovation in the industry?
Tsien: We started our digital-transformation journey quite a few years ago, and we are starting to reap the benefits of that journey recently. We invest about 11% of our total expenditure into technology, excluding staff cost. To OCBC, digitalization should be pervasive and sustainable across the whole organization. We are deepening customer relationships through our channels and accessing new insights from our data.
A new way of digitalizing the bank is through artificial intelligence. We were the first local bank to set up its own AI unit, known as the AI Lab, where the team works with various business units on how to use AI to do things better and faster, and even creating things for consumers that no one has ventured into before.
GF: What will banking in Asia look like in five years?
Tsien: I think the function of banking will not disappear, but it is the mode of how things are done which will change. We already see more customers are digital ones: half of our retail customers and about 60% of our business clients. What will change is more "beyond banking" services. Our ATMs are becoming smarter, and the scope of online banking is also widening. Customers will come to us not just for their traditional banking needs, but also for more aspects of their lives.