The clouds parted over the investment banking business in the first quarter of this year amid some hope that a more sustainable model for success is emerging.
By Gordon Platt
September 21, 2008, was a date that may be remembered in the annals of the global financial and economic crisis. It was an important milestone for the investment banking industry in the United States. That was the day the Federal Reserve announced that Goldman Sachs and Morgan Stanley, the last big independent investment banks on Wall Street, would become bank holding companies.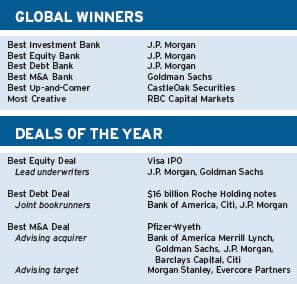 A new model of universal banking more akin to the European system is evolving in the wake of the demise of Glass-Steagall, the Depression-era legislation that separated commercial banking from investment banking. If there is a single financial institution that could be cited as a model of the new global investment bank, it is J.P. Morgan.
In 2000, after the Gramm-Leach-Bliley Act repealed the restrictions on banks affiliating with securities firms, J.P. Morgan merged with Chase Manhattan. It was a clash of cultures from the beginning, but what emerged was a financial institution that combines the capital-raising and financial advisory skills of a traditional investment bank with the funding stability of a retail bank that has a broad base of depositors.
In 2004 JPMorgan Chase merged with Chicago-based Bank One, extending its reach into the Midwest and bringing the bank its current chief executive, Jamie Dimon. With the acquisitions last year of Bear Stearns and Washington Mutual, Dimon has maintained a careful balance of retail, commercial and investment banking.
There is plenty of blame to go around for causing the global financial crisis. Years of cheap money and lax regulation led to the housing boom and bust. Global contagion and panic selling followed the realization that ratings agencies and accountants may have swept considerable dirt under the rugs. From overly creative financial innovation to mismanaged risks, the list of culprits is seemingly endless.
The time has come once again, more than two years after the credit crunch first hit, to recognize those financial institutions that continue to provide outstanding services to their clients amid the turmoil in the financial world. Global Finance's editors, with input from industry analysts, used a series of criteria to identify the best investment banks in a wide range of categories, by geography and sector.
Our selection criteria included market share, customer service and advice, deal-structuring capabilities, distribution network and staff dedicated to investment banking. We also considered efforts to overcome difficult market conditions, pricing and after-market performance of underwritten securities. The winners are not necessarily the biggest banks, but rather the best banks—the ones that corporations around the world should consider when looking for a financial adviser to meet their investment banking needs.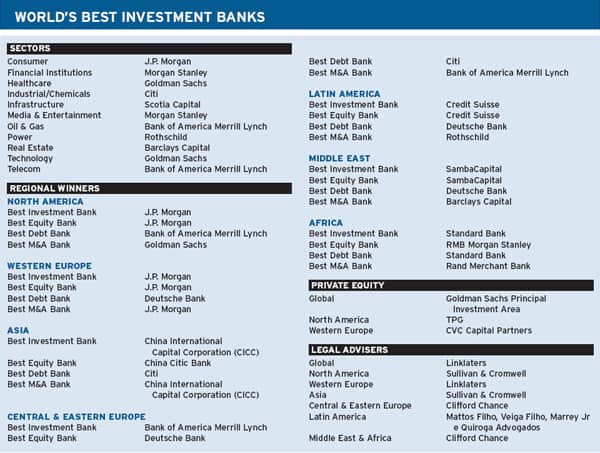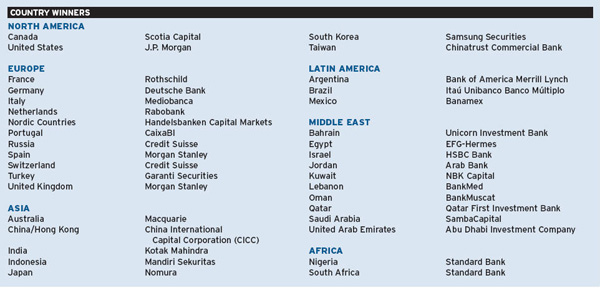 GLOBAL WINNERS
Best Investment Bank J.P. Morgan
Best Equity Bank J.P. Morgan
Best Debt Bank J.P. Morgan
Best M&A; Bank Goldman Sachs
Best Up-and-Comer CastleOak Securities
Most Creative RBC Capital Markets
DEALS OF THE YEAR
Best Equity Deal Visa IPO
Lead underwriters J.P. Morgan, Goldman Sachs
Best Debt Deal $16 billion Roche Holding notes
Joint bookrunners Bank of America, Citi, J.P. Morgan
Best M&A; Deal Pfizer-Wyeth
Advising acquirer
Bank of America Merrill Lynch,
Goldman Sachs, J.P. Morgan,
Barclays Capital, Citi
Advising target Morgan Stanley, Evercore Partners
WORLD'S BEST INVESTMENT BANKS

SECTORS
Consumer J.P. Morgan
Financial Institutions Morgan Stanley
Healthcare Goldman Sachs
Industrial/Chemicals Citi
Infrastructure Scotia Capital
Media & Entertainment Morgan Stanley
Oil & Gas Bank of America Merrill Lynch
Power Rothschild
Real Estate Barclays Capital
Technology Goldman Sachs
Telecom Bank of America Merrill Lynch
REGIONAL WINNERS
NORTH AMERICA

Best Investment Bank J.P. Morgan
Best Equity Bank J.P. Morgan
Best Debt Bank Bank of America Merrill Lynch
Best M&A; Bank Goldman Sachs
WESTERN EUROPE
Best Investment Bank J.P. Morgan
Best Equity Bank J.P. Morgan
Best Debt Bank Deutsche Bank
Best M&A; Bank J.P. Morgan
ASIA
Best Investment Bank China International Capital Corporation (CICC)
Best Equity Bank China Citic Bank
Best Debt Bank Citi
Best M&A; Bank China International
Capital Corporation (CICC)
CENTRAL & EASTERN EUROPE
Best Investment Bank Bank of America Merrill Lynch
Best Equity Bank Deutsche Bank
Best Debt Bank Citi
Best M&A; Bank Bank of America Merrill Lynch
LATIN AMERICA
Best Investment Bank Credit Suisse
Best Equity Bank Credit Suisse
Best Debt Bank Deutsche Bank
Best M&A; Bank Rothschild
MIDDLE EAST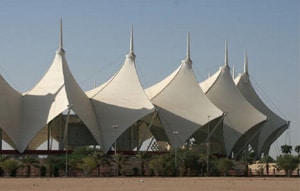 Best Investment Bank SambaCapital
Best Equity Bank SambaCapital
Best Debt Bank Deutsche Bank
Best M&A; Bank Barclays Capital
AFRICA
Best Investment Bank Standard Bank
Best Equity Bank RMB Morgan Stanley
Best Debt Bank Standard Bank
Best M&A; Bank Rand Merchant Bank
PRIVATE EQUITY
Global Goldman Sachs Principal
Investment Area
North America TPG
Western Europe CVC Capital Partners
LEGAL ADVISERS
Global Linklaters
North America Sullivan & Cromwell
Western Europe Linklaters
Asia Sullivan & Cromwell
Central & Eastern Europe Clifford Chance
Latin America
Mattos Filho, Veiga Filho, Marrey Jr
e Quiroga Advogados
Middle East & Africa Clifford Chance
COUNTRY WINNERS
NORTH AMERICA
Canada Scotia Capital
United States J.P. Morgan
EUROPE
France Rothschild
Germany Deutsche Bank
Italy Mediobanca
Netherlands Rabobank
Nordic Countries Handelsbanken Capital Markets
Portugal CaixaBI
Russia Credit Suisse
Spain Morgan Stanley
Switzerland Credit Suisse
Turkey Garanti Securities
United Kingdom Morgan Stanley
ASIA
Australia Macquarie
China/Hong Kong China International
Capital Corporation (CICC)
India Kotak Mahindra
Indonesia Mandiri Sekuritas
Japan Nomura
South Korea Samsung Securities
Taiwan Chinatrust Commercial Bank
LATIN AMERICA
Argentina Bank of America Merrill Lynch
Brazil Itaú Unibanco Banco Múltiplo
Mexico Banamex
MIDDLE EAST
Bahrain Unicorn Investment Bank
Egypt EFG-Hermes
Israel HSBC Bank
Jordan Arab Bank
Kuwait NBK Capital
Lebanon BankMed
Oman BankMuscat
Qatar Qatar First Investment Bank
Saudi Arabia SambaCapital
United Arab Emirates Abu Dhabi Investment Company
AFRICA
Nigeria Standard Bank
South Africa Standard Bank