CEO Nemeh Sabbagh talks about how technology, trade and green financing put Arab Bank at the forefront of change for its client base.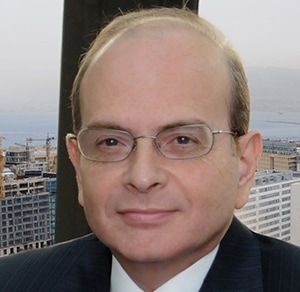 Global Finance (GF): How successful has Arab Bank been in moving closer to its corporate clients by connecting directly with their ERP systems?
Nemeh Sabbagh: With the introduction of advanced banking solutions such as ArabiSync host-to-host, Arab Bank's strategy is to align our digital evolution with that of the needs and requirements of corporate clients. Such corporate-to-bank connectivity and seamless integration is offering an optimized and centralized workflow, allowing clients to directly exchange and transfer data, control payments and manage payroll files, all while tracking the status of each transaction within the same interface. Ultimately, this is creating an end-to-end digital experience for corporate clients that brings them closer, and simplifies and elevates their engagement with Arab Bank.
GF: How has Arab Bank used technology to help SMEs?
Sabbagh: The nature of SME businesses requires agility and effective responsiveness. The solutions offered by Arab Bank are closely aligned with their needs, ensuring efficiency and enhanced governance. Our leading corporate online platform, ArabiConnect, gives SMEs an efficient way to bank. With ArabiConnect, our clients maintain fast, remote access to real-time balances and account information, as well as effective management of their accounts and business transactions across a wide range of functions—be it cash management, payments and receivables or trade finance businesses. Additionally, clients can access their corporate accounts via our ArabiConnect mobile app, which enables oversight of their banking transactions anytime, anywhere. Arab Bank evaluates and deploys technology to develop the most suitable set of solutions that further empower SMEs through informed decision-making, instant transacting, real-time information and efficient transacting.
GF: From your vantage point, how have trade flows in the region changed?
Sabbagh: Trade is a significant contributor to the region's economy; it is therefore a core business for Arab Bank. Since oil-exporting countries account for about three-quarters of the total GDP of Arab countries, oil and oil derivatives naturally constitute the largest component of the region's trade. Moreover, there is diversification and growth of trade in other commodities and services. Within the energy sector, the region is working on improving the cross-country electric-grid connections, enabling rising regional trade in power and improving efficiencies. Beyond the traditional trade in energy, food products, pharmaceuticals, construction material and manufactured goods, there is increased emphasis on the export of services, particularly professional services. The expansion of e-commerce and specialized financing programs for SMEs and startups have also provided new avenues for such trade diversification. Further shifts in the trade flows are expected, as digital and technological advancements are streamlined to support the growth of the region's economy and trade, in terms of improved efficiencies and increased transparency.
GF: Will clean water and solar-energy projects remain priorities for financing?
Sabbagh: Most certainly. Clean water and renewable-energy projects are a development priority across our region, and thus they are a priority in our business strategy. Arab Bank has been a leader in supporting the green-finance initiatives across the region. We have also developed the skill set needed for the sophisticated financing structures in these projects. For example, Jordan has been a regional leader in developing public-private partnerships to deliver wind and solar projects with a capacity to provide a quarter of the country's power needs. We have financed most of these leading projects. Furthermore, Arab Bank offices in Jordan currently rely on solar power for 95% of their needs. We have also financed the As Samra wastewater treatment plant in Jordan and the subsequent expansion of its capacity.
Given our regional presence, we are keen on expanding our support of green-finance initiatives across the region. For example, we have participated in financing nine renewable energy projects under Egypt's Nubian Sun program, which has a total capacity of generating 550 megawatts of solar and wind power. We are also actively following government initiatives in countries such as Lebanon, Tunisia, Algeria, Morocco and Oman. We would like to have an active role in financing these projects, in partnership with international financial institutions, specialized corporates and other financial institutions. Solar, wind and clean-water projects are good for the environment and for the region's development, are price-competitive and are good for our business. Therefore, they will continue to be a priority in Arab Bank's strategy.