Nordea Chief Financial Officer Heikki Ilkka, appointed in December after many years with Ernst &Young, talked with Global Finance editors about how the bank is handling negative interest rates and regulatory challenges, and how it deploys technology to satisfy its customers.
---
---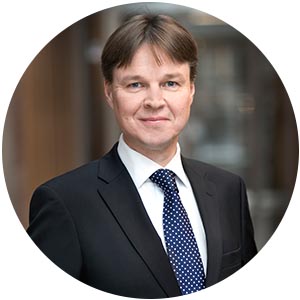 Global Finance: Nordea reported in Q4 2015 a decline of 3.3% in its net income, owing to negative interest rates. How will you handle the rising cost of holding deposits?
Heikki Ilkka: The negative interest rates that we see in three of our main markets (Denmark, Sweden and Finland) are putting pressure on net interest income. One way to offset this is by re-pricing lending margins, which we have done and are doing in some areas. We are not charging any of our household customers for negative deposit rates, and to date we are not planning to do so. Nordea has a diversified business, offering different products and services to our customers. Net interest income represents roughly 50% of total income, a share that has been decreasing over the last years. In 2015 our fee and commission income grew by 8% in local currencies, partly supported by higher inflow to funds. In this low-interest-rate environment, customers' demands for funds have increased. For example, our Stable Return Fund was one of the best-selling funds in Europe.
GF: Can you please comment on the bank's exposure to energy loans and their impact on profits?
Ilkka: Nordea has a diversified lending portfolio, both by geography and by sectors. Lending exposure to oil and gas, oil services and offshore amounts to approximately €6 billion ($6.8 billion), corresponding to 2% of the total lending book, so it is a limited share of our exposure.
GF: You were summoned in April by the Swedish regulator to answer questions on allegedly helping clients evade taxes. What is your position?
Ilkka: We do not accept that our bank can be used as a platform for tax evasion. We do not encourage or facilitate tax schemes of our customers that are regarded as tax evasion.
GF: Are you planning to review your presence in Europe?
Ilkka: We are fully focused on serving our Nordic customer base, but opportunities with relevant return are evaluated. The years from 2016—2018 are a transition period towards delivering "One Nordea." We have initiated certain key activities, of which one relates to some international units, as we are focusing on customer coverage across Europe, leveraging resources and competencies.
GF: What are the most innovative changes you've brought customers?
Ilkka: The digitalization of society is rapidly changing behavior and expectations for both household and corporate customers. We are experiencing massive growth in online and mobile usage. At the same time, manual transactions in branches continue to decline. One out of seven advisory meetings is held online. Following these developments, we continuously develop convenience features for our customers, such as e-branches and online meetings for both corporate and household customers, improved functionality in the mobile app, touch-ID to log on and Shake to log out.