Global Finance names the Safest Emerging Market Banks


2011


in Central & Eastern Europe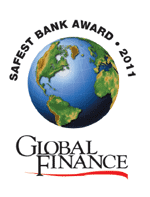 NEW YORK, November 3, 2011

Global Finance magazine (

GFmag.com

) has named the top 10 Safest Emerging Market Banks in Central & Eastern Europe in an exclusive survey to be published in the December 2011 issue. The banks were selected through a comparison of the long-term credit ratings and total assets of the largest banks. Ratings from Moodys, Standard & Poors and Fitch were used.
The full report covers the safest banks in Central and Eastern Europe, Asia, the Middle East, Latin America and Sub-Saharan Africa. For companies looking to expand into new markets, choosing the right banking partner is critical,says Global Finance publisher Joseph D. Giarraputo.This ranking is an invaluable tool for companies to evaluate institutional strength in fast-growing emerging markets.
For editorial information please contact: Andrea Fiano, Editor, email:

afiano@gfmag.com

1

Komern banka


(Czech Republic)

6

Bank Zachodni WBK


(Poland)

2

esk spoitelna


(Czech Republic)

7

Veobecn verov banka


(Slovak Republic)

3

PKO Bank Polski


(Poland)

8

BRE Bank


(Poland)

4

ING Bank lski


(Poland)

9

Bank Handlowy w Warszawie


(Poland)

5

Bank Pekao


(Poland)

10

Kredyt Bank


(Poland)