ANNUAL REPORT: SAFETY COMES FIRST
Global Finance presents its annual ranking of the Top 50 Safest Banks in the Emerging Markets.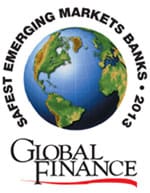 National Bank of Abu Dhabi (NBAD) is the safest emerging markets bank, following its October upgrade by Standard and Poor's. The bank now holds AA- ratings from all three major ratings agencies. It's the only emerging markets bank to do so.
Eight banks follow NBAD in the rankings, with two AA- ratings and an A+. Banks in Asia and the GCC account for 44 of the safest 50 banks in emerging markets, further strengthening those regions' positions in comparison to recent years. In 2012, Asian and GCC banks accounted for 43 of the top 50 banks, and in 2011 they accounted for 39.
Three countries contribute the 22 Asian banks in the top 50: South Korea, with 10; China, with eight; and Taiwan with four. In contrast, five of the six GCC states contribute to the 22 GCC banks in the top 50—Bahrain is the exception. Saudi Arabia contributes nine banks to the top 50, the same as last year. They account for three-quarters of all locally incorporated Saudi banks, and an even bigger proportion of Saudi banking assets.
Outside Asia and the GCC, only two countries contribute banks to the top 50: Chile, with four, and the Czech Republic, with two. New entrants to this year's rankings include HSBC Bank Oman (ranked 48), the result of a merger earlier this year between HSBC's branch in Muscat and the locally owned Oman International Bank; and China's Bank of Communications (ranked 49), which was upgraded by Fitch.
This year's rankings also include the Export-Import Bank of China and the Export-Import Bank of Korea, both of whose ratings place them near the top of the rankings. As was the case last year, two A- ratings and one A was the standard needed to claim a place in the top 50 global rankings.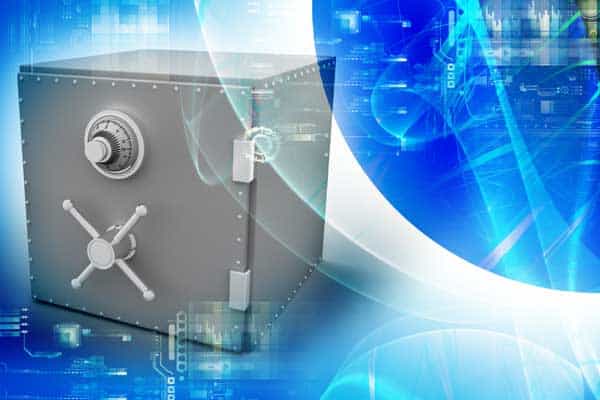 The regional lists continue to be dominated by banks in a handful of countries. Chilean and Mexican banks hold all but two of the top 10 positions in Latin America. In Central and Eastern Europe and the former Soviet Union, Czech and Polish banks dominate, although Russia's Vnesheconombank retains its position in the top 10, at number seven, and Sberbank, at nine.
Outside the global and regional rankings, over the past year, both Fitch and Moody's have upgraded the Turkish Republic and many of its banks to investment grade. Malaysian banks hold higher ratings than many of the banks listed in the regional rankings, but they fail to score highly enough to be included in the Asian regional list.
Outside South Africa, rating coverage of banks in sub-Saharan Africa remains small, and only South African institutions hold investment-grade ratings.
HOW WE MEASURE THE SAFETY OF BANKS
| | |
| --- | --- |
| Fitch/S&P | Moody's |
| AAA | Aaa |
| AA+ | Aa1 |
| AA | Aa2 |
| AA- | Aa3 |
| A+ | A1 |
| A | A2 |
| A- | A3 |
| BBB+ | Baa1 |
The safest banks chart compares the ratings for the world's largest 500 banks, based on asset size. Long-term foreign currency ratings issued by Fitch Ratings, Standard & Poor's and Moody's Investors Service were used. Where possible, ratings on holding companies were used rather than operating companies, and banks that are wholly owned by other banks were omitted. Within each rank set, banks are rated according to asset size, based on data for the most recent annual reporting period provided by Fitch Solutions and Moody's. In previous years we assigned a "tie" score to banks that had the same number of points and had assets within $5 billion of each other. We have changed our methodology on this point and will no longer be giving "ties." Ratings are reproduced with permission from the three ratings agencies, with all rights reserved. A rating is not a recommendation to purchase, sell or hold a security, and it does not comment on market price or suitability for a particular investor.
| | | | | | | | |
| --- | --- | --- | --- | --- | --- | --- | --- |
| Rank | Bank Name | Fitch rating | Moody's rating | S&P rating | Total Points | Reporting Assets ($million) | Country |
| 1 | National Bank Of Abu Dhabi | AA- | Aa3 | AA- | 21 | 81,851 | UAE |
| 2 | China Development Bank | A+ | Aa3 | AA- | 20 | 1,195,563 | China |
| 3 | Agricultural Development Bank of China | A+ | Aa3 | AA- | 20 | 364,584 | China |
| 4 | Export-Import Bank of China | A+ | Aa3 | AA- | 20 | 247,859 | China |
| 5 | Industrial Bank of Korea | AA- | Aa3 | A+ | 20 | 184,693 | South Korea |
| 6 | Korea Finance Corporation | AA- | Aa3 | A+ | 20 | **288,203 | South Korea |
| 7 | National Bank of Kuwait | AA- | Aa3 | A+ | 20 | 58,409 | Kuwait |
| 8 | Export-Import Bank of Korea | AA- | Aa3 | A+ | 20 | 50,985 | South Korea |
| 9 | BancoEstado | A+ | Aa3 | AA- | 20 | 48,367 | Chile |
| 10 | Korea Development Bank | AA- | Aa3 | A | 19 | 154,600 | South Korea |
| 11 | Qatar National Bank | A+ | Aa3 | A+ | 19 | 100,784 | Qatar |
| 12 | Samba Financial Group | A+ | Aa3 | A+ | 19 | 53,126 | Saudi Arabia |
| 13 | Bank of Taiwan | N/R | Aa3 | A+ | 18.5 | 139,628 | Taiwan |
| 14 | Banco de Chile | N/R | Aa3 | A+ | 18.5 | 48,592 | Chile |
| 15 | National Commercial Bank | A+ | A1 | A+ | 18 | 92,085 | Saudi Arabia |
| 16 | Al Rajhi Bank | A+ | A1 | A+ | 18 | 71,302 | Saudi Arabia |
| 17 | Banco Santander Chile | A+ | Aa3 | A | 18 | 51,727 | Chile |
| 18 | Riyad Bank | A+ | A1 | A+ | 18 | 50,715 | Saudi Arabia |
| 19 | Abu Dhabi Commercial Bank | A+ | A1 | A | 17 | 49,230 | UAE |
| 20 | Banque Saudi Fransi | A | Aa3 | A | 17 | 42,074 | Saudi Arabia |
| 21 | SABB | A | Aa3 | A | 17 | 41,774 | Saudi Arabia |
| 22 | Union National Bank | A+ | A1 | N/R | 17 | 23,727 | UAE |
| 23 | Industrial and Commercial Bank of China | A | A1 | A | 16 | 2,789,090 | China |
| 24 | China Construction Bank | A | A1 | A | 16 | 2,221,582 | China |
| 25 | Agricultural Bank of China | A | A1 | A | 16 | 2,105,758 | China |
| 26 | Bank of China | A | A1 | A | 16 | 2,016,129 | China |
| 27 | KB Kookmin Bank | A | A1 | A | 16 | 240,737 | South Korea |
| 28 | Shinhan Bank | A | A1 | A | 16 | 218,652 | South Korea |
| 29 | NongHyup Bank | A | A1 | A | 16 | 182,065 | South Korea |
| 30 | Kuwait Finance House | A+ | A1 | A- | 16 | 52,288 | Kuwait |
| 31 | Arab National Bank | A | A1 | A | 16 | 36,437 | Saudi Arabia |
| 32 | Hana Bank | N/R | A1 | A | 15.5 | **161,109 | South Korea |
| 33 | Land Bank of Taiwan | N/R | Aa3 | A- | 15.5 | *82,040 | Taiwan |
| 34 | First Gulf Bank | A+ | A2 | N/R | 15.5 | 47,661 | UAE |
| 35 | Abu Dhabi Islamic Bank | A+ | A2 | N/R | 15.5 | 23,326 | UAE |
| 36 | Mega International Commercial Bank | A- | A1 | A | 15 | 83,631 | Taiwan |
| 37 | Chinatrust Commercial Bank | A | A2 | A | 15 | **72,416 | Taiwan |
| 38 | Česká spořitelna | A | A2 | A | 15 | 48,303 | Czech Republic |
| 39 | Banco de Crédito e Inversiones | A- | A1 | A | 15 | 37,593 | Chile |
| 40 | Commercial Bank of Qatar | A | A1 | A- | 15 | 21,988 | Qatar |
| 41 | Woori Bank | A- | A1 | A- | 14 | 230,930 | South Korea |
| 42 | Korea Exchange Bank | A- | A1 | A- | 14 | 97,137 | South Korea |
| 43 | Komerční banka | A- | A2 | A | 14 | 41,293 | Czech Republic |
| 44 | Bank Muscat | A- | A1 | A- | 14 | 20,582 | Oman |
| 45 | Saudi Hollandi Bank | A- | A1 | N/R | 14 | 18,268 | Saudi Arabia |
| 46 | Doha Bank | A | A2 | A- | 14 | 15,168 | Qatar |
| 47 | Commercial Bank of Kuwait | A+ | A3 | N/R | 14 | *13,044 | Kuwait |
| 48 | HSBC Bank Oman | A+ | A3 | N/R | 14 | 6,266 | Oman |
| 49 | Bank of Communications | A | A3 | A- | 13 | 838,430 | China |
| 50 | Saudi Investment Bank | A- | A2 | A- | 13 | 15,751 | Saudi Arabia |
| | | | | | | | |
| --- | --- | --- | --- | --- | --- | --- | --- |
| Rank | Bank Name | Fitch rating | Moody's rating | S&P rating | Total Points | Reporting Assets ($mn) | Country |
| 1 | Česká spořitelna | A | A2 | A | 15 | 48,303 | Czech Republic |
| 2 | Komerční banka | A- | A2 | A | 14 | 41,293 | Czech Republic |
| 3 | PKO Bank Polski | N/R | A2 | A- | 12.5 | 62,421 | Poland |
| 4 | Bank Pekao | A- | A2 | BBB+ | 12 | 48,700 | Poland |
| 5 | ING Bank Śląski | A | Baa1 | N/R | 11 | 25,251 | Poland |
| 6 | BRE Bank | A | Baa3 | BBB+ | 9 | 32,984 | Poland |
| 7 | Vnesheconombank | BBB | Baa1 | BBB | 7 | 96,108 | Russia |
| 8 | Bank Handlowy w Warszawie | A- | Baa3 | BBB | 7 | *14,058 | Poland |
| 9 | Sberbank | BBB | Baa1 | N/R | 6.5 | 497,067 | Russia |
| 10 | Bank Zachodni WBK | BBB | Baa1 | N/R | 6.5 | 19,364 | Poland |
| 11 | VTB Bank | BBB | Baa2 | BBB | 6 | 244,155 | Russia |
| | | | | | | | |
| --- | --- | --- | --- | --- | --- | --- | --- |
| Rank | Bank Name | Fitch rating | Moody's rating | S&P rating | Total Points | Reporting Assets ($mn) | Country |
| 1 | BancoEstado | A+ | Aa3 | AA- | 20 | 48,367 | Chile |
| 2 | Banco de Chile | N/R | Aa3 | A+ | 18.5 | 48,592 | Chile |
| 3 | Banco Santander Chile | A+ | Aa3 | A | 18 | 51,727 | Chile |
| 4 | Banco de Crédito e Inversiones | A- | A1 | A | 15 | 37,593 | Chile |
| 5 | HSBC Mexico | A | Baa1 | BBB | 10 | 37,314 | Mexico |
| 6 | Banco Santander Mexico | BBB+ | Baa1 | BBB | 8 | 57,506 | Mexico |
| 7 | Banco de Crédito del Perú | BBB+ | Baa2 | BBB+ | 8 | 35,450 | Peru |
| 8 | Banco Nacional de Obras y Servicios Publicos | BBB+ | Baa1 | BBB | 8 | 27,229 | Mexico |
| 9 | BBVA Chile | N/R | Baa1 | BBB+ | 8 | 19,575 | Chile |
| 10 | BBVA Continental | BBB+ | N/R | BBB+ | 8 | 19,486 | Peru |
| 11 | Banco Nacional de Comercio Exterior | BBB+ | Baa1 | BBB | 8 | 16,589 | Mexico |
| 12 | Scotiabank Perú | BBB+ | Baa2 | BBB+ | 8 | *12,366 | Peru |
| 13 | First Citizens Bank | N/R | Baa1 | BBB+ | 8 | 5,299 | Trinidad & Tobago |
| | | | | | | | |
| --- | --- | --- | --- | --- | --- | --- | --- |
| Rank | Bank Name | Fitch rating | Moody's rating | S&P rating | Total Points | Reporting Assets ($mn) | Country |
| 1 | China Development Bank | A+ | Aa3 | AA- | 20 | 1,195,563 | China |
| 2 | Agricultural Development Bank of China | A+ | Aa3 | AA- | 20 | 364,584 | China |
| 3 | Export-Import Bank of China | A+ | Aa3 | AA- | 20 | 247,859 | China |
| 4 | Industrial Bank of Korea | AA- | Aa3 | A+ | 20 | 184,693 | South Korea |
| 5 | Korea Finance Corporation | AA- | Aa3 | A+ | 20 | **288,203 | South Korea |
| 6 | Export-Import Bank of Korea | AA- | Aa3 | A+ | 20 | 50,985 | South Korea |
| 7 | Korea Development Bank | AA- | Aa3 | A | 19 | 154,600 | South Korea |
| 8 | Bank of Taiwan | N/R | Aa3 | A+ | 18.5 | 139,628 | Taiwan |
| 9 | Industrial and Commercial Bank of China | A | A1 | A | 16 | 2,789,090 | China |
| 10 | China Construction Bank | A | A1 | A | 16 | 2,221,582 | China |
| 11 | Agricultural Bank of China | A | A1 | A | 16 | 2,105,758 | China |
| 12 | Bank of China | A | A1 | A | 16 | 2,016,129 | China |
| 13 | KB Kookmin Bank | A | A1 | A | 16 | 240,737 | South Korea |
| 14 | Shinhan Bank | A | A1 | A | 16 | 218,652 | South Korea |
| 15 | NongHyup Bank | A | A1 | A | 16 | 182,065 | South Korea |
| | | | | | | | |
| --- | --- | --- | --- | --- | --- | --- | --- |
| Rank | Bank Name | Fitch rating | Moody's rating | S&P rating | Total Points | Reporting Assets ($mn) | Country |
| 1 | National Bank of Abu Dhabi | AA- | Aa3 | AA- | 21 | 81,851 | UAE |
| 2 | National Bank of Kuwait | AA- | Aa3 | A+ | 20 | 58,409 | Kuwait |
| 3 | Qatar National Bank | A+ | Aa3 | A+ | 19 | 100,784 | Qatar |
| 4 | Samba Financial Group | A+ | Aa3 | A+ | 19 | 53,126 | Saudi Arabia |
| 5 | National Commercial Bank | A+ | A1 | A+ | 18 | 92,085 | Saudi Arabia |
| 6 | Al Rajhi Bank | A+ | A1 | A+ | 18 | 71,302 | Saudi Arabia |
| 7 | Riyad Bank | A+ | A1 | A+ | 18 | 50,715 | Saudi Arabia |
| 8 | Abu Dhabi Commercial Bank | A+ | A1 | A | 17 | 49,230 | UAE |
| 9 | Banque Saudi Fransi | A | Aa3 | A | 17 | 42,074 | Saudi Arabia |
| 10 | SABB | A | Aa3 | A | 17 | 41,774 | Saudi Arabia |
| 11 | Union National Bank | A+ | A1 | N/R | 17 | 23,727 | UAE |
| 12 | Kuwait Finance House | A+ | A1 | A- | 16 | 52,288 | Kuwait |
| 13 | Arab National Bank | A | A1 | A | 16 | 36,437 | Saudi Arabia |
| 14 | First Gulf Bank | A+ | A2 | N/R | 15.5 | 47,661 | UAE |
| 15 | Abu Dhabi Islamic Bank | A+ | A2 | N/R | 15.5 | 23,326 | UAE |
| 16 | Commercial Bank of Qatar | A | A1 | A- | 15 | 21,988 | Qatar |
| | | | | | | | |
| --- | --- | --- | --- | --- | --- | --- | --- |
| Rank | Bank Name | Fitch rating | Moody's rating | S&P rating | Total Points | Reporting Assets ($mn) | Country |
| 1 | Absa Bank | A- | Baa1 | BBB | 9 | 89,927 | South Africa |
| 2 | FirstRand Bank | BBB | Baa1 | BBB | 7 | 84,156 | South Africa |
| 3 | Standard Bank of South Africa | BBB | Baa1 | BBB | 7 | 115,161 | South Africa |
| 4 | Nedbank | BBB | Baa1 | BBB | 7 | 80,339 | South Africa |
| 5 | Investec Bank | BBB- | Baa1 | N/R | 5 | 33,356 | South Africa |
N/R – No Rating
Ratings as of 25 October 2013
Source for ratings: Fitch Ratings, Standard & Poor's, Moody's Investors Service
Source for reporting assets: Fitch Solutions, except *Moody's Investors Service, **Bank's financial statements