Bank of America is sharing its success with the communities in which it operates, with a focus on ESG activities, says chairman and CEO Brian Moynihan.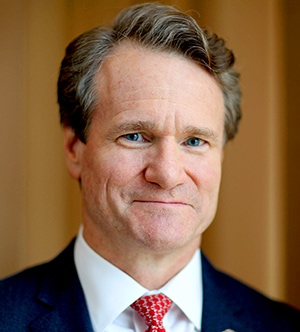 Global Finance (GF): What are the biggest future challenges and opportunities for the bank?
Brian Moynihan: We believe in what we call "responsible growth." We have to grow, no excuses. But we have to do it by focusing on delivering for our clients, and within our risk appetite. And our growth has to be sustainable. Consistent with responsible growth, we are helping our three groups of clients—people, companies of all sizes, and institutional investors—to live their financial lives. We are well positioned to do that in this period of global growth and to support clients when the business cycle changes over time.
GF: What does sustainability mean to you?
Moynihan: Sustainability has three key components: being the best place to work for our team, sharing our success, and continuous improvement through operational excellence, which creates capacity to reinvest in our team, in technology initiatives, and other areas.
To share success, we focus on our environmental, social and governance (ESG) activities, our $125 billion environmental initiative, our philanthropy, and many other activities. Our ESG work includes the many ways we share our success by driving growth in the communities we serve. In 2017, we provided $4.5 billion in loans, tax credit equity investments and other real estate development solutions through community development banking. We deployed capital in many other ways to strengthen our communities, including $200 million in philanthropic giving. Also, our teammates spent 2 million hours supporting and volunteering with local organizations and chapters. It gives me great pride to see what the teams are doing in all our markets.
And we have many programs and opportunities that reinforce our belief in a diverse, inclusive team, and other benefits and services that help employees balance their work and personal lives. Being the best place to work extends beyond compensation and health benefits to include tuition assistance, career development and learning, and childcare programs.
GF: Why is Bank of America the best bank for corporations?
Moynihan: We bring the full array of capabilities to our clients—cash management, trade financing, lending in local currencies and more—to support businesses that are driving the economy in the US and around the world. We have a relationship with virtually every S&P 500 company, and with thousands of smaller- and medium-size enterprises in the US that operate globally. We are one of the largest lenders to midsize companies and to small businesses. We invest in technology to improve the client experience, and in the past few years have added more than 400 bankers to our global banking team in the US.
GF: What's new in wealth management?
Moynihan: We serve affluent and wealthy investor clients through the two leading brands in wealth management: Merrill Lynch and U.S. Trust. Together, these businesses delivered $3 billion in after-tax net income on $19 billion in revenue in 2017, generating a 27% pretax margin.
These results reflect years of investment and attention to serving the needs of our clients. In 2017, we saw assets under management (AUM) flows of nearly $100 billion as clients continued to trust us to manage their investments.
In the mass-affluent space, we will open 600 new Merrill Edge investment centers within our financial centers, bringing the total to 2,800 by 2020. We also expect to add 300 new financial solutions advisers for a total of 4,000 representatives by the end of this year.
Merrill Edge is our streamlined financial platform that offers access to online and advised investing, trading, brokerage and banking services. Clients can be self-directed, work with a financial solutions advisor, or access Merrill Edge Guided Investing (MEGI). As we continue to create new solutions to help clients pursue their investing goals, we're continuing to innovate. MEGI, which launched last year, is a great example. It is an online investing service that provides access to investment strategies managed by the Merrill Lynch and U.S. Trust Chief Investment Office.