Sim Tshabalala, group CEO of Standard Bank, explains how Africa's biggest bank is using its new digital capabilities to better understand its clients.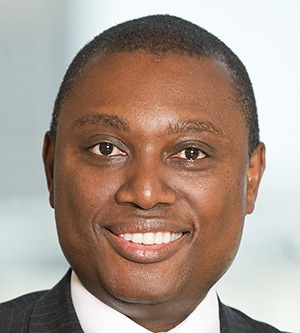 Global Finance (GF): To what do you attribute the bank's strong performance in 2017, with earnings growth of 14%?
Sim Tshabalala: The group's strong results were achieved by executing our established strategy in a disciplined way, with good cost and credit management in a noisy operating environment. The group also continued to benefit from our diversified portfolio of businesses in Africa.
GF: Will your new Cote d'Ivoire operations give you a hub for French-speaking West Africa?
Tshabalala: Yes—that is one of the main reasons why we set up in Abidjan.
GF: Have the bank's growing digital operations increased financial inclusion?
Tshabalala: It is certainly true that the vast majority of our transactions now take place online and we continue to focus on using digital technology to understand our clients and to deliver our products and services to them efficiently and reliably, online or in person, as they choose. However, in Africa, many older and low-income clients still prefer to transact in person and to use cash, and we will of course continue to offer these services.
GF: What are some of your future challenges and opportunities?
Tshabalala: We are confident that we can continue to manage the trajectory of our return on equity upward through our new medium-term target range of 17% to 20%. To move upward though this new range, we will:
• Remain strongly competitive in South Africa, drawing on our new digital capabilities—which are now all but fully installed.
• Leverage and expand our unique Africa-wide network, competing vigorously for market share.
• Continue to strengthen our partnership with Industrial and Commercial Bank of China (ICBC) and our capacity to link Africa to the world's major financial centers.
We remain very vigilant against the ever-present risk of cybercrime to our group and our clients. We also face fast-growing competition from unregulated entities offering wholesale and retail financial services, modernizing incumbent banks and new digital bank competitors, with formidable new rivals entering the South African retail banking market during 2018.