Global Finance

names the Stars of China 2012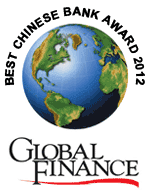 NEW YORK,September 24, 2012

FOR IMMEDIATE RELEASE

Global Finance

has announced its editors selections forthe best banks and companies in China. The full list is below. A report and the list will appear in the November issue of themagazine. An award ceremony to honor the winners will be conducted in Beijing in early November 2012.
Chinas banking system and companies are working to become world-class said

Global Finance

publisher Joseph Giarraputo, The banks and companies we have selected are definitely leading the way for all others.
For editorial information please contact: Andrea Fiano, Editor, email:

afiano@gfmag.com


The Stars of China awards were selected in the following areas:

Best City Commercial –

Bank of Nanjing

Best Consumer Bank –


Domestic

: China Merchants Bank (CMB)



Foreign

: HSBC

Best Corporate Governance –

Ping An Bank

Best Corporate Bank –


Domestic

: Industrial and Commercial Bank of China (ICBC)



Foreign

: Citi

Best Credit Card –


Domestic

: Industrial and Commercial Bank of China (ICBC)



Foreign

: Citi


Best Bond Underwriting –



Domestic

: Industrial and Commercial Bank of China (ICBC)



Foreign

: HSBC

Best Equity Underwriting –


Domestic

: CITIC Securities



Foreign

: Goldman Sachs

Best Infrastructure Lending –

China Construction Bank (CCB)

Best Mergers and Acquisitions –


Domestic

: China International Capital Corporation (CICC)



Foreign

: Goldman Sachs

Best Fund –

China AMC

Best Rural Finance –


Domestic

: Chongqing Rural Commercial Bank



Foreign

: HSBC

Best Small Business Lending –


Domestic

: China Minsheng Bank



Foreign

: Standard Chartered

Best Supply Chain Finance Provider –


Domestic

: Bank of Communications



Foreign

: Standard Chartered

Best Treasury and Cash Management –


Domestic

: Industrial and Commercial Bank of China (ICBC)



Foreign

: DBS Bank

| | |
| --- | --- |
| Automobiles – | Great Wall Motors |
| Food and Beverages – | Kweichow Moutai Co. |
| Consumer Products – | Gree Electrical Applicancees |
| Clothing – | Vancl |
| Electronics – | Lenovo |
| Internet – | Alibaba Group |
| Media – | Tencent |
| Metals & Mining – | China National Gold Group |
| Oil and Gas – | Kunlun Energy Co. |
| Renewable Energy – | Auhua Clean Energy (ACE) |
| Steel – | Jiangsu Shagang Group |