CREAM OF THE CROP
By Kathryn Tully
Presenting the Winners' Circle: the longest-running leaders of Global Finance's World's Safest Banks and World's Biggest Banks rankings.
WORLD'S SAFEST
After 2008, the global recession ensured that the risks inherent in dealing with the biggest multinational banks were at the forefront of the conversation. The Arab Spring and Europe's sovereign debt crisis have kept them there. Today only four banks have an AAA rating from all three main agencies. However, Global Finance 's ranking of the world's 50 safest banks long precedes any of these events. In fact, it has been providing trusted information about the credit-worthiness of global counterparties every year since 1993.
During that time, European banks have dominated. Deutsche Bank placed top in 1996 and four subsequent years. That puts Deutsche Bank in joint second place with fellow German bank KfW, which has topped the overall ranking every year since the financial crisis-an impressive achievement, given the sustained global uncertainty of the past several years.
The winning streak of the overall winner, French bank CDC, ended in 2009. The financial crisis caused more than one-fifth of the banks that featured in the 2008 ranking to fall off the list in 2009, but CDC still features in the top five today.
Global Finance's regional awards for the safest banks have been tabulated only since 2010, but in that short time, several banks have been consistent winners. Royal Bank of Canada (RBC) has landed at the top in North America for three years straight, as has KfW in Western Europe, National Australia Bank in Australia, BancoEstado in Latin America and DBS Bank in Asia.
Clearly, the dominance of European banks within the global ranking is under threat as they battle the eurozone crisis. Consequently, this ranking could look rather different in 12 months time.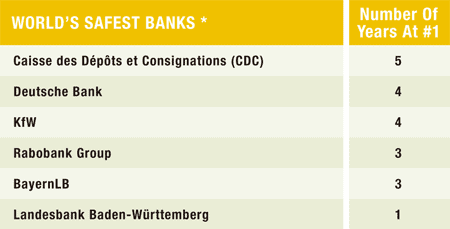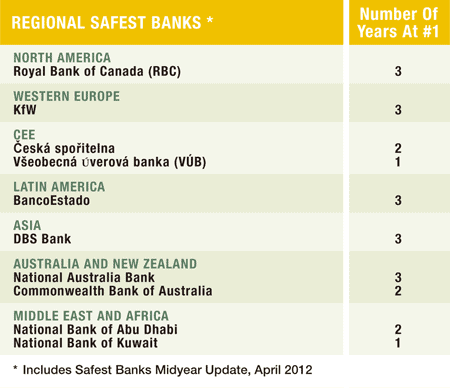 WORLD'S BIGGEST
Since 2001, France's BNP Paribas, the UK's Royal Bank of Scotland and Japan's Mizuho Financial have topped Global Finance 's ranking of the world's biggest banks by total assets the most often, a total of twice each.
The past five years have been a period of retrenchment and asset write-downs, and two of the top three in the Winners' Circle, Royal Bank of Scotland and BNP Paribas, have seen their assets drop recently.