Global FinanceannouncesThe Winners' CircleA ranking of the Top Winners of our Annual Awards over the magazine's 25-year history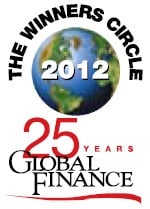 NEW YORK, June 4, 2012–Global Financemagazine is proud to announce The Winners' Circle – the Top Winners from 25 years of the magazine's annual awards program.
"The world has changed dramatically sinceGlobal Financefirst appeared in 1987. Global financial markets have undergone a seismic shift, and the firms and individuals that made it into our Winners' Circle are those that have shown their true mettle and transformed themselves to meet the demands of a changing environment," saysGlobal Finance's publisher, Joseph D. Giarraputo. "We recognize these firms and individuals for their outstanding accomplishments over the past 25 years."Global Finance's annual awards program is a recognized and trusted standard for the entire financial world.
A full report on the winners will appear in theSpecial Commemorative 25th Anniversary Issue, released on June 25th, 2012. Award tallies are calculated to June 2012 issue. To compile the winners, we tallied winners/those taking first place over all of the years that a particular award was given. The winners lists comprise the top scorers in these tallies.
In theSpecial Commemorative Edition, we take an in-depth look at the leading events that guided the markets and sectors over whichGlobal Financehas kept a watchful eye for the past 25 years. Plus—backed by market-leading research—we evaluate the trends that will govern these sectors and markets for the next quarter century.
For editorial information please contact: Andrea Fiano, Editor, email:afiano@gfmag.com
Global Financenames The Winners' Circle — the Top Winners in our annual awards over the magazine's 25-year history
* TIE
WORLD'S BEST BANKS
GLOBAL WINNERS
Corporate
JPMorgan Chase
Runner Up
Citi
Consumer
HSBC
Runner Up
Citi
Private Bank
UBS
Runner Up
Credit Suisse
Asset Manager
State Street Global Advisors
Runner Up
Bank of America Merrill Lynch
Custody
BNY Mellon
Runner Up
Citi
Sub-Custody
HSBC
Runner Up
Citi
Emerging Markets Bank
Citi
Runner Up
Standard Chartered
Islamic Financial Institution
Kuwait Finance House
Investment Bank

*Goldman Sachs

*J.P. Morgan

Runner Up
Citi
Cash Management
Citi
Trade Finance
Citi
Runner Up
BNP Paribas
Foreign Exchange
Deutsche Bank
REGIONAL WINNER
North America
JPMorgan Chase
Western Europe
Santander
Asia
HSBC
Central & Eastern Europe
Raiffeisen Bank International
Runner Up
UniCredit Bank Austria
Latin America
Banco Santander
Runner Up
Citi
Middle East
National Bank of Kuwait
Runner Up
Citi
Africa
Standard Chartered
Runner Up
Standard Bank
COUNTRY WINNERS
BEST BANK
RUNNER UP
NORTH AMERICA
Bermuda
Butterfield Bank
HSBC Bermuda
Canada
RBC
Scotiabank
U.S.
JPMorgan Chase
Citi
LATIN AMERICA
Argentina
Banco Macro
Banco Santander Rio
Barbados
FirstCaribbean International
Scotiabank Barbados
Belize
Belize Bank
n/a
Bolivia
Banco de Crédito de Bolivia
Banco Bisa
Brazil
Itaú Unibanco
Bradesco
Chile
Banco Santander Chile
Banco de Chile
Colombia
Bancolombia
Banco de Bogotá
Costa Rica
Scotiabank Costa Rica
HSBC (Banco Banex)
Dominican Republic
Banco Popular Dominicano
n/a
Ecuador
Banco Pichincha
Banco Popular del Equador
El Salvador
Banco Agrícola
Banco Citibank de El Salvador
Guatemala
Banco Agromercantil
Banco de Occidente
Honduras
Banco Atlántida
n/a
Jamaica
Scotiabank Jamaica
CIBC First Caribbean
Mexico
Banamex
BBVA Bancomer
Panama
Banco General
HSBC (Banistmo)
Paraguay
Itaú Unibanco (Interbanco)
Banco General
Peru
BBVA Banco Continental
Banco de Crédito
Puerto Rico
Banco Popular
Banco Santander Puerto Rico
Trinidad & Tobago
Republic Bank
Scotiabank Trinidad & Tobago
Turks & Caicos
Scotiabank Turks & Caicos
n/a
Uruguay
ABNAmro Uruguay
Banco Comercial/Banco Santander
Venezuela
BBVA Banco Provincial
Banco Mercantil
EUROPE
Albania
Raiffeisen Bank Albania
International Commerical Bank
Austria
UniCredit Bank Austria
Raiffeisen Bank International
Belarus
Priorbank
Belarusbank
Belgium
KBC
Fortis
Bosnia Herzegovina
Raiffeisen Bank Bosnia i Hercegovina
Intesa Sanpaolo banka
Bulgaria
UniCredit Bulbank
DSK Bank
Croatia
Zagrebačka Banka
Privredna Banka Zagreb
Cyprus
Bank of Cyprus
n/a
Czech Republic
CSOB
Česká spořitelna
Denmark
Danske Bank
n/a
Estonia
Swedbank
Union Bank of Estonia
Finland
Nordea
Pohjola Bank
France
BNP Paribas
Société Générale
Germany
Deutsche Bank
HVB Group/Commerzbank
Greece
EFG Eurobank
Alpha Bank
Hungary
OTP Bank
n/a
Iceland
Landsbanki
Arion Bank
Ireland
Bank of Ireland
Allied Irish Banks
Italy
UniCredit
Intesa Sanpaolo
Kosovo
Raffeisen Bank Kosovo
ProCredit Bank Kosovo
Latvia
SEB
Parex Bank
Lithuania
SEB
Swedbank
Luxembourg
BGL BNP Paribas
Banque et Caisse d'Epargne de l'Etat
Macedonia
Komercijalna Banka a.d. Skopje
n/a
Malta
Bank of Valletta
HSBC Bank Malta
Moldova
Moldova Agroindbank
n/a
Netherlands
ABN Amro
Rabobank
Norway
DnB
Nordea
Poland
Bank Pekao
Citi Handlowy
Portugal
Millennium bcp
Banco Santander Totta
Romania
BRD-Groupe Société Générale
Raiffeisen Bank International
Russia
Alfa Bank
MDM Bank/VTB
Serbia
Raiffeisen Banka
Komercijalna Banka a.d. Beograd
Slovakia
Tatra Banka
Slovenská Sporitel'ňa/VUB Banca
Slovenia
Nova Ljubljanska Banka
SKB Banka
Spain
Santander
Banco Popular
Sweden
Handelsbanken
SEB
Switzerland
UBS/Credit Suisse
n/a
Turkey
Akbank
Garanti Bank
Ukraine
PJSC CB PrivatBank
UkrSibbank
UK
HSBC
RBS
ASIA
Armenia
HSBC Bank Armenia
Converse Bank
Australia
Commonwealth Bank of Australia
ANZ
Azerbaijan
International Bank of Azerbaijan
AccessBank
Bangladesh
Islami Bank/Janata Bank
AB Bank
China
ICBC
China Construction Bank
Georgia
Bank of Georgia
TBC Bank
Hong Kong
HSBC
Bank of China (Hong Kong)
India
ICICI Bank
HDFC Bank
Indonesia
Bank Danamon/ Bank Central Asia
Bank Mandiri/Panin Bank
Japan
Mitsubishi UFJ Financial
Sumitomo Mitsui Financial Group
Kazakhstan
Kazkommertsbank
Halyk Bank
Kyrgyz Republic
AsiaUniversalBank
Demir Kyrgyz International Bank
Macau
ICBC Macau
n/a
Malaysia
Maybank
Public Bank Berhad
Mongolia
Khan Bank
Golomt Bank
New Zealand
Bank of New Zealand
Auckland Savings Bank (ASB)
Pakistan
National Bank of Pakistan/HBL Pakistan
Askari Bank
Philippines
Bank of the Philippine Islands
Banco de Oro (BDO)
Singapore
DBS
United Overseas Bank
South Korea
Shinhan Bank
Kookmin Bank (KB)
Sri Lanka
Commercial Bank of Ceylon
n/a
Taiwan
Chinatrust Commercial Bank
Bank SinoPac
Thailand
Siam Commercial Bank
Kasikornbank
Uzbekistan
Bank Credit-Standard
National Bank of Uzbekistan
Vietnam
Asia Commercial Bank
Sacombank/VietcomBank
MIDDLE EAST
Bahrain
Ahli United Bank
National Bank of Bahrain
Egypt
Commercial International Bank
n/a
Iran
Bank Melli Iran/Bank Tejarat/Parsian Bank
n/a
Iraq
Commercial Bank of Iraq
n/a
Israel
Bank Hapoalim
Mizrahi Tefahot Bank
Jordan
Arab Bank
Jordan Kuwait Bank
Kuwait
National Bank of Kuwait
Gulf Bank
Lebanon
BLOM Bank
Bank Audi
Oman
BankMuscat
National Bank of Oman
Qatar
Qatar National Bank
n/a
Saudi Arabia
Samba Financial Group
Arab National Bank
Syria
Bank of Syria and Overseas/Bank Audi Syria
n/a
UAE
Emirates NBD
National Bank of Abu Dhabi
Yemen
Arab Bank Yemen
n/a
AFRICA
Algeria
Arab Banking Corporation Algeria
n/a
Angola
Banco Espírito Santo Angola
n/a
Botswana
Standard Chartered Bank Botswana
Stanbic Bank Botswana
Cote d'Ivoire
Ecobank Cote d'Ivoire
n/a
DRC
Standard Bank Congo
n/a
Djibouti
International Commercial Bank-Djibouti
n/a
Ethiopia
Nib International Bank
Dashen Bank
Gambia
Trust Bank
Standard Chartered Bank Gambia
Ghana
Ghana Commercial Bank
Standard Chartered Bank Ghana
Guinea
International Commercial Bank Guinea
Ecobank Guinea Conakry
Kenya
Barclays Bank of Kenya
Kenya Commercial Bank
Libya
Wahda Bank
n/a
Mauritius
Mauritius Commercial Bank
n/a
Morocco
Attijariwafa Bank
n/a
Mozambique
Millennium bim
n/a
Namibia
Standard Bank Namibia
First National Bank of Namibia
Nigeria
FirstBank
n/a
Rwanda
Banque Commerciale du Rwanda
Bank of Commerce Development and Industry
Senegal
Ecobank Senegal
CBAO Attijariwafa bank
Sierra Leone
International Commercial Bank-Sierra Leone
n/a
South Africa
Standard Bank South Africa
Nedcor
Sudan
Al Salam Bank Sudan
n/a
Togo
Ecobank
n/a
Tunisia
Banque de Tunisie
Banque Internationale Arabe de Tunisie
Uganda
Stanbic Bank Uganda
n/a
Zambia
Standard Chartered Bank Zambia
n/a
Zimbabwe
Stanbic Bank Zimbabwe
Standard Chartered Bank Zimbabwe
WORLD'S LARGEST BANKS

| | | | |
| --- | --- | --- | --- |
| LARGEST BANKS (By Assets) | NUMBER OF YEARS AT  #1 | LARGEST BANKS (By Assets) | NUMBER OF YEARS AT  #1 |
| BNP Paribas | 2 | Barclays | 1 |
| Royal Bank of Scotland | 2 | UBS | 1 |
| Mizuho Financial Group | 2 | Citi | 1 |
| | | Sumitomo Mitsui Banking Corp | 1 |
WORLD'S SAFEST BANKS
OVERALL WINNERS
NUMBER OF YEARS AT  #1
CDC
5
Deutsche Bank
4
KfW
4
Rabobank
3
Bayerische Landesbank
3
Landesbank Baden-Württemberg
1
REGIONAL WINNERS
North America
Royal Bank of Canada
Western Europe
KfW
Asia
DBS Bank
Central & Eastern Europe
Česká spořitelna
Australia & New Zealand
National Australia Bank
Latin America
BancoEstado
Middle East/Africa
National Bank of Abu Dhabi
BEST FOREIGN EXCHANGE PROVIDERS
GLOBAL WINNER
Deutsche Bank
Runner Up
Citi
REGIONAL WINNERS
North America
Citi
Western Europe
Deutsche Bank
Asia Pacific
HSBC
Runner Up
Standard Chartered
Southeast Asia
DBS Group
Runner Up
Standard Chartered
Central & Eastern Europe
UniCredit
Runners Up

*Deutsche Bank

*Société Générale

Nordic Region

*Handelsbanken

*SEB

Runner Up
Nordea
Latin America
Citi
Runner Up
Banco Bradesco
Middle East
Ahli United Bank
Runner Up
National Bank of Kuwait
Africa
Standard Chartered
Runner Up
Standard Bank
RESEARCH & ANALYSIS
Best FX Reserach
BNY Mellon
Best Fundamental Analysis
Brown Brothers Harriman
Best Technical Analysis
BNY Mellon
Best Forecasts
BNY Mellon
Best Strategy/Hedging
Deutsche Bank
ONLINE FX TRADING SYSTEMS
Best Bank
State Street
Best Independent
FXall
Best Retail
Forex Capital Markets (FXCM)
BEST TREASURY & CASH MANAGEMENT PROVIDERS
GLOBAL WINNERS
Best Overall Bank for Cash Management
Citi
Best White Label System Provider
BNY Mellon Enterprise Treasury Services
REGIONAL WINNERS
North America
Overall
J.P. Morgan
Runner Up
Bank of America Merrill Lynch
Liquidity Management
J.P. Morgan
Runner Up
Bank of America Merrill Lynch
Money Market Funds Provider
J.P. Morgan
Runner Up
Citi Asset Management
Risk Management
J.P. Morgan
Runner Up
Bank of America Merrill Lynch
Payments and Collections

*J.P. Morgan

*Wells Fargo

Runner Up
Bank of America Merrill Lynch
Western Europe
Overall
Deutsche Bank
Liquidity Management
RBS (including ABN Amro)
Runner Up
Deutsche Bank
Money Market Funds Provider
Barclays Global Investors
Runner Up

*Citi Asset Management

*DB Advisors

Risk Management
Deutsche Bank
Runners Up

*RBS (including ABN Amro)

*UBS

Payments and Collections
Deutsche Bank
Asia
Overall
HSBC
Liquidity Management

Citi

Runner Up

*HSBC

*Standard Chartered

Money Market Funds
JPMorgan Asset Management
Runner Up
HSBC
Risk Management
Citi
Runner Up
HSBC
Payments and Collections
HSBC
Latin America
Overall
Citi
Liquidity Management
Citi
Money Market Funds
Banco Bradesco
Risk Management
Citi
Runner Up
Banco Bradesco
Payments and Collections
Citi
Central & Eastern Europe
Overall
RZB
Runner Up
UniCredit
Liquidity Management

*RBS (including ABN Amro)

*RZB

Runner Up
*UniCredit
Money Market Funds
RZB
Risk Management
RZB
Payments and Collections
UniCredit
Runner Up
RZB
Nordic Countries
Overall
SEB
Liquidity Management
SEB
Money Market Funds
Nordea
Risk Management
SEB
Payments and Collections
Danske
Runner Up
SEB
Middle East
Overall
HSBC
Liquidity Management

*Citi

*Standard Chartered

Money Market Funds

*National Bank of Kuwait

*Banque Misr

Risk Management
Citi
Runner Up
HSBC
Payments and Collections
HSBC
Africa
Overall
Standard Bank
Liquidity Management
Standard Chartered
Money Market Funds

*Banque Misr

*Standard Bank

Risk Management
Citi
Payments and Collections
Standard Bank
SYSTEMS & SERVICE PROVIDERS
A/P Services
Bottomline Technologies
A/R Services
Sungard AvantGard Receivables
E-Invoicing Services

*Ariba

*Basware

Payroll Services
Oracle
Cards and Expenses Services Provider
MasterCard Worldwide
Runner Up
Visa
Purchasing Card Program
Citi
Electronic Payments Provider
Fiserv
Loss Prevention/Business Continuity
Services Provider
SunGard Availability Services
Runner Up
IBM Business Continuity and Resiliency Services
Pension Plan Administration
CPAS Systems
Runners Up

*Watson Wyatt Worldwide

*Mercer

Technology Service Provider
HP Enterprise Services (including EDS)
Runner Up
SunGard
Treasury Workstation Provider
SunGard AvantGard
Treasury Management Software
SunGard AvantGard (including XRT)
Runner Up
Wall Street Systems
Mobile Solution Provider

*Wells Fargo

*Cfc Stanbic Bank
BEST SUPPLY CHAIN FINANCE PROVIDERS
GLOBAL WINNERS
Best Global SCF Provider – Bank
Citi
Runner Up
HSBC
Best Global SCF Provider – Non Bank
Orbian
Best Supplier Support and Enrollment
PrimeRevenue
Runner Up
Ariba
Best Payables Supplier Financing Solution
Standard Chartered
Runner Up
HSBC
Best Pre-Shipment Financing Solution
Standard Chartered
Runner Up
BNP Paribas Utexam Logistics
Best Customer Implementation of SCF Solution

*Citi, US Export-Import Bank

*Royal Bank of Scotland, SAAB

*Capital Tool, World Bank, Government of Peru

Best Web-based Supply Chain Financing Solution

*RBS MaxTrad

*PrimeRevenue

*The Receivables Exchange

REGIONAL WINNERS
North America
Citi
Western Europe
Royal Bank of Scotland
Asia
Standard Chartered
Central & Eastern Europe
UniCredit
Nordic Region
SEB
Latin America
Santander
Middle East
HSBC
Africa
Standard Chartered
BEST DERIVATIVES PROVIDERS
NORTH AMERICA
Commodities
Morgan Stanley
Credit
J.P. Morgan
Equity
Société Générale
Foreign Exchange
Citi
Interest Rate
J.P. Morgan
EUROPE
Commodities
Morgan Stanley
Credit
J.P. Morgan
Equity
Société Générale
Foreign Exchange
Deutsche Bank
Interest Rate
RBS
ASIA
Commodities
Société Générale
Credit
BNP Paribas
Equity
Société Générale
Foreign Exchange

*HSBC

*Deutsche Bank

Interest Rate
Standard Chartered
MIDDLE EAST
Best Derivatives Provider
HSBC
LATIN AMERICA
Best Derivatives Provider
Société Générale
DERIVATIVES EXCHANGES AWARDS
Achievement Award
ICE
Performance Award

*NYSE Euronext

*European Climate Exchange

*Eurex

*CBOE
BEST SUB-CUSTODIANS
REGIONAL WINNERS
North America
BNY Mellon
Runner Up
Citi
Western Europe
BNP Paribas
Central and Eastern Europe
UniCredit
Runner Up
RZB
Nordic Countries
SEB
Asia
HSBC
Runner Up
Standard Chartered
Latin America
Citi
Middle East
HSBC
Africa

*Standard Bank

*NedBank

Caribbean
HSBC
Runner Up
Republic Bank
CENTRAL BANKER REPORT CARDS
Country
Number of "A" Grades
AMERICAS
Alan Greenspan
US
5
Gordon Thiessen
Canada
3
Vittorio Corbo
Chile
2
Miguel Mancera Aguayo
Mexico
1
Gustavo Franco
Brazil
1
Arminio Fraga Neto
Brazil
1
Guillermo Ortiz Martínez
Mexico
1
Carlos Massad
Chile
1
EUROPE
Luis Ángel Rojo
Spain
5
Svein Gjedrem
Norway
4
Hanna Gronkiewicz-Waltz
Poland
4
György Surányi
Hungary
4
Jean-Claude Trichet
France
3
Urban Bäckström
Sweden
3
Edward George
UK
3
Lars Heikensten
Sweden
2
Antonio Fazio
Italy
2
Gazi Erçel
Turkey
2
Leszek Balcerowicz
Poland
1
Stefan Ingves
Sweden
1
Zdeněk Tůma
Czech Republic
1
Durmuş Yilmaz
Turkey
1
Tatiana Paramonova
Russia
1
Willem Frederik Duisenberg
Netherlands
1
Viktor Yushchenko
Ukraine
1
Bodil Nyboe Andersen
Denmark
1
ASIA
Zeti Akhtar Aziz
Malaysia
9
Perng Fai-Nan
Taiwan
8
Ian Macfarlane
Australia
7
Amando Tetangco Jr
Philippines
3
Glenn Stevens
Australia
3
Rafael Buenaventura
Philippines
2
Burhanuddin Abdullah
Indonesia
2
Bimal Jalan
India
1
Park Seung
South Korea
1
Pridiyathorn Devakula
Thailand
1
Yaga Venugopal Reddy
India
1
Heng Swee Keat
Singapore
1
Lee Seongtae
South Korea
1
Yasushi Mieno
Japan
1
Donald Brash
New Zealand
1
Lee Hsien Loong
Singapore
1
MIDDLE EAST/AFRICA
Tito Mboweni
South Africa
5
Stanley Fischer
Israel
4
Riad Salameh
Lebanon
1
Jacob Frenkel
Israel
1
BEST TRADE FINANCE PROVIDERS
REGIONAL WINNERS
The Americas
Citi
Western Europe
RBS (including ABN Amro)
Runner Up
BNP Paribas
Asia
HSBC
Runner Up
Standard Chartered
Central & Eastern Europe
UniCredit
Runner Up
RZB
Nordic Region
SEB
Middle East
Arab Bank
Runner Up
National Bank of Kuwait
Africa
Standard Chartered
BEST ISLAMIC FINANCIAL INSTITUTIONS
OVERALL WINNERS
Best Sukuk Bank
CIMB Islamic
Best Islamic Retail Bank
Jordan Islamic Bank
Best Islamic Investment Bank

*Jadwa Investment

*Standard Chartered

*Falcom

*Unicorn Investment Bank

*Samba

Best Takaful (Insurance) Provider
Salama-Islamic Arab Insurance
Best Asset Management Company
CIMB Principal Islamic Asset Management
Best Shariah-Compliant Index Provider
Dow Jones Islamic Market Indexes
Best Islamic Project Finance Provider
SABB
Best Islamic Commodities Provider

*Al Rajhi Bank

*DDCAP

*International Islamic Trade Finance Corporation

Best Islamic Real Estate Finance Provider
Kuwait Finance House
Best Islamic Fund Manager
Falcom Financial Services
REGIONAL WINNERS
Gulf Cooperation Council (GCC)
Kuwait Finance House
Non-GCC Middle East/Africa
Absa Islamic Banking
Asia
CIMB Islamic
Europe

*European Islamic Investment Bank

*Bank of London and the Middle East
BEST INVESTMENT BANKS
GLOBAL AWARDS

Best Investment Bank

*J.P. Morgan

*Goldman Sachs

Best Equity Bank

J.P. Morgan

Best Debt Bank

J.P. Morgan

Best M&A Bank

*Morgan Stanley

*Goldman Sachs

Most Creative

Bank of America Merrill Lynch

SECTORS

Consumer

*Credit Suisse

*Lazard

*J.P. Morgan

*Citi

Financial Institutions

Bank of America Merrill Lynch

Health Care

*J.P. Morgan

*Barclays Capital

*Goldman Sachs

Infrastructure

Scotia Capital

Industrial/Chemicals

J.P. Morgan

Media/Entertainment

J.P. Morgan

Metals & Mining

BMO Capital Markets

Oil & Gas

Bank of America Merrill Lynch

Power

Morgan Stanley

Real Estate

*J.P. Morgan

*UBS

*Barclays Capital

*Raymond James

Technology

*Credit Suisse

*Barclays Capital

*Goldman Sachs

*Morgan Stanley

Telecom

J.P. Morgan

REGIONAL AWARDS

NORTH AMERICA

Best Investment Bank

J.P. Morgan

Best Equity Bank

J.P. Morgan

Best Debt Bank

Bank of America Merrill Lynch

Best M&A Bank

*Morgan Stanley

*Goldman Sachs

WESTERN EUROPE

Best Investment Bank

*Morgan Stanley

*Deutsche Bank

*J.P. Morgan

*Credit Suisse

Best Equity Bank

J.P. Morgan

Best Debt Bank

Deutsche Bank

Best M&A Bank

Morgan Stanley

ASIA

Best Investment Bank

*Morgan Stanley

*CICC

Best Equity Bank

*Morgan Stanley

*UBS

*China CITIC Bank

*Ping An

Best Debt Bank

*Standard Chartered

*Nomura

*Citi

*CICC

Best M&A Bank

Morgan Stanley

CENTRAL & EASTERN EUROPE

Best Investment Bank

Bank of America Merrill Lynch

Best Equity Bank

Bank of America Merrill Lynch

Best Debt Bank

J.P. Morgan

Best M&A Bank

Bank of America Merrill Lynch

NORDIC

Best Investment Bank

*SEB

*Handelsbanken Capital Markets

*Pareto Securities

Best Equity Bank

*Bank of America Merill Lynch

*Handelsbanken Capital Markets

*Pareto Securities

Best Debt Bank

DnB

Best M&A Bank

SEB