ANNUAL SURVEY: THE WORLD'S BEST BANKS 2011
By Gordon Platt, Antonio Guerrero, Anita Hawser and Denise Bedell
Growth Returns But Questions Linger For Banks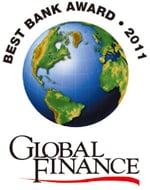 Banking systems in Asia and Latin America were among the first to recover from the global financial crisis and recession. Their resilience is owing in part to the quick and massive application of economic stimulus in China, as well as to lessons learned from the 1997 Asian financial crisis. North America's banking system, which was at the epicenter of the subprime mortgage crisis, is better capitalized than it was before the crisis.
Banks in Europe are facing worsening sovereign-debt conditions, but the continent's biggest banks have global reach and capital strength in many cases. Some of the stronger banks have acquired troubled former competitors at attractive prices.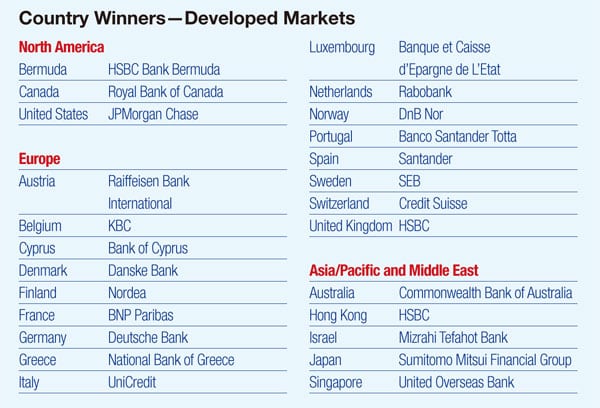 In Central and Eastern Europe, most of the economies are finally growing once again, with Poland leading the way. BRE Bank, one of the largest universal banks in Poland, recorded before-tax profits in 2010 that were nearly four times the level of a year earlier. Ukraine was one of the worst-affected economies during the financial crisis, but it is rebounding faster than expected, with gross domestic product growing 4% last year.
Banks in the Middle East are being cautious in light of the widespread political upheaval in the region. The economic fundamentals remain positive in many cases, however, and higher oil prices are supporting government spending, which is keeping economic growth relatively strong.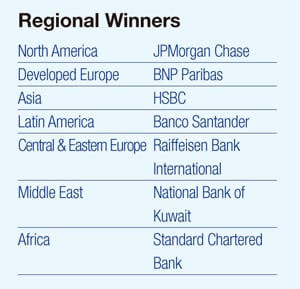 A number of African countries are facing enormous political risks. However, economic growth accelerated late last year, as mining and manufacturing rebounded on demand from China.
Global Finance identified the best banks in 127 individual countries, as well as seven regions of the world. In selecting this year's winners, we relied as always on input from industry analysts, corporate executives and banking consultants, as well as research by Global Finance 's reporters and editors. Our selection criteria included knowledge of local conditions and customer needs, growth in assets, profitability, strategic relationships, experienced staff, innovative products, competitive pricing, level of nonperforming loans and use of technology.
The winners are not always the biggest banks but rather the best.