Chris Laws, global head of product development, compliance and supply solutions for Dun & Bradstreet,explains how new technologies are providing ever deeper analysis to deliver reputational and financial risk mitigation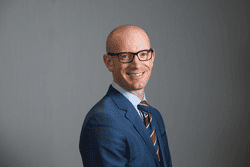 Global Finance: What advice would you give organizations looking to leverage analytics for a better supply chain?
Chris Laws: Consumer concern and ESG [Environmental, Social and Governance] issues have become much more of a driver over the past few years, and deep insight into your supply chain can enable real-time decision-making. Concerns over sourcing standards or human rights abuses can go from social media to the front pages the same day—so companies are having to defend their position using AI [Artificial Intelligence] because with the more traditional methods of compliance mitigation, the sheer volume of data is too high to deal with at procurement level.
Many large global organizations do still have that hands-on, manually intensive approach, but it's simply not possible to apply that to a full supply chain. They are maybe able to pick the top 50 or 100, but to then gather all the information about all of their supplier's suppliers, and have on-site visits, is just not scaleable without modern tools such as AI.
GF: How can companies collate data points from all sources and turn that data into actionable value?
Laws: First they have to get clean data so they can make decisions on solid information and then they have to decide what data they need and what data is available. There are three types of data they need: First is getting the company's own data—which is easier said than done, because in many instances it will be spread across multiple systems in either ERP [Enterprise Resource Planning Systems] or P2P [Peer to Peer] for supplier on-boarding, payments, supplier management, financial reporting etc. The second is proprietary information only available to suppliers, which isn't required to be reported and is very opaque, especially in countries where information reporting isn't as regulated or freely available as in the UK. Finally, reference data from organizations such as Dun & Bradstreet, is validated information. This is key as the supply chain is now connected into the regulatory side of business and will determine whether a company is legally permit-table to deal with.
GF: What impact have business-to-business marketplaces e.g., Amazon and Alibaba had on the use of analytics for credit scoring and supplier risk assessment within the supply chain?
Laws: We've seen a significant change; it's an additional data point on a client or organization and provides a deeper view of a particular relationship. Freely accessible information through these marketplaces are now regularly being used, providing information about trustworthiness or behaviour of organizations. In consumer life, everyone is now very used to getting that view of another customer experience and that third-party reference data really helps companies make important decisions by giving them access to much more real time data that wasn't previously available through more traditional references.
GF: Looking ahead, what are the most exciting trends, developments or opportunities and what are the issues that are making you most excited right now?
Laws: It's a fast-moving market where any company is susceptible to disruption, but this creates competition, which is great for the industry. The most exciting things are machine learning and AI—both areas where we are now starting to see real benefits.
The availability of relatively low-cost hosting such as Azure and AWS, or a Hadoop database, where you can go and get access in days, not weeks or months, and you can use them on demand, makes them much more accessible. With AI and machine learning there's IBM Watson or a plethora of smaller AI tools out there where you can take that tool and apply it to a Hadoop and start getting results instantly.
A good example in supply chains is taking what is still often a scanned image of a supplier contract, and then by using an AI tool you can automatically monitor it and come up with things that will help recognize where there is a gap in the service level or the performance against a particular curve in the contract. This is driving real cost savings for organizations.
For more on the awards, click here.
For the league tables, click here.
For more on the winners, click here.
For GF's interview with Dun & Bradstreet's Chris Laws, click here.
For GF's interview with RBC's Lisa Lansdowne-Higgins, click here.