GLOBAL FINANCE

names theWorld's 50 Safest Banks 2012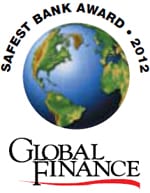 NEW YORK, August 16, 2012

Bank stability remains a pressing concern for the worlds corporations and investors. It is within this context that


Global Finance


announces its

21st Annual Ranking of the World's 50 Safest Banks

.
Europes sovereign debt crisis and slowing growth are having a significant impact on bank ratings. Global instability is also in the spotlight. Companies are watching closely to see how these eventsare affecting their counterparties.

Canadian banks are the best performing in North America with seven banks in the top 50 compared to five from United States. Banks from Singapore are the strongest in Asia and fromChile in Latin America. Credit ratings and rankings of most European banks have suffered except for those at the very top of the list which have explicit guarantees from AAA rated governments.
With the Top 10 banks unchanged as of an April 2012 update to last years rankings, the


Global Finance


list shows that most of the top echelon of banks are truly worthy of the distinction of being named

World's Safest Bank

. Winners were selected through an evaluation of long-term credit ratingsfrom Moodys, Standard & Poors and Fitchand total assets of the 500 largest banks worldwide.


Global Finance

s

annual ranking of

World's 50 Safest Banks

has been a recognized and trusted standard of creditworthiness for the entire financial world for more than 20 years. Counterparty creditworthiness is a critical issue for companies and investors worldwide, says


Global Finance


publisher Joseph D. Giarraputo. More than ever, companies around the world are reevaluating the long-term credit strength of their banks, and partnering with only those banks that have proven strength and stability.
The full results of this exclusive survey will be published in the October issue of


Global Finance


. The banks ranked 1-10 will be presented awards at a special ceremony to be held during the Annual Meetings of the IMF and World Bank in Tokyo in October.
For editorial information please contact: Andrea Fiano, Editor, email:

afiano@gfmag.com

Ratings current as of July 30, 2012 / PR date:

Global Finance

magazine August 16, 2012
1.


KfW



(Germany)


26.


Canadian Imperial Bank of Commerce



(Canada)


2.


Bank Nederlandse Gemeenten (BNG)



(Netherlands)


27.


Svenska Handelsbanken



(Sweden)


3.


Zrcher Kantonalbank



(Switzerland)


28.


China Development Bank



(China)


4.


Landwirtschaftliche Rentenbank



(Germany)


29.


Bank of New York Mellon Corp



(United States)


5.


Landeskreditbank Baden-Wrttemberg – Frderbank (L-Bank)



(Germany)


30.


Agricultural Development Bank of China



(China)


6.


Caisse des Depots etConsignations (CDC)



(France)


31.


National Bank of Abu Dhabi



(United Arab Emirates)


7.


Nederlandse Waterschapsbank



(Netherlands)


32.


CoBank ACB



(United States)


8.


NRW.BANK



(Germany)


33.


Pohjola Bank



(Finland)


9.


Banque et Caisse dEpargne de lEtat



(Luxembourg)


34.


National Bank of Kuwait



(Kuwait)


10.


Rabobank Group



(Netherlands)


35.


DZ Bank



(Germany)


11.


TD Bank Group



(Canada)


36.


Banque Fdrative du Crdit Mutuel (BFCM)



(France)


12.


Bank of Nova Scotia



(Canada)


37.


U.S. Bancorp



(United States)


13.


DBS Bank



(Singapore)


38.


National Bank of Canada



(Canada)


14.


Oversea-Chinese Banking Corp



(Singapore)


39.


Northern Trust Corp



(United States)


15.


United Overseas Bank



(Singapore)


40.


Qatar National Bank



(Qatar)


16.


Caisse centrale Desjardins



(Canada)


41.


Samba Financial Group



(Saudi Arabia)


17.


Royal Bank of Canada



(Canada)


42.


BancoEstado



(Chile)


18.


National Australia Bank



(Australia)


43.


La Banque Postale



(France)


19.


Commonwealth Bank of Australia



(Australia)


44.


Bank of Taiwan



(Taiwan)


20.


Westpac Banking Corporation



(Australia)


45.


Shizuoka Bank



(Japan)


21.


Australia and New Zealand Banking Group



(Australia)


46.


Banco de Chile



(Chile)


22.


Kiwibank



(New Zealand)


47.


BNP Paribas



(France)


23.


HSBC Holdings



(United Kingdom)


48.


Wells Fargo



(United States)


24.


Nordea



(Sweden)


49.


Standard Chartered



(United Kingdom)


25.


Bank of Montreal



(Canada)


50.


SEB



(Sweden)

PR date:

Global Finance

Magazine August 16, 2012 / Ratings current as of: July 30, 2012