By Thomas Clouse, Jonathan Gregson, Antonio Guerrero & Gordon Platt
AFRICA
Not only is Africa rich in natural resources, but it also offers the promise of fast economic growth in a number of countries, and a population lacking basic banking services. Most of Sub-Saharan Africa is in the World Bank's lowest income category of less than $765 per person annually. With the help of smart phones, bankers are leaping generations of technology and are bring banking services to remote areas without brick and mortar establishments. ATM networks are also expanding rapidly across the continent. The future of banking in Africa is bright. The introduction of innovative retail services via technologically advanced delivery channels will make banking services more convenient and reliable. As young Africans have embraced new technology, mobile banking has become a growth industry. The World Bank predicts Ghana's economy to expand by more than 12% in 2012. Nigeria has been a major economic power for years, as a result of its vast oil reserves. Some of the poorer countries of the region, such as Ethiopia and the Democratic Republic of Congo, are now starting to grow rapidly, thanks in part to infrastructure investments by China. Many banks in Africa have entered into cooperation agreements with Chinese financial institutions to promote trade finance and investments between Africa and China.
REGIONAL WINNER
Ecobank
Ecobank, based in Lomé, Togo, is one of the fastest-growing and most innovative banking groups in Africa. Ecobank is present in 32 of Africa's 55 countries, far more than any other bank. It boasts 7.8 million customers. The bank offers retail, corporate and investment banking services. Ecobank's unrivaled network across Africa comprises over 1,100 branches. The bank is now shifting its focus from geographic expansion to consolidating its presence in key markets by offering its customers improved services through greater operational efficiencies. "With Africa's financial services sector projected to grow at a compounded annual rate of 15% between now and 2020, driven by rising retail banking penetration and demand for increasingly sophisticated banking products from an emerging middle class, the main challenge facing Ecobank now is to ensure the necessary infrastructure is in place to support that growth," says Arnold Ekpe, group CEO. In 2011, Ecobank acquired 100% of Oceanic Bank International in Nigeria, which was rescued by the central bank. Earlier this year, it completed the acquisition of the Trust Bank Ghana. Ecobank also entered a joint venture agreement with Bharti Airtel to offer mobile banking services in 14 African countries. "From its inception, Ecobank's vision has been to provide world-class pan-African services to its customers, while also enhancing the financial integration of Africa," Ekpe says.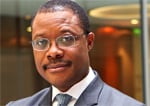 "Africa's financial services sector projected to grow at a compounded annual rate of 15% between now and 2020"
– Arnold Ekpe, Ecobank
Arnold Ekpe, group CEO / www.ecobank.com
COUNTRY WINNERS
ALGERIA
Arab Banking Corporation Algeria
Arab Banking Corporation Algeria offers a full range of services, including credit facilities, ATM cards and trade finance. It is a subsidiary of Bahrain-based Arab Banking Corporation (ABC), which has a presence in 22 countries. ABC was the first international bank to open in Algeria, an oil and gas exporter, after the banking sector was liberalized in 1998. In addition to ABC, which holds a nearly 88% stake, main shareholders of the Algerian bank are the Arab Investment Company, Riyadh; the Compagnie Algérienne d'Assurance et de Réassurance; and the IFC. The government controls 85% of the banking assets in Algeria. ABC Group's profit for 2011 rose 43% to $204 million.
Noreddin Nahawi, CEO / www.arabbanking.com.dz
ANGOLA
Banco Espírito Santo Angola
Banco Espírito Santo Angola (BESA) has 30 branches in Angola, a country rivaling Nigeria as Africa's biggest oil exporter. The two biggest importers of Angola's oil are China and India. The Angolan bank is a 52%-owned subsidiary of Portugal-based Banco Espírito Santo. Established in 2001, toward the end of Angola's 27-year civil war, Banco Espírito Santo Angola was the first bank to offer private banking services in the country. It is now the second-largest bank in Angola. BESA has a strong international trade unit, which is efficient in issuing letters of credit. The bank also offers investment funds and pension fund management services.
Álvaro Sobrinho, CEO / www.besa.ao
BOTSWANA
Standard Chartered Bank Botswana
Standard Chartered Bank Botswana, the country's oldest and largest bank, operates a network of 18 branches and agencies. Botswana, the world's largest diamond producer, is diversifying into tourism and financial services. Standard Chartered Bank Botswana was locally incorporated in 1975, and 25% of its shares were listed on the Botswana Stock Exchange. In consumer banking, Standard Chartered's Botswana unit leads in lending, wealth management and services for small and medium-size enterprises. Its wholesale bank offers products and services for local corporations and multinationals.
Moatlhodi Lekaukau, CEO / www.standardchartered.com/bw
BURKINA FASO
Ecobank Burkina Faso
Ecobank Burkina Faso is the leading bank in the country in terms of assets, customer deposits and the size of its network. The bank has 40 branches and offers a broad range of services, including a financing program adapted to the needs of small and medium-size enterprises. It is active in financing the agricultural sector, as well as infrastructure, construction, manufacturing and tourism. In 2009, Ecobank Burkina Faso acquired a 90% stake in the Banque Agricole et Commerciale, greatly increasing the size of its network. It is responsible for managing two programs in Burkina Faso on behalf of German bank KFW: a project to reclaim the country's lowlands and another project that supports grassroots investment in water, sanitation and other public works.
Cheick Travaly, managing director / www.ecobank.com
CAMEROON
Ecobank Cameroon
With 27 branches, Ecobank Cameroon has the second-largest banking network in the country. Ecobank Cameroon recently launched Rapid Transfer, which enables clients to transfer and receive money within the entire Ecobank network. The service is competing successfully in the local market with Western Union and MoneyGram. The bank has offered many electronic banking products since 2008. Only about 5% of Cameroonians have access to a bank account.
Assiongbon Ekue, managing director / www.ecobank.com
CÔTE D'IVOIRE
Ecobank Côte d'Ivoire
Côte d'Ivoire is the world's leading cocoa producer, and Ecobank Côte d'Ivoire is heavily involved in financing commodities for export. As a result of its commodity finance activities, the bank has access to significant volumes of foreign currencies. It is a key partner for nongovernmental organizations, embassies and foreign institutions that need to conduct local currency operations. The bank has expanded its local network to get closer to its retail clients in an effort to increase deposits, enabling it to boost lending.
Charles Daboiko, managing director / www.ecobank.com
DEMOCRATIC REPUBLIC OF CONGO
Standard Bank Congo
Standard Bank Congo, part of South Africa's Standard Bank Group, began operations in 1973 as Grindlays Bank (Zaire), which was acquired by Standard Bank in 1992. The Democratic Republic of Congo has some of the world's largest copper and cobalt deposits. The bank employs more than 80 people and focuses on commodity-related financial services. Being part of the Standard Bank network enables it to facilitate cross-border trade and investment flows. The bank sees significant potential in mining, telecommunications, transport, power and agribusiness.
Jean Rey, managing director / www.stanbicbank.cg
DJIBOUTI
International Commercial Bank–Djibouti
Djibouti is a small country located on the Horn of Africa, with a total population of about 800,000. Djibouti is one of 10 countries in Africa that are served by the ICB Financial Group Holdings, which is incorporated in Switzerland and listed on the AIM section of the London Stock Exchange. ICB Global Management, based in Malaysia, provides support services to members of the ICB Banking Group. Overlooking the Gulf of Aden where it connects to the Red Sea, Djibouti is the only Sub-Saharan African country to host a US military base. ICB-Djibouti achieved a growth in assets of 28% last year. Its loans and advances rose more than 45% in 2011.
Podila VS Phanindra, CEO / www.icbank-djibouti.com
ETHIOPIA
Nib International Bank
Nib International Bank (NIB) has been rapidly expanding its network and now has 51 branches in Ethiopia. A reduction in provisions for nonperforming loans contributed to an increase of 7.3% in profits last year. Nib International Bank sold 80,000 shares to the public in half a day at a 40% premium last September. NIB signed an agreement in January with Switzerland's Temenos, the world's largest supplier of packaged banking software, to interface with the central bank's national payment system and to upgrade its core banking solutions. NIB has been working with the International Finance Corporation to disburse loans to coffee growers.
Amerga Kassa, president / www.nibbank-et.com
GAMBIA
Standard Chartered Bank Gambia
Standard Chartered Bank Gambia was the first bank to introduce ATMs in the country. The bank derives much of its earnings from foreign exchange trading. Its dealing room in Banjul trades currencies, commodities and derivatives. The bank has five branches in Gambia and employs more than 150 people who serve more than 22,000 customers. Gambia's economy is largely agricultural, although tourism is increasingly important.
Humphrey Mukwereza, CEO / www.standardchartered.com/gm
GHANA
Ghana Commercial Bank
Ghana Commercial Bank (GCB), Ghana's largest bank, has a network of 157 branches. It was the first bank in Ghana to offer MasterCard services. Ghana's banks have grown rapidly in recent years due to a combination of rapid economic growth and a tight fiscal policy. In 2011, GCB introduced free ATMs and debit cards, as well as mobile and Internet banking. The country is viewed as a potential high-growth market thanks to the discovery of new offshore oil deposits.
Simon Dornoo, managing director / www.gcb.com.gh
GUINEA
Ecobank Guinea Conakry
Ecobank Guinea Conakry has a network of 15 branches in Guinea, The country exports bauxite and alumina, iron ore, gold and diamonds. Like all Ecobank affiliates, the Ecobank Guinea Conakry is connected to Flexcube, an automated banking platform provided by Oracle. All of Ecobank's African markets experienced double-digit growth in 2011.
Mamadou Moustapha Fall, managing director / www.ecobank.com
KENYA
Barclays Bank of Kenya
Barclays Bank Kenya is the leading retail and commercial bank in Kenya. It has 115 branches and more than 250 ATMs. The bank's earnings fell 24% in 2011 from the results of a year earlier, which included the sale of its custody business. There was an 11% increase last year in underlying pretax profit. The bank cut costs by eliminating some middle-level managers and rolling out more ATMs.
Adan Mohamed, managing director / www.barclays.com/africa/kenya
MADAGASCAR
Bank of Africa–Madagascar
The Bank of Africa–Madagascar has a market share of more than 30% in this island country in the Indian Ocean off the coast of Africa. The Bank of Africa group has a presence in 14 African countries, as well as a representative office in Paris. Madagascar's economy is largely agricultural, although mining operations are gaining a foothold. The country's main exports are textiles, fish, vanilla, cloves and spices. The Bank of Africa has 55 outlets in Madagascar.
Mohamed Bennani, group president / www.boa.mg
MALI
Bank of Africa–Mali
Bank of Africa's first office was established in Bamako, the capital of Mali, in 1982, and the bank now has numerous branches throughout the country. Cotton and peanuts are Mali's main cash crops. The country produced about 44 metric tons of gold in 2011, making it Africa's third-largest producer of the metal. President Amadou Touré's government was overthrown in March. Elections had previously been scheduled for April 29.
Mohamed Bennani, group president / www.bank-of-africa.net
MAURITIUS
Mauritius Commercial Bank
Mauritius Commercial Bank, the country's oldest and largest bank, was established in 1838 and began expanding in the region in the early 1990s. It has 42 branches, in addition to subsidiaries in Madagascar, Mozambique and the Seychelles. It accounts for 40% of bank loans and deposits in Mauritius. Sugar cane remains the main export of this middle-income country, which is gradually diversifying its economy.
Pierre Guy-Noel, group CEO / www.mcb.mu
MOROCCO
Attijariwafa Bank
Attijariwafa Bank, based in Casablanca, is Morocco's largest lender. The bank has more than 750 branches in Morocco and 1,400 branches in the group's international network. The bank controls nearly 40% of the lending market in Morocco. Attijariwafa Bank posted a 12% rise in earnings last year, reflecting gains in market share. The bank has subsidiaries in eight African countries, as well as branches in Europe that cater mainly to Moroccan expatriates.
Mohamed El Kettani, CEO / www.attijariwafabank.com
MOZAMBIQUE
Millennium bim
Millennium bim, Mozambique's largest bank, with 138 branches and a 40% market share, is majority owned by Millennium bcp, based in Portugal. The bank's client base passed the 1 million mark in 2011, and its earnings rose by 52%. Mozambique's economy is largely agricultural, and its largest trading partner is South Africa. Millennium bim's goals include further expansion of the branch network in rural areas, and improved alternative banking channels.
Manuel Duarte, CEO / www.millenniumbim.co.mz
NAMIBIA
Standard Bank Namibia
Standard Bank Namibia is the country's oldest and largest bank, with 45 branches and 135 ATMs. As part of the pan-African Standard Bank Group, it offers a wide range of financial services. Its corporate and investment bank has a significant market share in the public, mining and financial services sectors. Namibia's economy is heavily dependent on mining, livestock and fisheries and is closely linked to that of South Africa.
Mpumzi Pupuma, managing director / www.standardbank.com.na
NIGERIA
First Bank of Nigeria
First Bank of Nigeria (FirstBank) is Nigeria's largest bank by assets and earnings. It serves more than 5 million customers from 660 branches and 11 subsidiary companies. FirstBank was the first financial institution in Nigeria to introduce fingerprint authentication to its ATMs. Its mobile-banking services enable customers to pay bills and send and receive money from all of its "touch points," without using cards. The bank is upgrading its core banking software from Finnacle 7 to Finnacle 10. The Nigerian economy was affected in 2011 by the shutdown of the Bonga offshore oil field, which supplies close to 10% of the country's crude oil output. Shell Petroleum Development declared force majeure on its Forcados pipeline export program for the fourth quarter of 2011 due to sabotage leaks. Nigeria's real gross domestic product grew by 7.7% in the fourth quarter, down from 8.6% in the same period a year earlier.
Bisi Onasanya, group managing director and CEO / www.firstbanknigeria.com
RWANDA
Banque Commerciale du Rwanda
Banque Commerciale du Rwanda, based in the capital city of Kigali, was privatized in 2004, with the government keeping a 20% stake. The bank's main shareholder is Actis Capital, which is 40% owned by the UK government. BCR concentrates on lending to small and medium-size enterprises and local corporations, as well as retail customers. It offers 20-year home mortgages with a 20% down payment. "We are working on a long-term campaign of banking the unbanked through electronic platforms," says Sanjeev Anand, managing director of Banque Commerciale du Rwanda. "Customers in both rural and urban areas enjoy the convenience of banking using their mobile phones, with low transaction fees."
Sanjeev Anand, managing director / www.bcr.co.rw
SENEGAL
Ecobank Senegal
Ecobank Senegal was incorporated in 1999 and currently has 24 branches. The Senegalese economy slowed in the first half of 2011 because of persistent power cuts. The electricity supply improved following measures to secure fuel purchases and economic growth should surpass 4% this year, according to the International Monetary Fund. The country's financial authorities are drafting regulations on private credit agencies. They are also preparing a study on the supervision of the microfinance sector.
Yves Quam-Dessou, managing director / www.ecobank.com
SIERRA LEONE
International Commercial Bank–Sierra Leone
ICB Sierra Leone saw its earnings rise by 115% last year. The bank's strategy is to gather deposits at relatively low cost and to lend at competitive rates to sound companies and projects. "We have performed well in all the major areas, including increasing assets, improving deposits, containing nonperforming loans, enhancing returns and controlling costs," says Viswanathan Sundaram, CEO. "We have earned a reputation for being a safe and sound bank."
Viswanathan Sundaram, CEO / www.icbank-sl.com
SOUTH AFRICA
Standard Bank
Standard Bank, Africa's largest lender, reported a 21% rise in earnings last year, helped by a decline in nonperforming loans. The bank, which is 20% owned by Industrial and Commercial Bank of China, said its lending to South African personal and business customers rose by nearly 50% in 2011. Standard Bank operates in 39 countries, including 18 in Africa. The bank said it expected subdued growth in 2012 as it focused on cutting costs. The bank's operations in Africa outside of its home market are showing strong results, with earnings up 38% last year. The continued investment in infrastructure is paying off, as revenues grow with a larger customer and deposit base. South Africa's economy grew 2.9% in 2011, with manufacturing providing a boost. Economists remain cautious on the economic outlook for this year, however, as the country struggles to reduce its 24% unemployment rate. Moody's Investors Service and Fitch Ratings both lowered the country's debt outlook to negative in the past six months, citing profligate government spending and uncertain global financial markets.
Jacko Maree, group CEO / www.standardbank.co.za
TOGO
Ecobank Togo
Ecobank was founded in Togo in 1985, and it now operates in 32 African countries, more than any other bank. In December 2009, Ecobank Transnational signed a strategic cooperation agreement with South Africa–based Nedbank. The South African bank has secured the rights to acquire up to a 20% stake in Ecobank Transnational within the next three years. In 2010 the bank reorganized along three business lines: retail banking, corporate banking and Ecobank Capital, the capital markets and investment banking arm. It operates 22 branches in and around Lome, the political and commercial capital of Togo, and employs 276 people.
Didier Lamine Correa, managing director / www.ecobank.com
TUNISIA
Banque Internationale Arabe de Tunisie
Banque Internationale Arabe de Tunisie (BIAT) is the largest private-sector bank in Tunisia, with 138 branches. Three of its branches were damaged during the Jasmine Revolution, which led to the ousting of President Zine El Abidine Ben Ali in January 2011 and sparked the Arab Spring uprisings. In February 2012, Fitch Ratings affirmed the support ratings of five major Tunisian banks, including BIAT.
Slaheddine Ladjimi, general manager / www.biat.com.tn
UGANDA
Stanbic Bank Uganda
Stanbic Bank Uganda is the country's largest bank, with more than 90 branches. It is majority-owned by South Africa's Standard Bank. Stanbic's Uganda roots reach back to 1906, when its predecessor operated as National Bank of India. In 2011, Stanbic Bank Uganda introduced a building loan product that will enable borrowers to build their own houses using contractors of their choice. There currently is a shortage of housing in Uganda.
Philip Odera, managing director / www.stanbicbank.co.ug
ZAMBIA
Standard Chartered Bank Zambia
Standard Chartered Bank Zambia is one of the leading banks in Zambia, whose economy is highly dependent on copper and agricultural products. Standard Chartered has 16 branches in Zambia and a market share of about 20%. It employs approximately 650 people. The bank has disbursed more than $2 billion to the mining sector in Zambia to finance various projects in the past five years.
Mizinga Melu, country CEO and managing director / www.standardchartered.com/zm
ZIMBABWE
Standard Chartered Bank Zimbabwe
Standard Chartered Bank Zimbabwe is the country's largest bank by assets. In 2011, it introduced a mobile banking service in partnership with Telecel and NetOne. The country needs at least $14 billion to revive its economy following a lengthy downturn, according to finance minister Tendai Biti. Prime minister Morgan Tsvangirai has criticized the government for forcing foreign firms to surrender 51% of their shares to local people.
Ralph Watunga, CEO / www.standardchartered.com/zw

World's Best Banks 2012