By Thomas Clouse, Jonathan Gregson, Antonio Guerrero & Gordon Platt
MIDDLE EAST
The oil-exporting countries of the Middle East are enjoying strong economic growth, whereas countries that experienced political uprisings during the Arab Spring of 2011 are struggling to get back on track or are still experiencing hostilities. In the Gulf Cooperation Council (GCC) countries, increased bank lending and higher consumer spending are adding to the forward economic momentum created by massive government spending programs.
Saudi Arabia's banking system remains largely insulated from the dislocations in the eurozone and enjoys high levels of liquidity. Bank lending is also on the rise in Qatar, one of the fastest-growing economies in the world. Qatar's hydrocarbon exports reached $100 billion in 2011 and are expected to remain strong.
For many banks, the security of staff and customers remains a top priority in countries such as Iraq, Syria and Yemen. But despite the geopolitical developments in the region and the eurozone crisis, many banks demonstrated strong underlying fundamentals and benefited from conservative lending and funding policies.
REGIONAL WINNER
National Bank of Kuwait
National Bank of Kuwait is a leading regional bank with operations in 16 countries, including 10 in the Middle East. It has consistently been the top bank in Kuwait in terms of market share, profitability and asset quality. NBK earned more than $1 billion in 2011 for the second year in a row. Despite the ongoing turmoil in regional markets and the stagnant operating environment in Kuwait, NBK's ratio of nonperforming loans declined to 1.55% at the end of last year from 1.65% a year earlier. "NBK's resilient performance over the years affirms our strong earnings capabilities, prudent risk management and clear strategic direction," says Ibrahim Dabdoub, group CEO of NBK. "We continue to maintain the highest-asset-quality indicators by regional and international standards, despite the ongoing economic challenges." All of the bank's ratings have a stable outlook.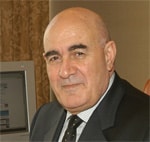 "We continue to maintain the highest-asset-quality indicators by regional and international standards"
– Ibrahim Dabdoub, National Bank of Kuwait
NBK's domestic market share continued to strengthen through its 47% stake in Boubyan Bank. This acquisition in 2010 gave NBK access to the growing Islamic banking market in Kuwait.
Ibrahim Dabdoub, group CEO / www.nbk.com
COUNTRY WINNERS
BAHRAIN
Ahli United Bank
Ahli United Bank sustained its growth in operating income and earnings last year, despite the challenging global business environment, geopolitical developments in the region (and in Bahrain) and the eurozone crisis. The AUB Group earned a record $311 million in 2011, a 17% increase over 2010, reflecting strong underlying fundamentals and a diversified business model.The group is a regional bank based in Bahrain, with operations in Kuwait, Egypt, Iraq, Qatar, Oman and Libya, in addition to its developed-market platform through its UK subsidiary. Ahli Brokerage Company began operations in Qatar last year. Licensed by the Qatar Financial Markets Authority, ABC will offer securities brokerage, asset management and management of initial public offerings.
Adel El-Labban, group CEO and managing director / www.ahliunited.com
EGYPT
Commercial International Bank
Commercial International Bank (CIB), Egypt's biggest private bank by assets, increased its loan-loss provisions significantly last year as a preemptive measure to cope with the ongoing economic upheaval in the country. The bank's earnings fell 20%, reflecting the funds set aside in the wake of the popular uprising that began in early 2011 and led to the overthrow of president Hosni Mubarak. Nonetheless, Commercial International Bank's net interest income rose 19% last year, aided by higher treasury bill and local currency interest rates, as the government borrowed to finance its budget deficit. CIB has the largest network among private sector banks in Egypt, with 155 branches and more than 500 automated teller machines.
Hisham Ezz Al-Arab, chairman and managing director / www.cibeg.com
IRAQ
Commercial Bank of Iraq
Commercial Bank of Iraq is one of the largest private sector banks in Iraq, with nine offices in Baghdad and one in Basra. CBIQ was the first bank to issue MasterCard credit and debit cards in Iraq. The bank offers retail and commercial banking services, including loan syndications and foreign exchange trading, as well as stock-exchange dealing. Bahrain-based Ahli United Bank (AUB) holds a 56% stake in CBIQ. In June 2011, AUB increased Commercial Bank of Iraq's paid-up capital to $85 million through a combination of bonus and share rights issues.
Basil Al-Dhahi, CEO and managing director / www.ahliunited.com
ISRAEL
Bank Hapoalim
Bank Hapoalim accounts for more than one-third of the assets of the Israeli banking system, and it is the leading bank in both the retail and corporate sectors. The bank's earnings rose nearly 40% in the first nine months of 2011. It was the number-one Israeli bank for the period in terms of revenue, earnings and equity. Based in Tel Aviv, Bank Hapoalim has offices in 20 countries. It has 280 full-service branches in Israel. Bank Hapoalim has demonstrated the ability to generate a double-digit return on equity while maintaining a substantial capital cushion. As of September 30, 2011, its capital adequacy ratio was 13.6%.
Zion Kenan, president and CEO / www.bankhapoalim.com
JORDAN
Arab Bank
Arab Bank achieved a 13% rise in earnings last year, despite the challenging conditions in the region and in Europe. Based in Amman, Jordan, Arab Bank has a network of more than 500 branches in 30 countries. "Arab Bank managed to achieve its principal goals in 2011 by focusing on revenue growth and expense control," says Nemeh Sabbagh, CEO. "Expenses during the year showed nil growth." Arab Bank has continued to improve the quality of its credit portfolio and has increased its loan-loss provision ratio to more than 100%, exceeding the value of collateral, he adds. The bank's capital adequacy ratio at the end of 2011 was 15.1%, far exceeding the requirements of the Basel Committee and the Bank of Jordan.
Nemeh Sabbagh, CEO / www.arabbank.jo
KUWAIT
National Bank of Kuwait
National Bank of Kuwait, the country's largest lender, has a market share of more than 70% with foreign companies operating in Kuwait. In addition to its extensive presence in the Middle East and North Africa (MENA) region, it has offices in Geneva, London, New York, Paris and Singapore. In 2011, NBK continued to consolidate its lead in the Kuwaiti market, where it deepened its market penetration. The bank continues to hold the highest credit ratings among banks in the Middle East, reflecting its strong franchise and earnings capability. The bank expects to play a major role in financing public-private partnership projects under Kuwait's ambitious development program. NBK supported most of the consortia bidding for the first phase of the Az-Zour North Independent Water and Power Project.
Ibrahim Dabdoub, group CEO / www.nbk.com
LEBANON
Bank Audi
Bank Audi's total operating income crossed the $1 billion mark for the first time ever in 2011, reflecting a solid performance in Lebanon. This resulted from the bank's success in increasing its net interest margin to benefit from the significant growth in assets it has realized in the past few years. The bank also increased its operating income from subsidiaries abroad. Last October, Bank Audi acquired the first universal banking license issued in Turkey in more than 12 years. It maintained its number-one position among Lebanese banks in terms of assets, deposits, loans, equity and earnings in 2011.
Samir Hanna, group CEO / www.banqueaudi.com
OMAN
BankMuscat
BankMuscat's earnings rose 15.6% last year, due mainly to an increase in net interest income on improved margins and asset growth. Loans and advances increased by 20.2%, while customer deposits rose by 31.8%. BankMuscat is Oman's largest bank, with 130 domestic branches and a market share of about 40%. It recently opened a representative office in Singapore, aimed at supporting trade and investment flows between the GCC countries and Asia. In association with Bank of China, it was the first Omani bank to open a renminbi account. BankMuscat was financial adviser and issue manager for the initial public offering of power company SMN Power Holding, the only IPO launched in Oman in 2011.
Sheikh Khalid bin Mustahail Al Mashani, chairman / www.bankmuscat.com
PALESTINE
Bank of Palestine
With a network of 46 branches in the West Bank and Gaza and assets of $1.65 billion, Bank of Palestine is the largest bank in Palestine. The bank has a market share of approximately 20% of deposits and credit facilities in Palestine and employs 1,100 people. It is the sole agent for Visa and MasterCard in Palestine, with more than 5,000 point-of-sale stations. The bank has been active in lending to SMEs and in microfinance. It mobilized the private sector to launch the first private pension fund, which will provide finance for medium- and long-term projects.
Hashim Shawa, chairman and general manager / www.bankofpalestine.com
QATAR
Qatar National Bank
Qatar National Bank was the most profitable bank in the Middle East and North Africa last year, with earnings of more than $2.06 billion, an increase of 32% over 2010. The increase in earnings was driven by a 47% rise in loans and advances. QNB increased its market share of assets among Qatari banks to 49.7% in 2011 from 47.1% in 2010. Its share of Qatari banks' profits rose to 50.2% last year from 46.5% a year earlier. The bank maintained the ratio of nonperforming loans to total loans at 1.1%, among the lowest in the region. QNB's capital adequacy ratio rose to 22% at the end of last year. The bank is 50% owned by sovereign wealth fund Qatar Investment Authority. In 2011, QNB acquired a 70% stake in Bank Kesawan in Indonesia. It also launched operations in Lebanon and South Sudan, giving it a presence in 24 countries.
Ali Shareef Al-Emadi, group CEO / www.qatarbank.com
SAUDI ARABIA
Samba Financial Group
Samba Financial Group, Saudi Arabia's second-largest bank by assets, grew its loan book by 11% in 2011. The bank has healthy liquidity and capital ratios, and there is an extremely high probability of support from Saudi authorities if it is ever required, given the fact that government-related entities hold a 50.3% stake in the bank, according to Fitch Ratings. The bank's full-year profits for 2011 fell 3% from a year earlier, reflecting a decline in operating income, but Fitch says that with increased lending, it expects special commission income to strengthen. The corporate banking group had net income growth of 7.5% in 2011. Samba's trade-related business also expanded, with a 33% increase in export letters of credit advised and 24% growth in trade loans.
Eisa Al-Eisa, chairman / www.samba.com
UNITED ARAB EMIRATES
Emirates NBD
Emirates NBD is the largest bank in the United Arab Emirates, with assets of more than $78 billion. It has the largest distribution network, with 166 branches. The bank is 56% owned by the Investment Corporation of Dubai, the emirate's sovereign wealth fund. Emirates NBD acquired 100% of Dubai Bank last October, as decreed by the ruler of Dubai, Sheikh Mohammed bin Rashid Al Maktoum. Emirates NBD is concentrating on improving its service-delivery capabilities through several new programs. In September 2011, it launched Tanfeeth as a shared services company in a strategic agreement with IBM. The aim is to improve services through lean methodologies that increase efficiency.
Rick Pudner, CEO / www.emiratesnbd.com
YEMEN
Arab Bank Yemen
Arab Bank has been operating in Yemen for more than 40 years. The bank provides financing to all sectors of the economy, with a focus on trade and construction, including infrastructure development. Arab Bank was the first bank to introduce ATMs in Yemen. The country has a new president, Abdrabbuh Mansur Hadi, who replaced Ali Abdullah Saleh who stepped down on February 27, after 33 years in power, following a year of protests. Jordan-based Arab Bank operates in 30 countries.
Omar Ibrahim al-Sous, country manager / www.arabbank.com

World's Best Banks 2012